As design students, we are constantly engaging with the visible and tangible by means of graphic and three-dimensional tools. In Guerilla Design we discuss questions such as: What
How do the things we design affect people? The environment? What do we want to say? What motivates us? How do we get it out? Can 'disruption' and 'interference' serve as tools to influence or convey a message? And what happens when design becomes a guerilla act?
Introduction / Post 1 / Post 2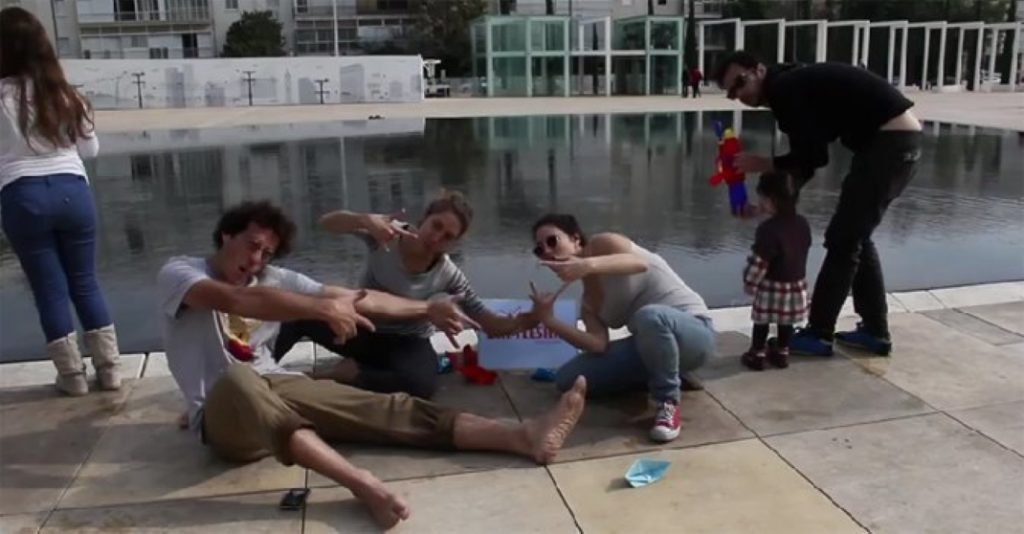 Public Benches
Public benches are an inseparable part of the urban landscape around us. Because they are so widespread and most of them look almost identical, we have a tendency to ignore them and their significant function in the public space. In the endless rush typifying the present era, public benches function as islands of rest and quiet in the urban flow; they serve as interface points for people, and provide us with a good point of departure for intervention and influence.
At the end of our last lesson, Luka gave us a new subject: Public Benches. He announced it without going into too many details, leaving us with a lot of room for interpretation, and a container of conclusions from the previous exercise. Filled with excitement, we went out into the street.
Each group treated the subject differently. Eyal Shadmi, Adi Banjo, and Maya Tevet used the bench as a public platform in the middle of Rothschild Boulevard. They added empty speech bubbles to it, turning the bench into a conversation scene between people. In our everyday reality people are accustomed to expressing an emotion or view by means of speech bubbles – a shape that is familiar to them from text messaging on their smartphones or Facebook. The question was whether they would take advantage of the opportunity in real life as well, and reveal their opinions in public. The group gave passersby an opportunity to write and express an opinion, or just write down a thought, and take a picture.
Lilach Harel and Dana Levy turned the public bench, which is often part of a public park, into a garden in its own right, and covered it with grass. They tried to make the bench stand out among all the other benches around it to encourage more people to sit on it.
Smadar Ariel, Daniel Sher, and Raz Elias turned the bench into a dynamic object. They changed the basic concept of the bench from a place where people sit and rest, into a place of physical activity. The surprising result was that everybody wanted to sit and pedal rather than sit and rest.
We discovered that one of the main characteristics that influence the way people participate in and react to social design is the choice of environment. Choosing a place with a lot of people won't necessarily generate the reactions and participation we want from the passersby. To achieve an optimal result, we need to characterize the people and their level of openness in different environments, and adapt the activity to the situation and the space so that they react and participate. Not every project is suitable for every environment, and this is something we always have to consider, assuming that we're trying to obtain as many reactions as possible.
In the next post: Sound Hacking
Introduction / Post 1 / Post 2