The museum is temporarily closed until the opening of the upcoming exhibition on January 29, 2024.
Museum box office:
Phone:  073-2151500 , 1800-202930
Whats App: 052-4334448, 050-2188360
For ordering guided tours for groups: sales@dmh.org.il
Location:
Design Museum Holon, Pinhas Eilon St. Holon, 5845400, Israel
Our Adress on Waze: חניון המדיטק. to navigate click here.
*Free Parking.
Useful Links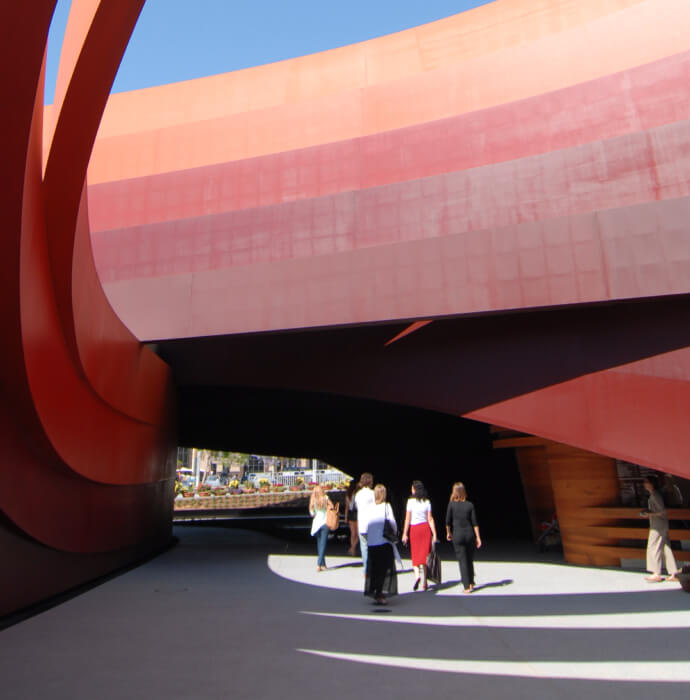 Frequently Asked Questions
Is the Museum wheelchair accessible?
Yes. Access to the Museum plaza and box office from the Mediatheque parking lot is via a ramp. All other levels of the Museum are accessible by elevator.
Is there parking?
Yes. Visitors can park their cars in the Mediatheque parking lot or in the open lot across the street from the Museum, on Ilona Feher street (enter through Reuven Barkat and Orna Porat streets).
What facilities are available to visitors?
There is a checkroom for storing bags, coats, strollers, etc; restrooms; elevator service.
How can I buy an admission ticket to the Museum?
Book your tickets in advance online.
The box office is open to the public during the Museum's regular hours of operation (but closes half an hour before the Museum's hour of closing).
Lectures, workshops, and conferences require advance ticket purchase.
What are the Museums opning hours?
The Museum is open every day except Sunday. Please follow our hours of operation on holidays in the Museum's advertisements and on our website.
When are guided Museum tours offered?
For the duration of the current exhibition, guided tours for organized groups are offered during the Museum's regular hours of operation. Tours must be booked at least two weeks in advance.
What can we see at the Museum?
Design Museum Holon comprises two galleries, in which are displayed three temporary exhibitions per year and includes a display from the museum collection. In addition, visitors can view the Museum building gallery, where the process of constructing this unique building is shown, and can tour the building itself.
Who visits Design Museum Holon?
Design Museum Holon welcomes visitors of all ages and professional backgrounds, as design forms an integral part of our everyday lives. For Students in the fields of design, art, and architecture, and for professionals in these fields, the Museum presents an opportunity to deepen their existing knowledge.