Since 2003, the London Design Festival, which is held in a city that "talks design" throughout the year, has been staging a more-than-worthy alternative to the big and well-known design event in Milan. London is the correct alternative especially for people seeking a more authentic, more inviting, and less tiring design experience. So, if you happen to be in London right now, or are planning to go there soon, this is definitely an event you don't want to miss.
The Festival's polished and inviting website states that no less than four hundred events will be held around the city, including forums, gallery talks, tours, visits to designer studios and, of course, exhibitions. In keeping with tradition, the hub of the Festival is the Victoria and Albert Museum (V&A), which is hosting the most prominent and central events this year too. The Festival's website even provides route planning assistance where registered users can mark the locations they want to visit, and the system builds a program for them. How convenient.
To the London Design Festival 2015 website >>>
It is always heartwarming to discover the Israeli representatives among the numerous events and exhibitions: Thirty Four Project is a collaboration between designer and founder of KukkaTM Rona Meyuchas-Koblenz and Caesarstone. This intriguing installation, which will be showing at Tent London for four days from October 24, is composed of thirty-four units of a recurring geometric shape. The recurring elements gradually rise from the wooden floor in which they are embedded, become full-size tables, and up to the ceiling from which they are suspended. The project began with Meyuchas-Koblenz's 1141 Table, which she first designed in collaboration with Caesarstone, and used a marble surface, No. 1141. One of the galleries in the city will be showing the original table.
For more details on Thirty Four Project >>>
British design house KukkaTM was established in 2010 by industrial designer Rona Meyuchas-Koblenz after she graduated from Scuola Politecnica di Design in Milan with an MA in Industrial Design. The studio's products are made from sustainable materials and are based on the study and observation of cultural behaviors and settings. All this is reflected throughout the production process, in the technology methods, and the minimization of materials and components used for both products and packaging.
Neil Nenner, another Israeli designer who is participating in the London Design Festival, is presenting a series of objects as part of an exhibition entitled Art of Progress which engages in the ethical aspect of the design process. The exhibition is part of an entire complex featuring workshops and lectures, as well as a design cafe in a curated apartment in contrast with the meticulous gallery space. Nenner's objects, Seating Machines, began from an exercise in reduction as part of his MA project, and engage in sitting as the human body's most basic movement. The aim of the project is to define a chair by exploring the space in which it appears and disappears by means of minute changes in its design, and stretching the morphological and functional boundaries to the maximum and the minimum. The final minimal chairs, which are made from steel rods, acquire a certain flexibility, and they all enable sitting.Neil Nenner, an industrial designer who has been working in an independent studio since 2010, graduated from the Department of Industrial Design at Shenkar College of Engineering and Design, and holds an MA in Industrial Design from Bezalel Academy of Arts and Design. He currently also lectures at Shenkar. Nenner says that he is fascinated by the way people physically and mentally "adopt" objects, and his aim is to create objects that users will be able to live with for many years.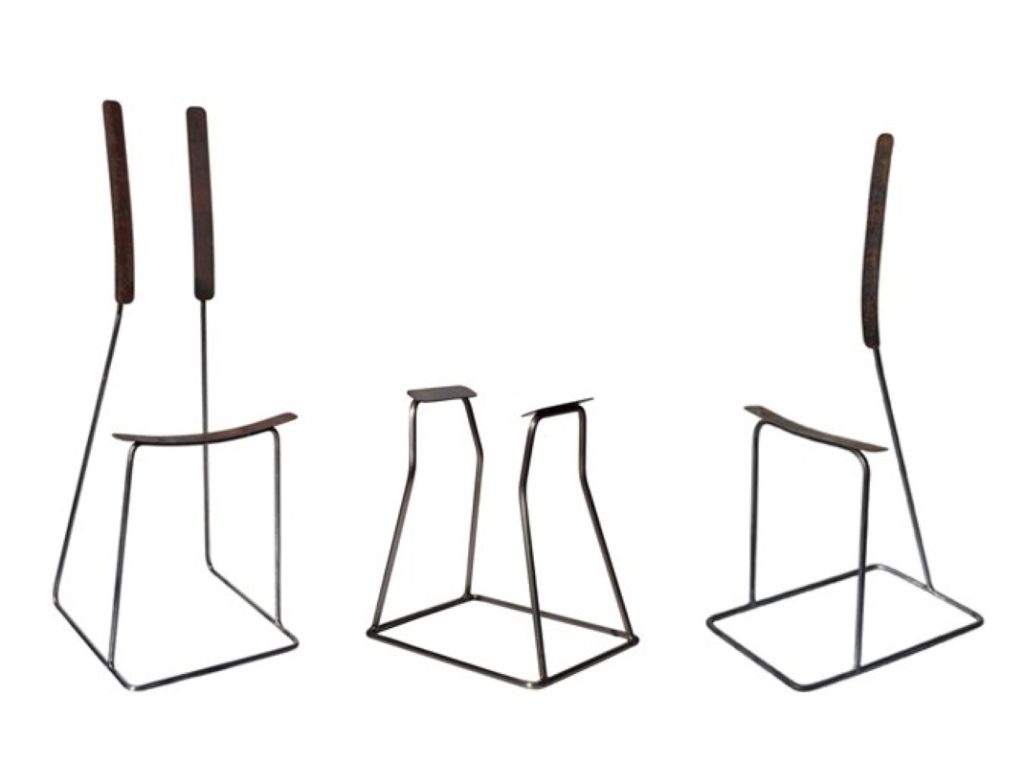 Designer Dafi Reis Doron is presenting two projects in an exhibition entitled Matter of Stuff – an internet platform established by two British architects where young, groundbreaking designers can sell design items, and on the occasion of the Design Festival they are also mounting a gallery exhibition. The first project, 75% Control, is a series of stools made using a technology developed by Reis Doron which enables industrial upholstering by casting polyurethane foam in an open mold incorporating a wooden structure. The foam swells over the wooden structure to create a soft seat that simulates upholstery. The process is based on the knowledge she accumulated in designing molds for plastic injection molding, and materialized during her MA studies at the Royal College of Art (RCA). Reis Doron is also showing her CAD Weaving Jars in the same exhibition – small wooden containers made with a unique technology she developed that draws its inspiration from traditional weaving. This project is a collaboration with Fendi, and it too was developed during her studies at the RCA. In the first stage of the production process, layers of wood veneer and leather are glued together in a crisscross pattern to form a block. In the next stage the material is processed using CNC technology to create the appearance of a woven material by means of methodical planning and preprogrammed computerized "carving". Dafi Reis Doron graduated from the Department of Industrial Design at Bezalel Academy of Arts and Design, and started out in Keter's D-Vision program. She continued working at Keter for about two years after completing the program, and then studied for her MA at the Royal College of Art in London. In 2012 she opened an independent studio in London and worked in collaboration with other RCA graduates as a collective. About a year ago she returned to Israel, and currently owns a studio in Tel Aviv.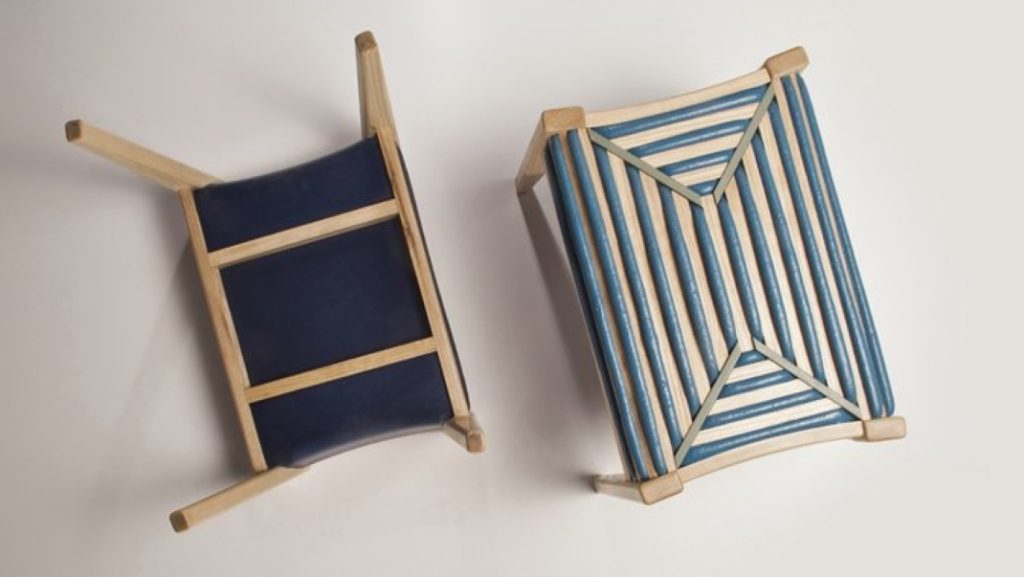 Monolith – a series of vessels and serving plates that explore the morphology of stone shaped by water erosion. The vessels and plates are made from corian marble and are produced by means of an industrial process – water jet cutting. The machine's variable elements are cutting velocity and water stream intensity. The intensity of the stream and the type of stone determine the morphology, and although the process is performed by a machine, each object attains a unique organic morphology.Shira Keret graduated from the Department of Industrial Design at Bezalel Academy of Arts and Design, and is a member of Four and Five Design Group. To the Matter of Stuff Website and additional details about the exhibition >>>
The items can also be purchased online on the website.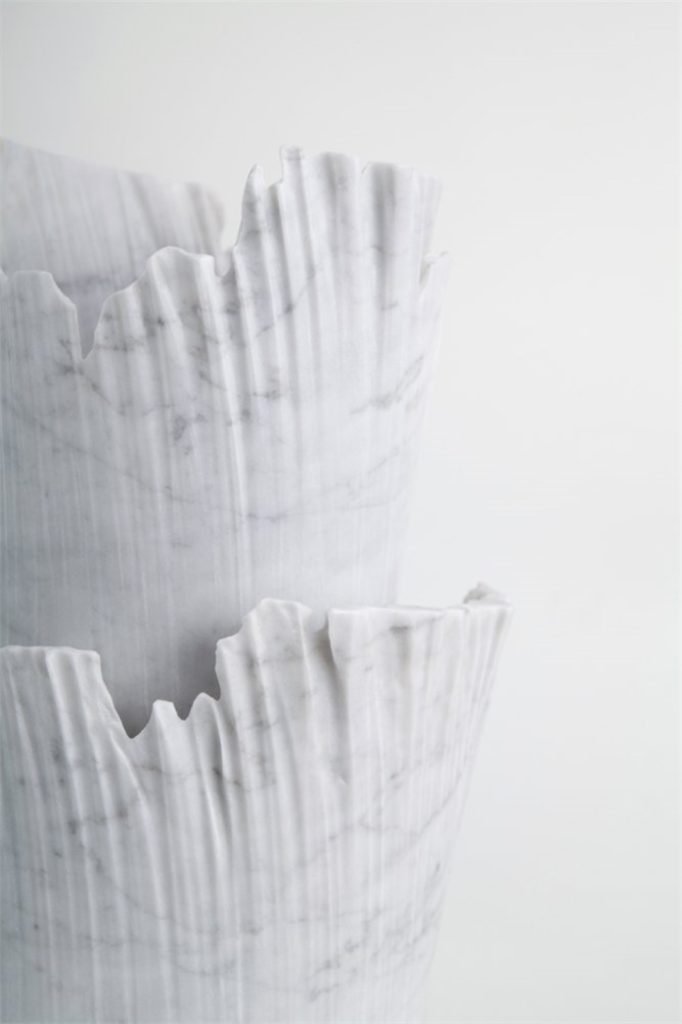 So, if you decide to visit these three intriguing exhibitions, you'll only have 397 other events to attend in this year's London Design Festival.