4 August, 2016 / Neta Konforti
Neta Konforti, assistant curator of the Beating Salts exhibition, in a conversation with Erez Nevi Pana.
Erez Nevi Pana was born in Bnei Brak in 1983, and grew up in his parents' plant nursery in the city's industrial zone. The nursery accompanies his professional life like a leitmotif, and constitutes the conceptual foundation of his work. Stuck in the nursery and bored, Nevi Pana began constructing imagined environments and colorful inner worlds for himself with his fertile imagination. This was in effect his first design project.
I created a new social relationship and personification between me and the flowers, the leaves, the stamens – each of them had a unique role and became a pattern, a mold. In the nursery there was constant engagement with colors and forms. The process I underwent was very natural for me – expanding and translating the world, and transferring it from two dimensions to three. I got my talent for design from my mother, who studied fashion design and pattern making at Shenkar, but abandoned it soon after my eldest brother was born.
Nevi Pana completed his BA studies in the Department for Interior Design at Holon Institute of Technology, in the "Object Space" program headed by Gal Gaon. In his second year he was already working for a living in a variety of interior design projects, but it was the study program he chose, "Object Space", that led him to the wide field of design and specific engagement with objects out of inner inquiry. The experience gave him the incentive to continue studying and delve into the subject at Design Academy Eindhoven, one of the leading and most influential design schools worldwide. "The curse of design", as Nevi Pana calls it.
What led you to study at Design Academy Eindhoven?During my studies in Holon I was always considered an overly "artistic" student (designer), as opposed to the more "practical" students around me. I always knew I'd want to go on to study for a Masters degree. There were guests from Italy, who'd been invited by Gal Gaon to attend the graduation project submissions, at the presentation of my graduation project in Holon, and they were very enthusiastic. Gal and the Italians warmly recommended that I go and study at Design Academy Eindhoven, and that's what I did. I guess I owe it to them.
The imagined world Erez Nevi Pana created in his graduation project in Holon was conceived in the industrial flower refrigerator in his parents' nursery.
Material: Ceramic
Inspiration: Bamboo
Opening the refrigerator doors and going into it led viewers into a room filled with ceramic bamboo branches, cut and painted red, creating a sense of looking at tendons/veins. The distinctive look created a wonderful esthetic on the one hand, and on the other a sense of unease deriving from relocating the familiar material into a completely different context.
I wanted to create an experience of distortion in the viewers' different encounter with the material. I exploited the bamboo's ceramic appearance and created an "evolution of bamboo". The distortions accentuate the falseness; the falseness that was produced by using a familiar material and locating it in a different imaginary world. It's the same with the world of nature in which I grew up; the nursery, the flowers, the harmony were an island of sanity, but as I grew up this world was revealed as a false, unnatural world in a dirty and crowded industrial zone. I was fascinated by the transition from the industrial world, by the viewers' expectation before opening the refrigerator doors, the experience they undergo as they enter the clean and sterile world I constructed, and the disparity it created.
Nevi Pana's specialty is the invention of new materials and/or using materials outside their familiar context.
I investigate existing materials. I learn the material, feel it, and after extensive research, trial and error, I incorporate it into a completely different context – I actually expand its specific use. For example, this is how the Siolid project was born.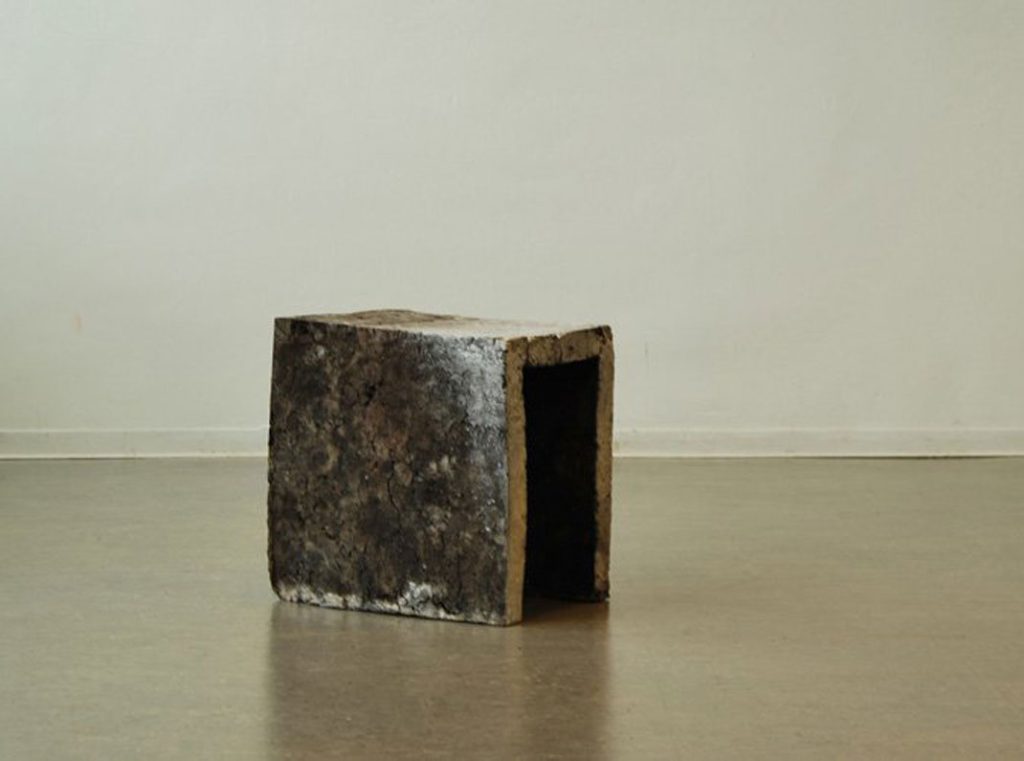 A familiar, well-loved raw material, the plant soil he knew from his parents' nursery, became the focus of his work. In his small student kitchen in Eindhoven, Nevi Pana started mixing soil with any material he happened upon, and then testing the new product, its abilities, and durability. One such combination, with fungi he purchased in Amsterdam, yielded a surprising product: a strong, durable material that swelled and doubled in size. Nevi Pana created a series of stools from the new material, two of which are part of the Design Museum Holon Collection.
What is your most meaningful experience from Eindhoven?It was the first time in my life that I was actually "tamed". For me, studying there was more about working on my personality and my attitude toward things, and less about "pure design". I had questions about myself as a person and as a designer, about what is the added value I bring.
And in terms of design studies?The process in Eindhoven is very experimental. The work focuses on the process itself, not the function, the product, and happens during the work itself. Immense emphasis is placed on material research, and the statement in the product. That's how I was drawn into material research at the end of which there was also an object, either functional or not.
And on a personal level?In Eindhoven you break and don't reconstruct. You continue to shatter and pose questions and constantly contemplate your place in the design world and your suitability for it. The studies are hard. Twenty-one of us started, and ten of us finished. You need a very strong and powerful personality. You need mental fortitude to survive the program, personally and professionally.
In the same breath, we had the freedom to create the experimental designs, although in practice, the workshops at the Academy couldn't contain my student experiments because we weren't allowed to use materials that aren't fabric, metal, plastic, or ceramic. When I came in with baked soil, they didn't know how to "digest" it.
Erez Nevi Pana was penalized for his design research audacity. On the one hand his mentors encouraged him to explore and search, and on the other the Academy itself, which was concerned about the tools and instruments in the workshops, did not enable him to work.
I sometimes felt paralyzed in terms of my ability to develop, to develop the fields of creativity and research I was exploring. In my second year I was grounded because I worked with salt.
How did you cope with the siege?Mostly obstinacy. Not quitting, and continuing to create and invent. I found alternatives in workshops outside the Academy so I could continue my work. If I hadn't been so determined, I'd probably have continued working with classic raw materials like "wood", pretty boring.
Erez Nevi Pana presents a paradoxical reality in which Design Academy Eindhoven is a biting, innovative underground, but at the same time it does not provide a real practical possibility for containing the students' creative innovation and thinking.
What good came out of the two years you studied there, and from your obstinacy?In my first year, objects I designed were exhibited in museums and galleries around the world, including Design Museum Holon, in an exhibition curated by Li Edelkoort. The interest of outside bodies gave me the strength to understand that there is a place for the research I do, and for material combinations and locating them outside their original context. It encouraged me to continue my research, the path I believe in and how I create, concurrently with my studies.
How did you come to engage with salt as a raw material?I've always been attracted to the landscape and land contours in the Dead Sea region. When I wandered around the area, I also visited the Dead Sea Works and came to an understanding that beyond the sea's shrinking and evaporation there's an additional problem – twenty million tons of salt are piled up every year, a byproduct of the Dead Sea Works. There's a huge quantity of raw material, so I started a process of thinking about and researching the material. I brought a sack of salt back to Eindhoven and started trying to figure out what can be made from it that hasn't been done yet.
Tell us a little about the processI heated the salt in a ceramic oven at high temperature, in specially-made molds. The material re-hardened into huge crystals.
Out of a desire to repurpose the raw material, Nevi Pana stretches the familiar boundaries of salt as a raw material, and redefines it. When heated to a very high temperature using solar energy or gas, the salt re-crystallizes at high speed in contrast with the slow, natural geological process. The resulting product has a white, pure, and prestigious appearance. "Poor man's marble" obtained in an inexpensive and rapid process.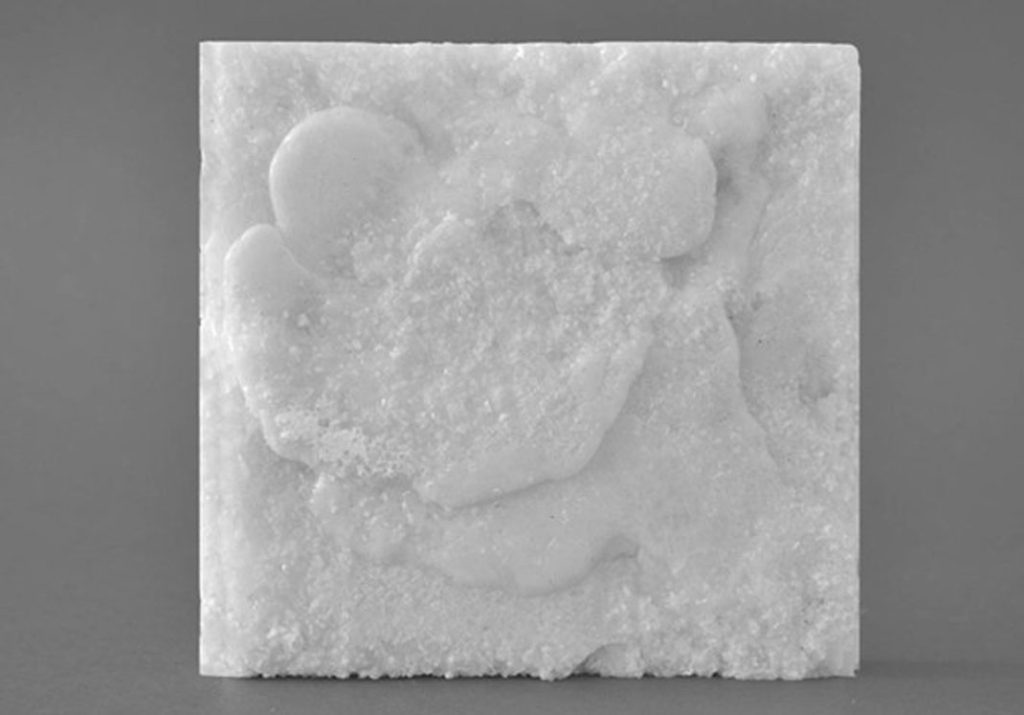 What in your view is the designer's role today?I perceive designers as critically examining society. In every design process there is a critical view in which the designer indicates a particular problem and proposes his interpretation as an answer and solution to that problem.
And you? Are you a designer or an artist?People define me as an artist. But I'm a designer. Period. I design because I create a solution from a reverse process to that of creating art. Creating art is creating from the existing world, what the artist sees and transforms into something abstract. My role as a designer is the opposite. From a particular idea and narrative I have in my mind I create a product. From the abstract I create a tangible product. Although the objects I design are very artistic in terms of form or material, they always maintain the possibility of use.
"Surprisingly," says Nevi Pana, "in the chair book from the Design Museum Holon Collection, a nendo chair and one of my chairs appear one after the other, as if the cornerstone was laid back then for exhibitions that would be mounted one alongside the other."
Tell me how the collaboration with Design Museum Holon began which led to this exhibition.I came to the Museum in Holon to pick up one of my chairs from the Collection and send it to an Eindhoven Academy exhibition in Milan. As I was packing up the chair I was chatting with Galit who suggested that I bring my graduation project from Eindhoven to Design Museum Holon and exhibit it alongside the nendo exhibition. She already knew it was the last exhibition she would be curating there, and said, "It would be sweet-salty for me if you came on board," and her words captivated me. It was a great honor and a wonderful experience to work with Galit Gaon – rare support, extensive knowledge, and uncompromising professionalism.
Beating Salts is my first solo exhibition, with my objects as a sidekick of that crazy studio of Oki Sato's. I learned a lot and enjoyed the process, working in a museum I truly admire, with its wonderful staff, with the Japanese walking around in gloves, and constructing this story for the Israeli audience – what can be done with twenty million tons of salt every year.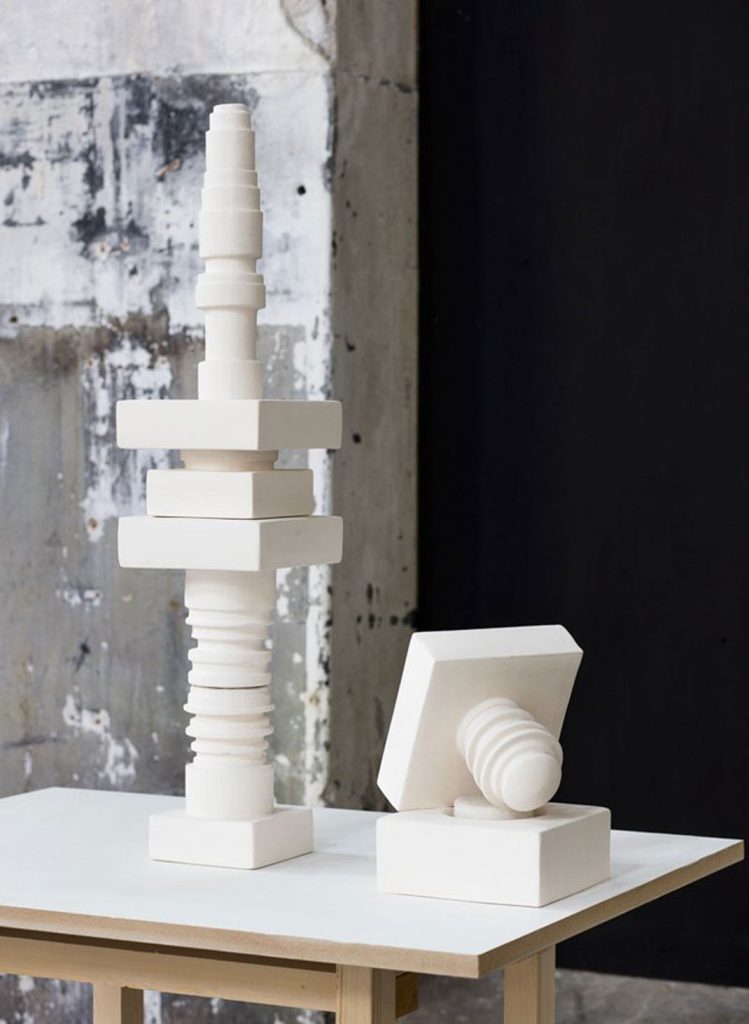 I really like the division created in the exhibition – two projects: "Lot's Wife" and "Poor Man's Marble", each starting at a different edge, both meeting in the central room, with a teaser for the third project I'm currently working on. The connecting thread is the material used, and its reuse in the crumbling material; the exhibition was tailor-made for the space, very site-specific thinking was done about the Museum's space and light boxes, and given the constraints I think we've created an exciting and interesting exhibition. The work process with you was interesting too, it's the first exhibition you've curated, and I felt your strong desire to do it in the best possible way. There was something very personal in the process that appealed to me, and I liked the small discoveries that lit you up.
Plans for the future: Where do you think you'll be in five years time?Still creating, post-doctorate. This is a great opportunity to thank Dr. Daniella Ohad Smith and Dr. Debbie Hellerstein who are accompanying me. Perhaps I'll also have a spacious studio and enough money in the bank. The economic reality of designers is not easy even today.
Final words? May we be healthy, creative, and happy.
The exhibition Beating Salts will be open until October 30, 2016