Li Edelkoort outlines the trends that will be important in the world of design in the future.
Take a look at the works of designers who are ahead of their time.
In an interview Maya Dvash conducted with Li Edelkoort (click here to read the full article), she outlines the trends that Edelkoort predicts will be important in the world of design in the future.A brief stroll through the labyrinth of the internet reveals that some of them already exist, and are flourishing and taking flight… Take a look at the works of designers who are ahead of their time.
One of the trends Edelkoort discusses is the world of birds as our source of inspiration "with their interesting behavior patterns previewing the society of man […] gathering food they initiate the idea of local produce and seasonal harvest".And as with any good design, it all begins with research. The following film provides an excellent illustration of what Edelkoort says. The bird featured in the film is a Vogelkop Bowerbird, a plain, gray, rather dull looking bird, but its mating ritual is amazingly colorful, and includes seduction with sound, structure, and color. It spends a long time industriously and painstakingly collecting materials from its surroundings, such as leaves and berries, and arranges them according to hue, form, and color. The fascinating process best emphasizes Nature's design aesthetic, and shows that local and seasonal products can and should be used, and not only for cooking.To watch the wonderful BBC Wildlife film about this amazing bird, click here.A work based on this principle of using locally available seasonal materials was presented at this year's annual graduate exhibition at the Bezalel Academy of Art and Design Department of Industrial Design.Ori Sonnenschein presented a set of fascinating dishes made of citrus peels. The dishes, made of a local and familiar raw material, are aesthetic, light, and water-resistant, in addition to being completely biodegradable."The work is the product of a material research I conducted," he says. "I decided to join the search, in which many people around the world are engaged, for new materials that are harmless and sustainable. I defined my search as one for a local, biodegradable, and usable material. I found that material in citrus peels".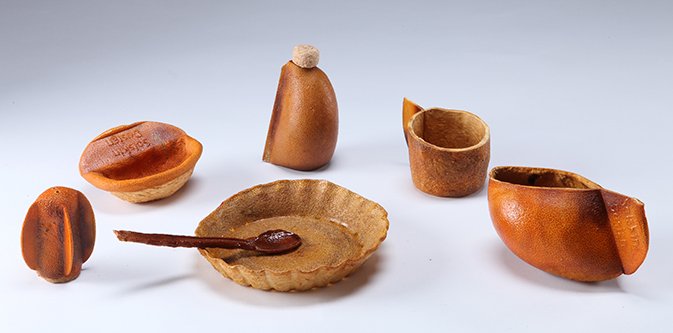 Bezalel Academy of Art and Design | Ori SonnenscheinGal Ben-Arav, a graduate of the same department at Bezalel, also addressed the issue of locally available raw materials. In his work, entitled "From the Bog to the Boulevard", Arav presents a bench made of bamboo. About the raw material he uses, he says: "Bamboo is a rapidly renewable raw material that is resistant to changing weather conditions. Certain varieties even need very little water. There are fifteen varieties being grown in Israel today. Bamboo has a wide range of configurations as a raw material, from the raw material itself to bamboo boards and bamboo veneer". In his work he uses raw bamboo canes without coating, painting, or preservatives, held together by two aluminum clamps. The combination of wild, green nature and the industrial, grey aluminum accentuates the tension that exists nowadays between natural and urban landscapes and shows that there are solutions for combining the two.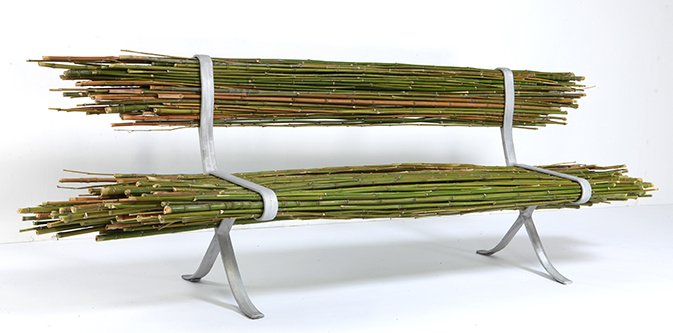 Bezalel Academy of Art and Design | Gal Ben Arav
This principle is impeccably illustrated by Studio Formafantasma whose installation, entitled "Autarchy", stood out at Milan Design Week 2010. The tools and vessels are all made of natural, locally available materials: 70% flour, 20% agricultural waste, and 10% natural limestone, mixed with water. The ingredients were mixed and dried, either naturally or by baking at low temperatures. The natural color palette was obtained from spices, vegetables and roots that were dried, boiled, and strained into the mixture.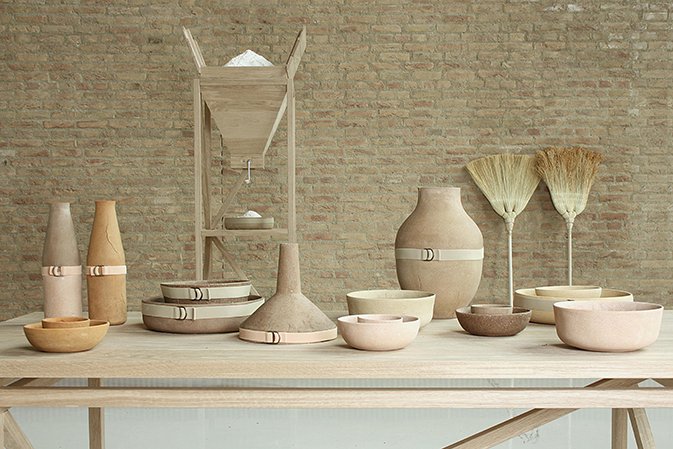 Forma Fantasma, Autarchy, 2010It is interesting to note that working with local natural materials is not only being incorporated into product design, but is also being introduced, integrated, and relevant to additional design spheres. For her final project at the Shenkar College of Engineering and Design Department of Fashion Design, Anat Meshulam presented her collection, which she named: "…Dust Thou Art, and Unto Dust Shalt Thou Return", and which includes a jacket made of clay. Despite the rigid material, Meshulam presents work that incorporates traditional techniques from the world of fashion, like constructing a pattern, stitching, and combining fabrics, while searching for new materials in order to create a somewhat different, updated, thought-provoking statement.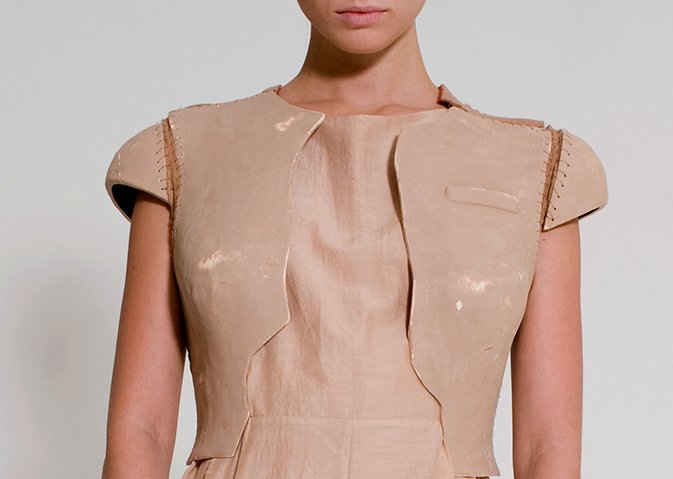 Shenkar College of Engineering and Design | Anat MeshulamAs part of the inquiry into the world of birds, Edelkoort adds, "the collecting of twigs and debris to weave birds' nests will inspire us to rekindle a keen interest in artistic and crafted weaving".In this context it is worthwhile seeing the work of Tord Boontje entitled "The Lacemaker", which was recently exhibited as a solo exhibition at the Marsden Woo Gallery in London. In his installation Boontje exhibits a wide variety of products, from hair accessories to lighting fixtures and furniture, all of which are based on the same principle of traditional lace making, but the material he chooses to work with, coarse raffia fibers, endow the lacework with additional cultural meanings and contexts: "With lace", he points out, "all the value is invested in the labor and so it seemed a good idea to start working with cheap materials. But also, by changing the material you can change the references".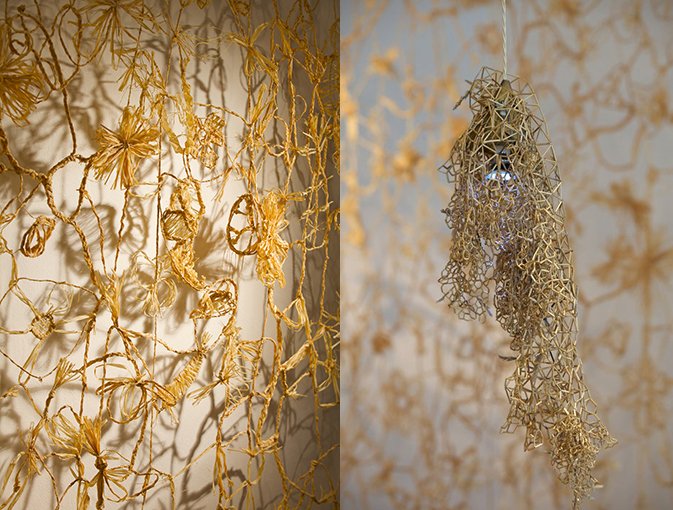 Tord Boontje, right: 'Grass Light', left: 'Lace Curtain' (detail 2), photo © Phil Sayer 2010
Another work that contends with the challenge posed by natural fibers is the product of collaboration between the Brazilian Campana brothers' Corsi Design Factory, which specializes in producing and processing resin. A work entitled "Dende" combines the contrasting translucent, fluid resin with the raw materiality of piaחava (a fiber extracted from a Brazilian palm), which accentuates the contrasting natural qualities of the two materials. It creates a work that comprises tribal elements and a return to the natural tradition on the one hand, and uses industry and implied futurism on the other. The literal meaning of the name dende, (also from nature) a spice imported to Brazil by African slaves, further accentuates the attempt to investigate roots and the past, while employing techniques of the present, and with an eye to the future.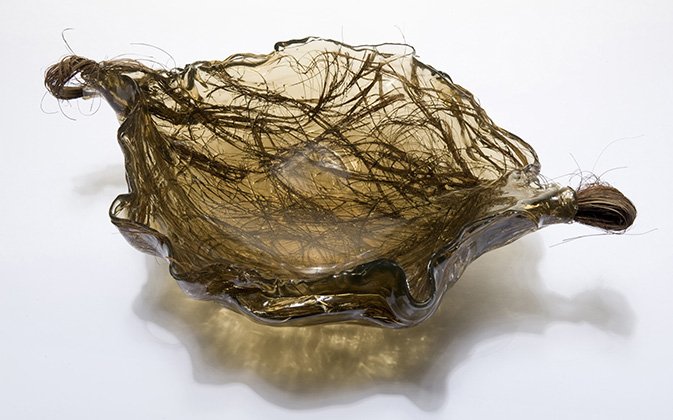 Campana Brothers & Corsi Design Factory, 2010Given Edelkoort's predictions, and the works of the present that touch upon the subject, it seems that we can expect a fascinating future. It will be interesting to see where tomorrow's designers take the subject of new materiality, natural weaving, required biodegradability, and delicate color palettes.
– An Update from the FieldThanks to devoted reader Eyal, who sent the Magazine's editorial board a link to the sculpture being erected by twin brothers Mike and Doug Stern, who have been busy all summer constructing "Big Bambu", an ever-evolving sculpture on New York's Metropolitan Museum's roof garden. The installation, which is open to the public until October 31, 2010, is constructed as a kind of huge human's nest, and provides an additional interpretation of Edelkoort's predictions.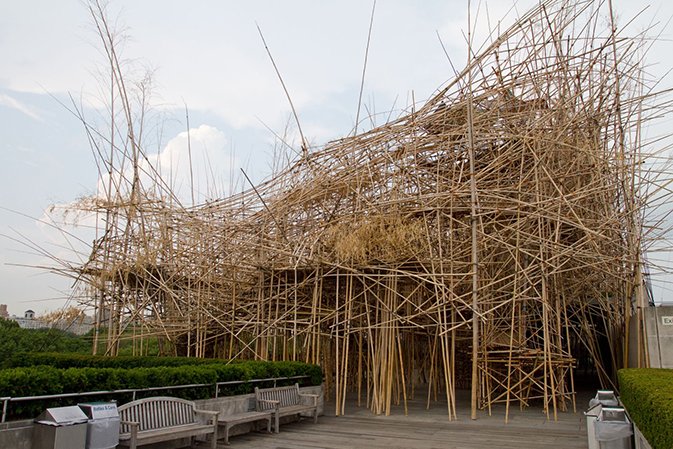 Mike and Doug Stern, Big Bambu, 2010. Photo: Jacob Breinholt for Curatedmag.com
– For the second article in the series click here– For the final article in the series click here