18 July, 2013 / Michal Benzvi-Spiegel

These days we are inaugurating the Margalit Gallery, named after Dr. Abraham Margalith – a man of vision and action who worked to promote technical and design studies in Israel.
Dr. Abraham Margalith was one of the pioneers of technological education in Israel. He laid the foundations for the curricula for vocational training in high schools and academic institutions, and worked extensively to advance the connection between technological training and industry, and between industry and design.
Abraham Margalith was born in 1916 in Poland as Adek (Adam) Margolis. He studied at the Askola Jewish Gymnasium in Warsaw. When he graduated in 1934, he went to Czechoslovakia to study architecture at the Czech Technical University in Prague. As a result of circumstances due to World War Two in Europe, he completed his studies in 1941 at Lvov Technical University in eastern Poland, which was under Soviet rule at the time. There he also met Miriam, a local architecture student, who was to become his wife. From 1941 to 1943 he continued his studies at the Moscow Technical University, from which he graduated with honors and was awarded an MA in architecture and town planning. At the end of the war Dr. Margalith returned to Poland, and from there went to the Landsberg displaced persons camp in Germany, where he served as the principal of the Jewish school, and director of the UNRWA vocational education division, where he also forged connections with World ORT.
During those years the two young architects were presented with exciting opportunities to work in Europe and Brazil, but due to Dr. Margalith's Zionist upbringing and the effects of the war they immigrated to Israel in 1948. After working as an architect at the municipality of Tel Aviv for several years, in 1954 he was appointed the new principal of ORT Givatayim, and founded the first "Technikum" practical engineering school. Under his leadership ORT Givatayim became a leading school in the technological education system, and the students were required to execute projects at a standard previously unknown in vocational schools.
Since there were no suitable textbooks in Hebrew in the early days of the state, Dr. Margalith founded a publishing house for technical books, and enlisted the teachers at the Technikum to write textbooks. He founded the Association for the Advancement of Engineering Education in Israel, which continued to publish technical literature in Hebrew.
In a booklet published in Dr. Margalith's memory, Dr. Binyaminov wrote that once Margalith had diagnosed the childhood diseases from which Israeli industry was suffering in the 1950s in the fields of technological manpower, and understood the place of the practical engineer, as a vanguard who foresees the future, he devoted his life, working day and night, to train excellent practical engineers and obtain state recognition for them.
In 1964 he returned to Israel from a professional tour of vocational training institutions in Europe, following which he noted in a detailed report he submitted, that all the problems bound up in training technical manpower must be resolved within the framework of a dedicated institution, some of whose roles would be to engage in research and planning in this area… One of his conclusions from this tour was that there is a need to establish suitable educational institutions for non-academic engineers. Dr. Margalith founded the Association for the Advancement of Technological Education in Israel, and was active in the Umbrella Committee for Technician and Engineer Training. He worked extensively to gain approval for the professional degree of "practical engineer", an interim rank between a technician and an engineer, which had not previously existed in Israel.
In 1969 Dr. Margalith founded the Holon Institute of Technology (HIT) with the support of then Mayor of Holon Pinchas Eylon. As part of his educational worldview holding that in order to prepare engineers to work in Israel's developing industry, technical vocational training is not sufficient, it was decided to turn HIT into an academic center for technological education that incorporates practical experience in industry. Since many engineer training institutions were being established at the time, in his capacity as the head of HIT Dr. Margalith adapted HIT into the Center for Technological Education that trains academic technology teachers. Dr. Margalith did not rest on his laurels, and was always attentive to the needs of industry on the one hand, and the technological education system on the other. One of the new ideas that he led was the development of a design studies department. Dr. Margalith identified the growing need for designers, and proposed appropriate solutions at HIT. He understood the importance of the industrial designer's role as an integral part of industry.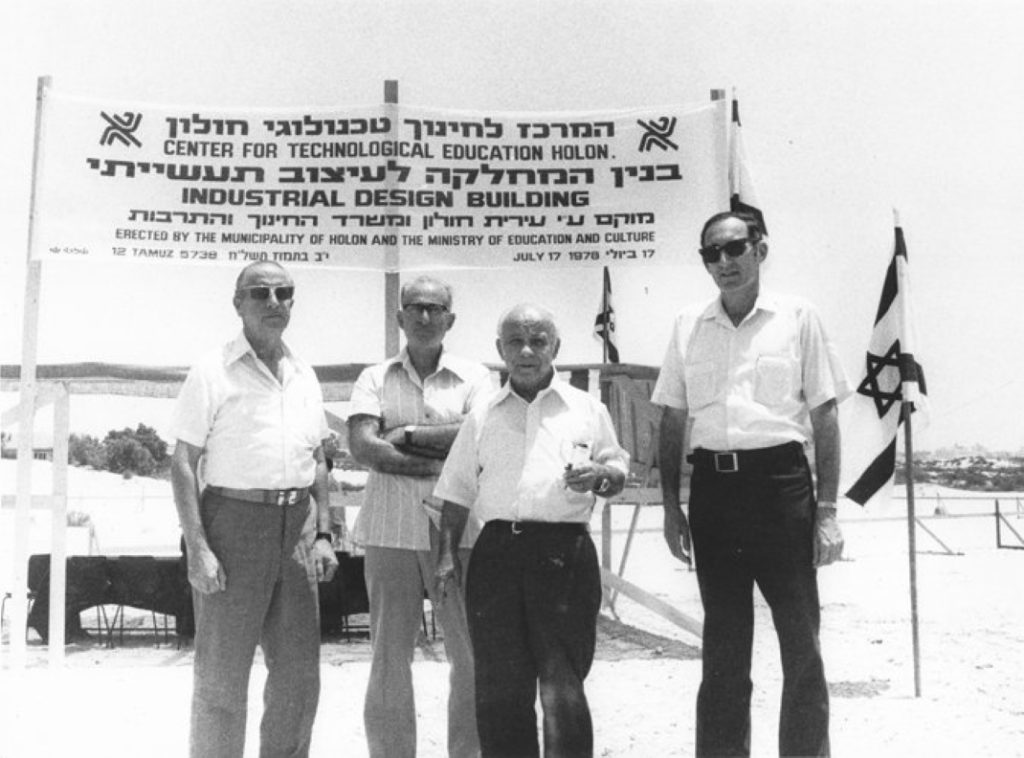 And over the years, from a dream and a vision the Faculty of Design has become a greenhouse for some of the most prominent industrial designers in Israel.
On completion of his doctoral dissertation at University of California, Santa Barbara, Margalith returned to HIT to deepen and develop the combination between the two fields that were the very air that he breathed: technological education and architecture. The combination between the two is manifested in the Department of Industrial Design, which was the apple of his eye.
Mayor of Holon Pinchas Eylon about the late Abraham Margalith, a year after he died: "Few are the people in Israel and around the world who are so identified with the role they fill. As the initiator of the establishment of the Center for Technological Education, the late Dr. Abraham Margalith devoted his entire being – his heart and soul – to developing and cultivating it, he witnessed the realization of the great idea, which was all his, and closely followed how his vision took shape and was brought to fruition.
"It is not for nothing that when the name of HIT is mentioned, it is quickly followed by the name Abraham Margalith, and that when Margalith's name is mentioned, the image of the Holon Center for Technological Education immediately comes to mind, an institution that has gained a reputation and foothold among the institutes of higher education in Israel".
Dr. Israel Binyaminov described the late Abraham Margalith as a "paragon of educational leadership". In the commemorative booklet produced a year after his death, Binyaminov noted Dr. Margalith's central contribution to shaping technological education in the course of a generation, and wrote that Margalith's vision was realized thanks to his personality as a leader and educator, and due to his persistence.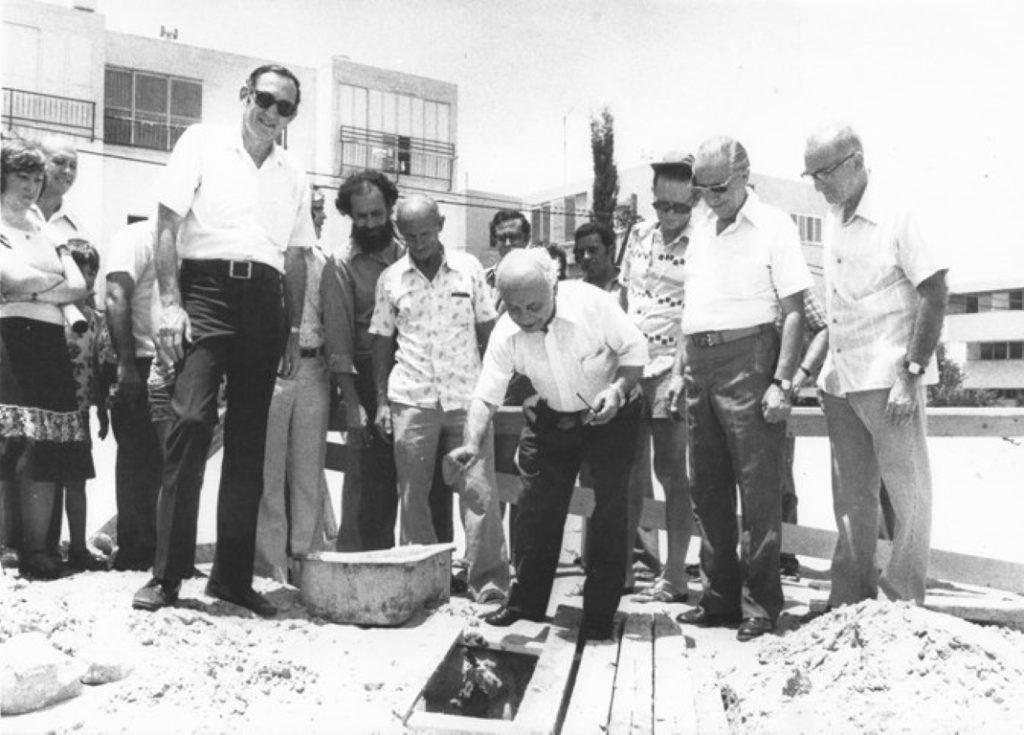 Today there is no doubt concerning the strategic place of industrial design. For Dr. Margalith it was a dream come true. And if HIT is a dream come true, then its proximity to Design Museum Holon, which has undertaken to fill a central role in changing perceptions of design-environment-community relations, has produced an almost self-evident connection between them.
From Dr. Abraham Margalith's last paper (draft prior to publication, 21.09.1980): "Vocational education must instill a general education, vocational training, and values, and constitute a framework for social integration, but above all it must, according to the Ministry of Education and Culture, educate a generation of workers and professionals who will identify with the needs of the economy and utilize the knowledge they have acquired at the vocational school for advanced studies on the production processes in plants and factories… Vocational education which is known as 'technological' has become an entire industry of full-time study, courses, advanced study days and evenings…
…We must understand that vocational training is no longer merely education, since education means a system of actions influencing the young person, developing his will, his ways of thinking, and inclination to identify with one task or another, which cannot be done in factories and workshops. This educational process, which by its very nature is complicated and complex, needs pedagogic educators, not instructors…
…Therefore we are required to seek other solutions consistent with the technological developments that will shape the image of Israeli society in the near future. These industries will need manpower of a new kind – people with a broad general education that includes a technological approach as an integral part of the general culture. The technology of the 1980s is not a hammer or lathe – the technology of the end of the century is a complex of processes operated by technological teams".