10 July, 2014 / Mor Laron
The Jewelry and Fashion Design Department at Bezalel Academy of Arts and Design, headed by Tamara Yovel Jones, held its graduate show at Hansen House in Jerusalem.
This year, the Jewelry and Fashion Design Department at Bezalel Academy of Arts and Design decided to hold its traditional fashion show at Hansen House, the former leper hospital in Jerusalem. This beautiful building contains numerous rooms arranged in a rectangle around an inner courtyard, where the students presented the projects on which they had worked for a whole year. In the various rooms, students from the Jewelry Design and Fashion Accessories Programs presented an exhibition of jewelry and fashion objects and accessories. The interesting projects in these programs range from jewelry, through bras, hats, bags, to an artistic installation made from compasses and organic materials such as fish scales and insects.
In her opening remarks, the new head of the department, Tamara Yovel Jones, emphasized the thin line between art and design "walked" by Bezalel students, and stated her wish to continue nurturing this line by incorporating research and enriching the jewelry design and handcraft studies. However, there was a feeling that this year's students engaged less in artistic and conceptual outfits, and more in meticulously crafted ones, full of attention to details and finishes.
The striking projects from the Jewelry Design and Fashion Accessories Programs:
Anat Uziely | LOOMing Bags
Initial thoughts: Warp and weft, strips, weaving, links, mechanics, geometric shapes, leather, prominent stitches.
Made an impression on us: Anat displayed her bags on white arms that came out of the wall; a creative and interesting form of display. She created an elegant collection of bags that could easily be sold tomorrow in select stores. The bags are interesting, in geometric shapes such as a half-circle, a triangle, and so forth, with colorful details and stitching that emphasize the geometric shape and blend well with the leather.
A flash of genius: A bag made from warps and wefts simulating the work of a loom; a simple, beautiful bag.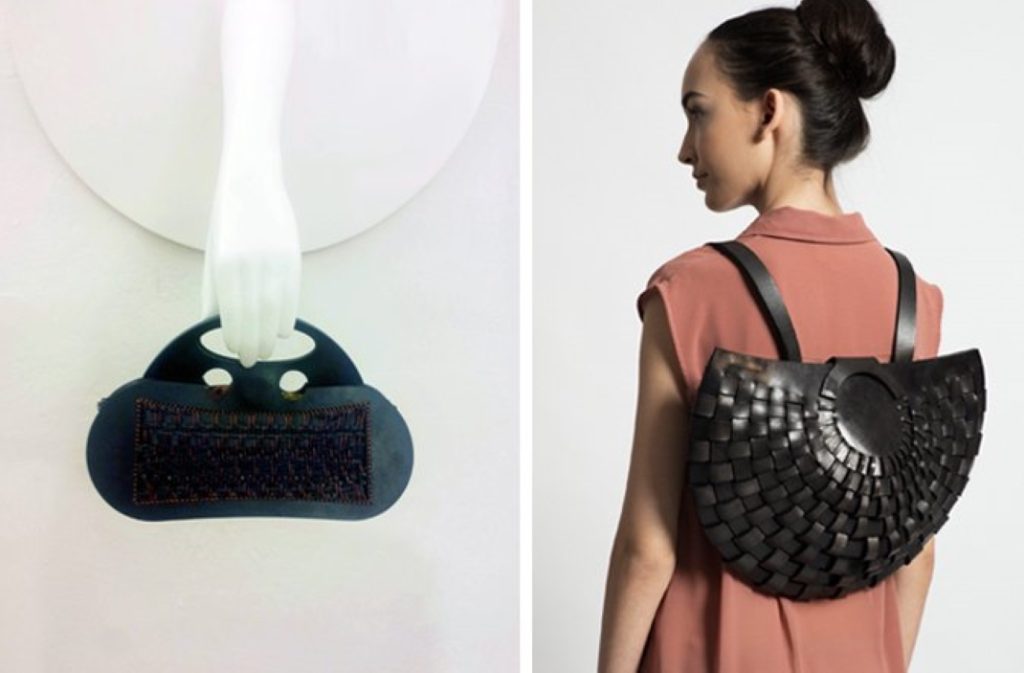 Moran Cohen | Randomness in the Mirror of Symmetry
Initial thoughts: Rorschach inkblots, randomness, symmetry, elegance, organic, delicate colors, enamel.
Made an impression on us: Necklaces in which each person can see into the recesses of his soul. Moran has chaotically created an elegant and desirable piece of jewelry that sparks the imagination. Also, the transformation of Rorschach inkblots and their transference from the psychologist's couch to the woman's body is a creative and successful move. It's fun to look at the necklaces and discover the symmetry within them, and the different colors that blend into each other.
A flash of genius: A silver necklace with black stains that seem to float over the material like smoke.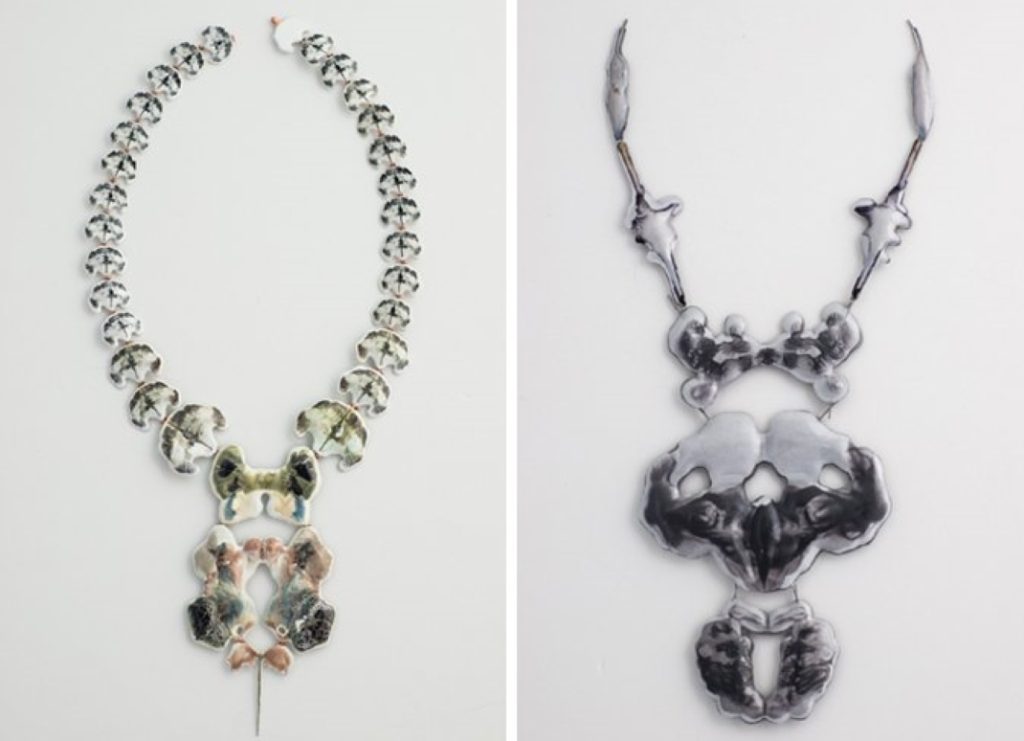 Noga Harel | Terra Incognita
Initial thoughts: Compasses, dance, dolls, fairies, net, cogwheels, chaos, imagination, sensitivity, bizarre, dream.
Made an impression on us: A highly artistic work that sails on the waves of imagination, contains a lot of details, and requires attention and time to observe and delve into. A work with sensitivity, diverse materials, and a great deal of thought about each and every detail. Noga displayed the work on a white, rectangular dais, on which she formed mounds of coarse salt, on each of which she placed one of the numerous items. Every glance revealed another figure or another type of imaginary animal.
A flash of genius: Using compasses for the bodies of small fairies that had almost troubling faces, and delicate knitting of possibly hair, possibly a hat, possibly ears.
The Fashion Design Program's fashion show:
A bell rings. The music starts. At the top of the stairs appear captivating models wearing the designs of the Fashion Design Program. The collections presented in the show were impressive in their finishes, interesting details, and diverse materials and techniques. Two projects were devoted to North African cultures and the older generation (Oshrat Saban Ishai's "Granny's Weavings", and Gal Harush's "Generations"), and the collections were shown on mature models who waved to the audience and moved freely, creating a refreshing change after all the super-thin models.
The striking projects from the Fashion Design Program:
Nofar Amar | Eternal Childhood
Initial thoughts: Childish, playful, Lego, Pogs, dolls, Fun Li, mischievous, audacious, gatherings, gaudy colors, clownish, satin, softness, zipper, big, conspicuous stitching.
Made an impression on us: A collection that the student clearly enjoyed thinking about, developing, and executing. The use of Pogs as the recurring motif in the prints and necklaces was amusing and nostalgic for children who grew up in the 1980s and 90s. The student's concept was obviously a return to childhood, to the gaudy colors, the satin, the puff sleeves, and the sports jackets of the 1980s and 90s.
A flash of genius: The shirt made from soft dolls with different prints, including childhood photos of the student herself. A surprising shirt that is more reminiscent of the Campana Brothers' doll chair than a wearable garment.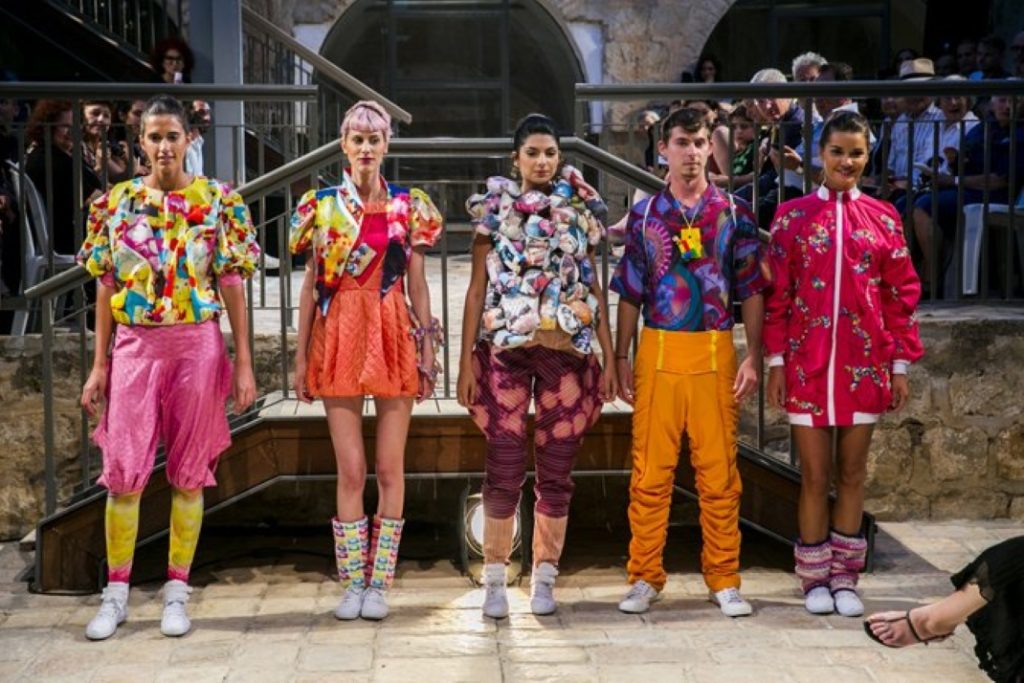 Rotem Arbel | Knitted Tale
Initial thoughts: Black-and-white, laser cutting, wool, chiffon, material combinations, contrasts, elegance, knitting, cloak, layers.
Made an impression on us: A meticulously made collection that examines the craft of knitting over three generations, from hand knitting to contemporary technologies such as laser cutting. Arbel exhibited a process, from a dress made entirely from hand-knitted wool to a cloak made from a combination of laser cutting and wool threaded through the laser-made holes. The rest of the designs in the collection were too similar to garments familiar to us from the stores, like laser-cut trousers, airy chiffon blouses, and so forth.
A flash of genius: A beautiful black cape made from several layers of material, in which the top layer is threaded with white wool that emphasizes the unconventional combination of wool and laser cutting, of old and new.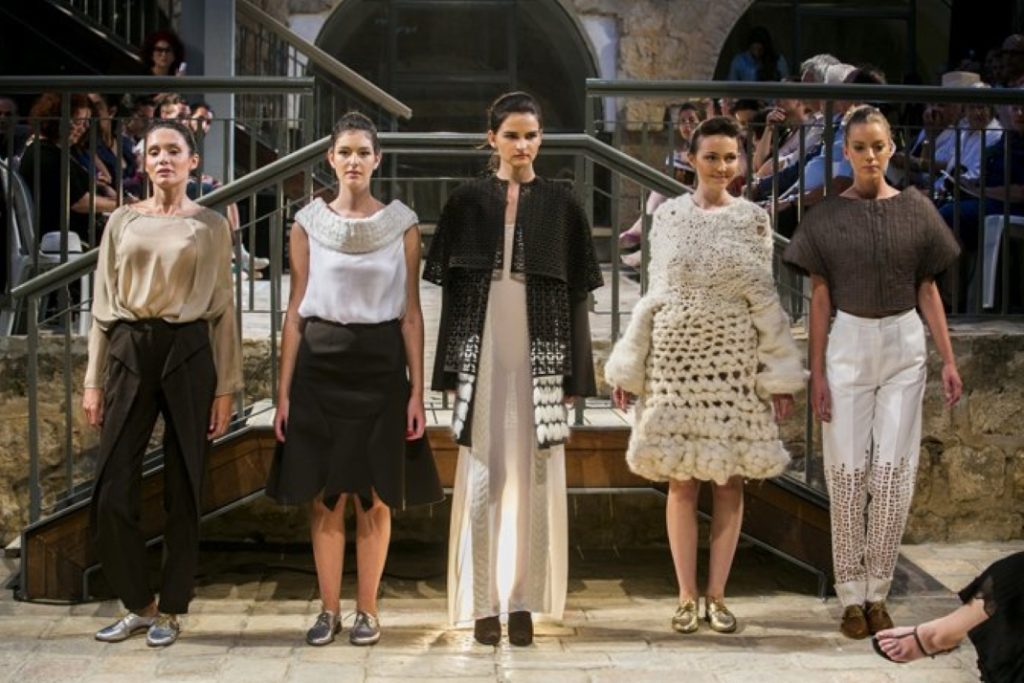 Tamar Goldberg | Neto
Initial thoughts: Spinning, weaving, synthetic threads, nets, fringes, tribal, colorful, warmth.
Made an impression on us: The entire collection is made using the same technique of weaving acrylic threads onto different colored nets. The student used the woven nets and interesting and beautiful patterns to create the cuts, and was also smart enough to leave some nets without woven threads so as not to create overload.
A flash of genius: A yellow-maroon skirt and an olive-green long-sleeved shirt created only with threads, without the net, producing an interesting sleeve with fringes on the end. An airy and interesting back resulting from giving thought to where to weave threads, and where not to.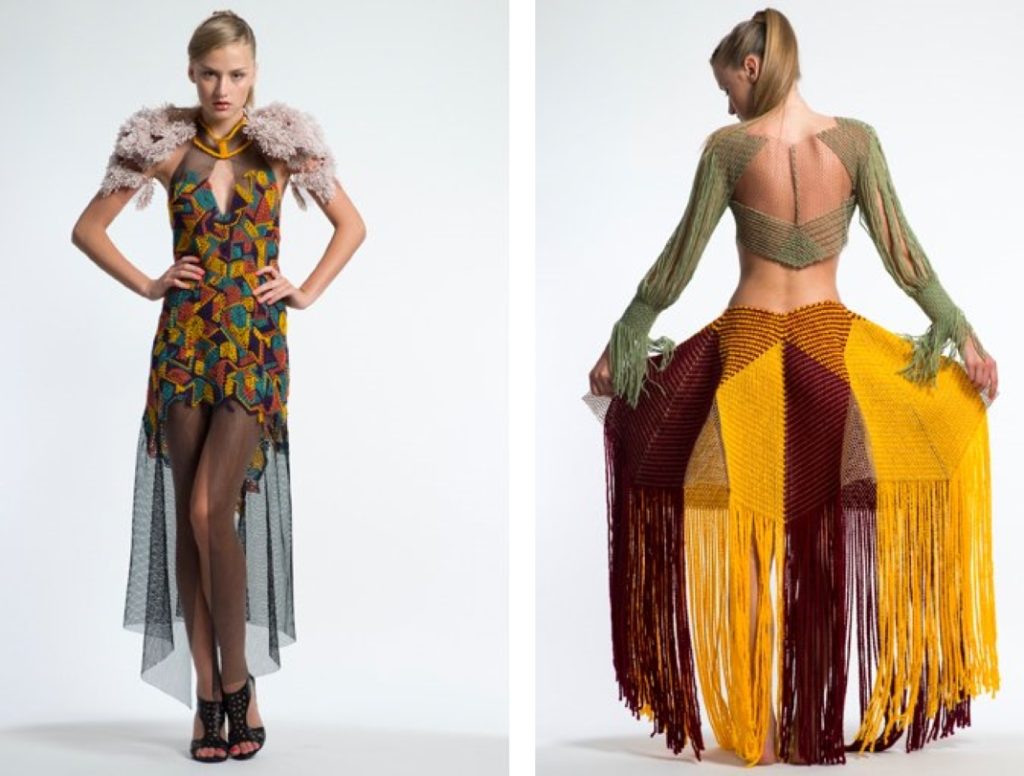 Photographs: Eran Lamm