It seems that the search for new materiality is eternal. The division is usually clear. But when you mix materials and departments, the results are fascinating little surprises.
It seems that the search for new materiality is eternal. Each year hundreds of students complete their design studies. Each year visitors come to see, gain an impression, and take a brief peek into the minds of the young graduates. To see the results of a very long process that begins with the small seed of an idea, continues with in-depth research, numerous experiments, some successful and others unsuccessful, and culminates in the finished product. A large part of this process is devoted to material.The division is usually clear. In fashion design you study textiles, threads, fabrics, knitwear. In graphic design you study paper, cardboard, image, cutting. In industrial design you study plastics, metals, wood, and so forth. Each department and its materials. But when you mix materials and departments, the results are fascinating little surprises.This is true of the project by Benita Dekel. A graduate of the Department of Jewelry Design at Shenkar College of Engineering and Design, Dekel developed a series of jewelry pieces that combine silver with concrete. The results of the combination of concrete, which we usually associate with heavy, industrial construction, and delicate constructions in silver is that despite being made of concrete the pieces do not appear heavy. The shapes of the pieces, which are very familiar, almost as though they have been taken from various construction sites, manage to surprise both in their shape and new function.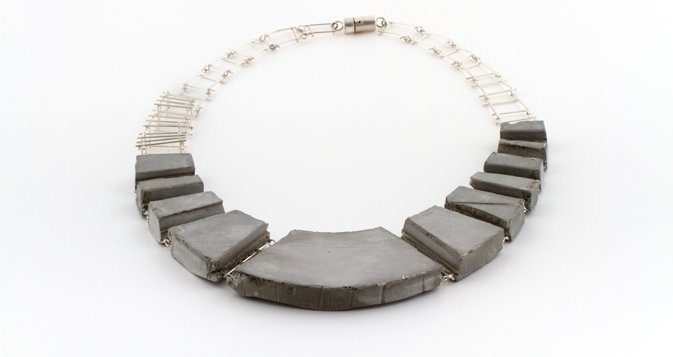 Benita Dekel, Massconstruction
Another project surprising in its materiality is Memories. Childhood. Chocolate by Rinat Diamant, a graduate of the Jewelry and Fashion Department at Bezalel Academy of Arts and Design. Diamant created a series of esthetic, round chocolate moulds. Some are more classical, and are designed for creating chocolate coins imprinted with childhood images, such as a Lego figure, or an old telephone token. But one is designed to create six chocolate pencils which can be used to draw forgotten memories. The project, which is surprising in its materiality and use, is refreshing in the landscape of a department of fashion and accessory design that usually adheres to more traditional materials.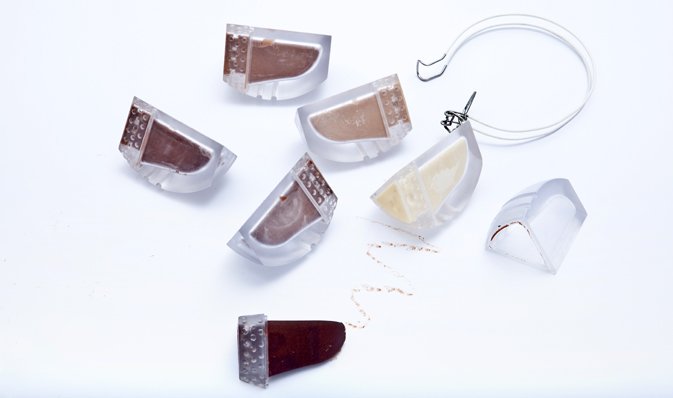 Rinat Diamant, Memories. Childhood. Chocolate | Photograph: Alex PergamentThere was a pleasant surprise at Shenkar's Department of Fashion Design as well. In her graduation project, GreenHouse Effect, Renana Krebs created a collection of ecological men's garments. In contrast with ordinary organic collections, with which we are familiar from the 'green' trend that is dominating the world in recent years, Krebs not only uses organic textiles, but actually grows a new textile. She developed a textile made from an organic fabric combined with moss that grows on and within it. In her words: "A growing and 'green' textile in every sense of the word".
Renana Krebs, GreenHouse Effect | Photograph: Ron KedmiIn the Department of Industrial Design at Bezalel, Yael Hollander took an item of clothing that is usually partly hidden from the eye and turned it into the essence of her project – into an outer garment. In her project, 2Miles, Hollander chose to design shoes. In contrast with the usual materials used to make shoes – leather, plastic, or various fabrics on rubber soles – Hollander chose to create whole shoes from socks. She took an existing product, which we are accustomed to thinking of as 'underwear', and by means of various hardening and design processes, turned it into an 'outerwear' item – the shoe itself.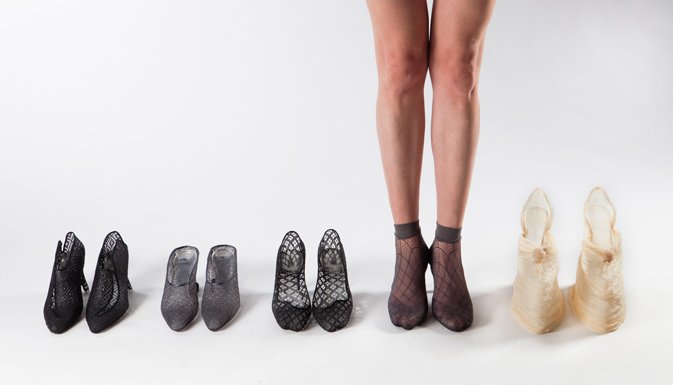 Yael Hollander, 2MilesAnother graduate who uses a surprising material that influences the outcome in an unusual way is Michal Fargo from the Department of Ceramic and Glass Design at Bezalel. In her project, Else, Fargo uses sheets of sponge to create new ceramic moulds. In the text accompanying her project she writes: "Serial production moulds have given ceramic products a plastic character. I am interested in changing the prevailing design language and giving different surfaces and authentic ceramic appearance a place in the design discourse". The result is fascinating vessels with a sponge-like appearance that look as though they are actually made of sponge, while in fact they have the hardness, delicacy, and fragility of ceramics.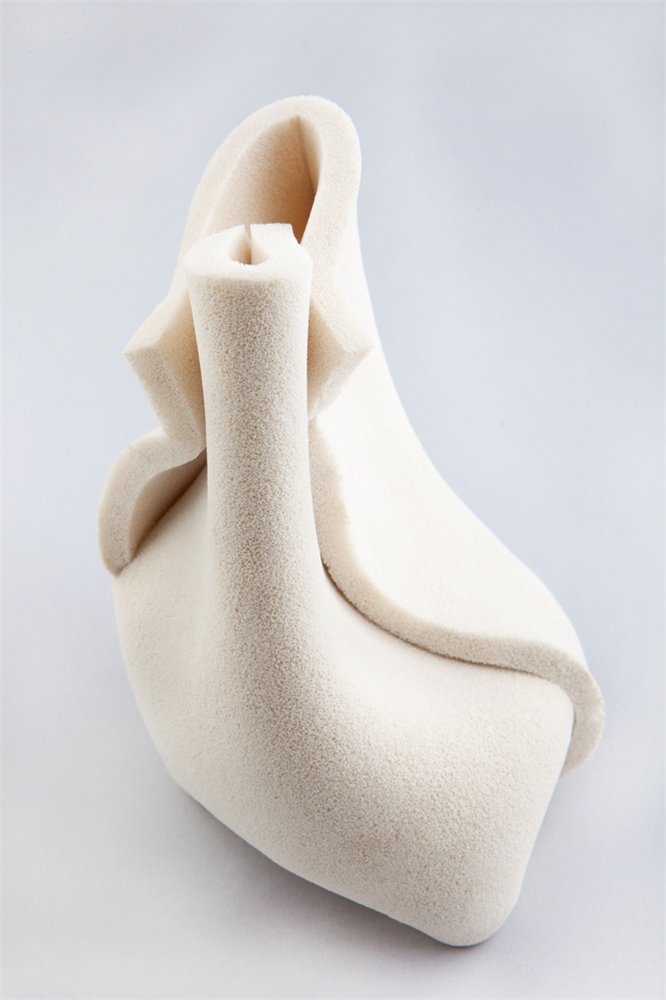 Michal Fargo, Else | Photograph: Sasha FlitThe illusion of one material that looks like another can also be seen in the project by Sivan Royz from the Department of Textile Design at Shenkar. Royz created a series of delicate and impressive objects made of multiple layers of laser-cut silk that create the illusion of organic material. Looking at the textile necklaces she created resembles looking at a slowly growing plant, and the bags she designed look just like the underside of a large forest mushroom. This project, which is immensely impressive in the delicacy and sensitivity of its material, demonstrates what is already becoming well known: textile design is not only creative prints, interesting knitting, or weaving various objects for home design, but rather it comprises a whole world of potential for impressive objects in their own right. Royz's promising work raises great expectations for the future works by the designers of tomorrow.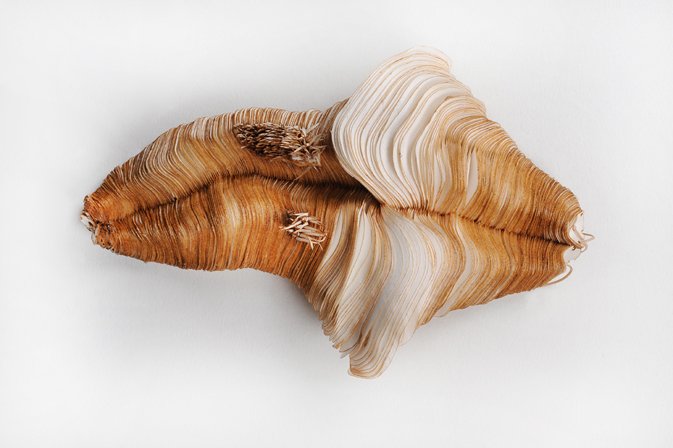 Sivan Royz | Blooming Structures