19 June, 2016 / Materials Library
An Interview with the Designer Yasmin Vinograd
We met Yasmin Vinograd for the first time several months ago. A jewelry designer who graduated from Bezalel Academy of Arts and Design, Yasmin creates pieces of jewelry on the range between artifacts and wearable jewelry. She works with various raw materials like gold, silver, silk, iron, and acrylic crystal, in traditional and contemporary techniques, and cutting-edge designs. The jewelry pieces that Yasmin creates are one of a kind or small series of what is now known in the world as Art Jewelry.
Yasmin joined the first class of the course "Breaking the Mold" held at the Materials Library last January under the guidance of Moshe Rubino, head of Shenkar's plastic workshop, in collaboration with the Materials Library team. The course opened a window to the world of plastic, and to the use of materials and techniques which are, at times, a lot more available than we might think. The course was designed for makers in different disciplines and the expansion of their "materials library," makers just like Yasmin. We were already familiar with Yasmin's works through her participation in design exhibitions, biennials, and fairs in museums and galleries across Israel. But she does not stop there – she also participates in shows in China and in Europe, and her works are featured in international design books. Yasmin's pieces of jewelry are displayed and sold in museums and galleries in Israel and around the world.
In the wake of her participation in the course, which was followed by a visit to the Fresh Paint Art Fair held last April, which featured Yasmin, we decided to hold an interview with Yasmin and get to know her work, and her encounter with the material, which in her hands, seems to be tell a new story and offer an exceptional unique expression:
We have met when you participated in the plastic design course "Breaking the Mold" led by Moshe Robinu and the Materials Library team. What brought you to this course? And what did you take away from it?
Materials are the medium through which I convey my messages and my feelings, and it is important for me to carry out as many work processes as possible myself. This makes my dialogue with the material more intimate, and allows new situations to emerge.
I have wanted to add plastic to my "palette" for a long time, and the course at the Materials Library was a wonderful opportunity. Plastic is an integral part of our world, and so I was happy to get to know the processes and techniques involving it, and which can be suitable to the work in my studio.
The course opened a door to the creation of my new series, Ice – that I launched at Fresh Paint, in which I brought together pure silver and acrylic crystal. The dialogue between them is fascinating. The pearly luster of pure silver and the transparency of the crystal reflect and glow one next to the other and one through the other to the point that it is almost hard to tell the materials apart when looking at the piece. Similarity and difference highlight one another and become something new.
Tell us a little about your work process. How do you start a new piece?
A new piece always starts with a thought about the "what" – what I want to explore and say, and continues with the sketches. This is only the starting point, the sketch is not fixed. There is a point of departure and a goal for the work. The journey ends when I feel that the goal was achieved and that can be in various ways. For me, this is an unpaved road. Processes take shape on the go. I learn the materials and try to bring them to their "edge," and to realms in which they surprise me.
The emphasis is on the path, and I am not trying to blur out its traces, but rather the opposite. It is a balance between some level of control and guidance to unleashing spontaneous processes. Any material state has its own aesthetics and meaning. The moment I feel that this is what I wanted to say, is the moment the piece is finished.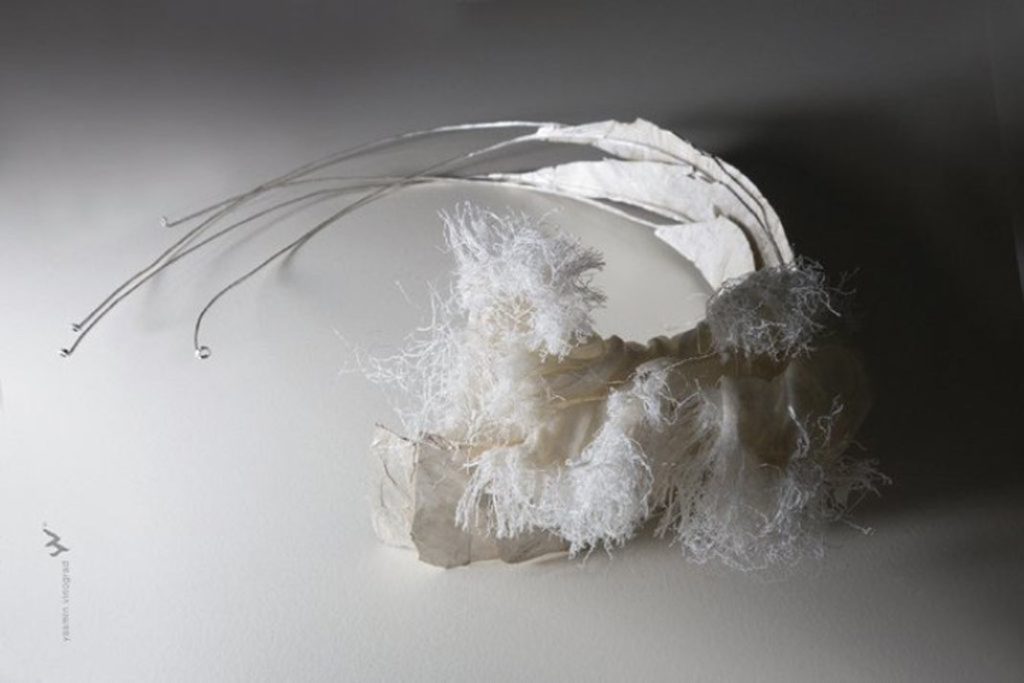 When we met at Fresh Paint Art Fair, you talked about the special excitement you feel when you work with pure gold, about the power of the material. How do different materials influence your creation process and your work? What are some of the materials you love working with?
Metals are my first love. They seem rigid but if you know their properties and reactions you can have an endless and surprising "conversation" with them. With gold, I have a feeling of a burst of energy, it radiates boundless warmth and light, and the most exciting thing is when it is melted and become a "tiny ball of sun." I don't think about the material as something that has to fill a space or a shape that I prepared in advance. The materials are my partners, and as such they constitute an organic part of the creative process.
At the Fair, you presented an interesting collaboration with the photographer Liora Cheshin. Can you talk about the connection between the two of you? How was it created and where did it lead?
We were introduced to one another by Avi Vinograd, who later also curated our project and exhibition. The connection formed the moment we saw one another's works, and recognized our shared sources of creation. In Cheshin's photographs I saw the very close observation of nature and processes that take place in it, like blossoming and withering, or formation and disintegration. It created a very strong closeness between us, and we decided to have a three-way dialogue between the two of us and the reality around us. This process led both of us to delve even deeper, and was very exciting. At its end, we decided that it would be interesting to include others in the dialogue created between photography and jewelry, and so the exhibition Duo in Black and White was born.
Looking at your jewelry, there is a sense of the passing time, as though they were excavated from the ground. They are full and charged with history and meaning, yet very contemporary. How does this happen?
I think that maybe it stems from the fact that I am very connected to the basic processes that take place in the material and do not smooth and hide them, yet at the same time I design and shape reality with our thought, knowledge, and technology. In this context, I will quote the renowned Japanese architect Tadao Ando, "I am interested in a dialogue with the architecture of the past, but it must be filtered through my own vision and my own experience."
There is something very special about the way you work with materials. I see a lot of fearlessness and boldness in the connection between materials and techniques, the invention of new work methods and even wild experimentation that at times seems to "ruin" the material. Are there also rules and methods in your work?
I try not to develop systematic methods for working with the material. I explore the properties and reactions of a material, or several materials, to my various actions, and this is the dialogue between us.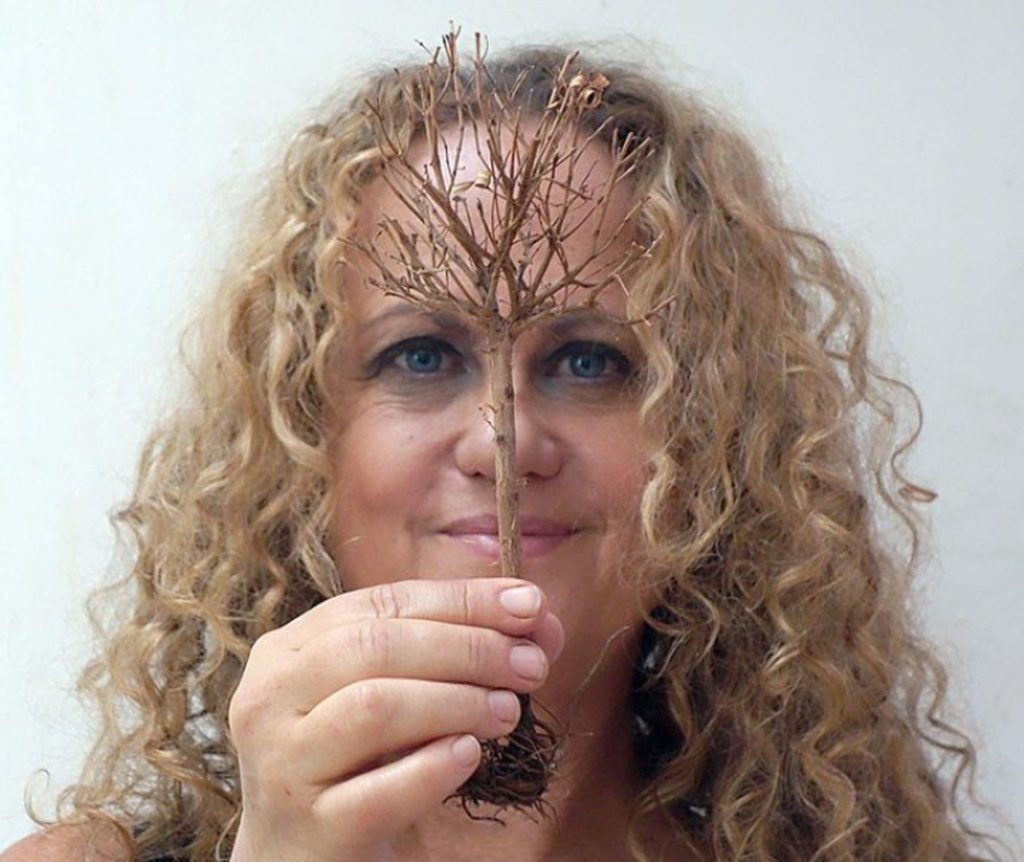 Sometimes, I am part of a process and my control is in setting the action is motion. At times, entire sections of the piece are created without me, surprising me as well. Material has its own statement. Its resistance to pressure, heat, the way it meets other materials, hardness and softness, sheen in its various forms, texture, tactility, the limits of its pliability and durability in extreme temperatures.
I start the story and the material continues it. What may look "ruined" is the story of the material, just like in nature. It is a joined story, whose paths are eventually imprinted in the object.
This is how the internal language is formed, from the exploration and familiarity with the material that I chose to work with.
Perfect is not complete. Complete is something that holds an internal, independent, authentic, and coherent truth, and then it is complete and beautiful in my view.
What are you working on now, what would you like to do next?
I am currently working on a project that will be displayed in China, which will probably focus on my new series, Ice. This is in fact the continuation of the process that started at Fresh Paint, on which I collaborate with Liora Cheshin.
But as I said, this is only the starting point, and I do not really know where this path will lead to. Another adventure.