31 May, 2012 / Maya Dvash
Three Milan Breakfasts were held in conjunction with Premsela, designers, critics, journalists, and curators discussed questions such as: How can designers implement their ideals i
Last year, Design Academy Eindhoven started a new tradition in Milan – The Milan Breakfasts, discussions about issues currently engaging the design world that are open to the general public.Three Milan Breakfasts were held in conjunction with Premsela, and over platters of fruit and pastries designers, critics, journalists, and curators discussed questions such as: How can designers implement their ideals in this time of crisis? And, how can the current crisis be seized as an opportunity to do things differently?Lately it seems that everybody is talking about responsibility, authenticity, and sustainability, but it is important to check whether these words have already become hollow and void of any real content, or if the design world is in fact an agent of change that is leading the world toward a better future.The exhibition of BA and MA graduates from Eindhoven, entitled 50, conveyed a somewhat more modest and human promise: "50 graduate projects that have a firm connection with life and a desire to make sense of it" was the exhibition's subhead.Two young designers chose to contend with the unpleasant experience of hospitalization. Hikaru Imamura created a series of toys for hospital waiting rooms that help children to cope with their fears and reduce stress. After talking to doctors and nurses and observing children in hospitals, the designer realized that children use play to relieve their fears. The toys she designed simulate imaging machines such as x-rays, CAT scanners, and electrocardiograms accompanied by picture books to help children aged 3-6 to understand what they are about to undergo. As they pass the bed through the machine, a red light lights up, and when they press a button, an image of a child's body appears on the monitor.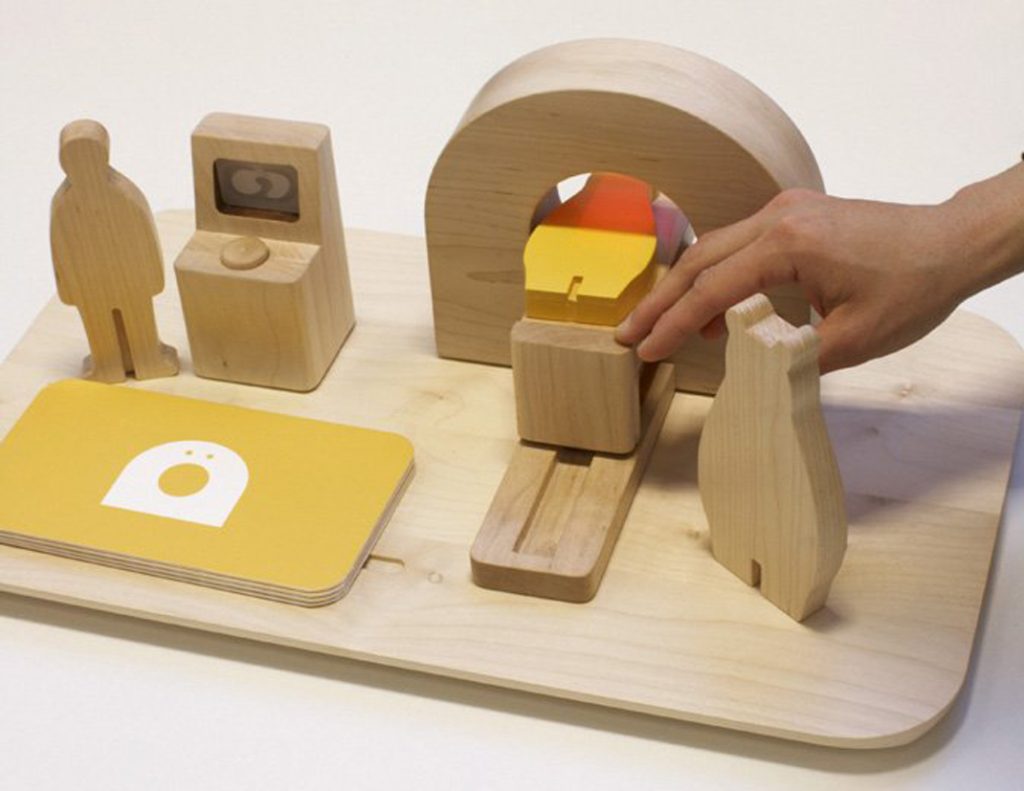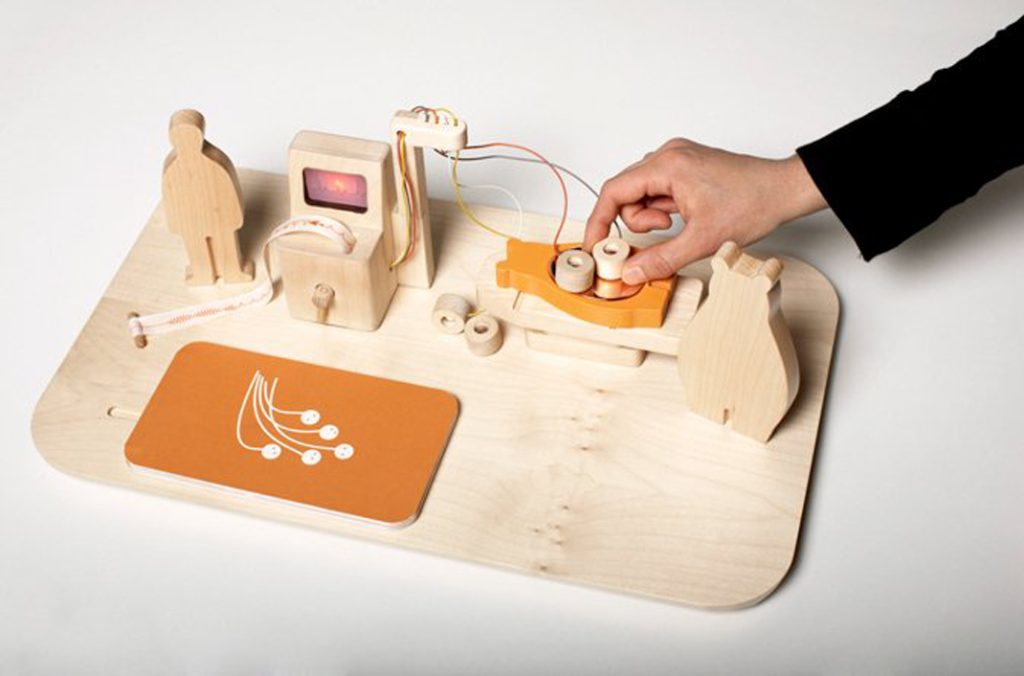 Jo Szczepanska also engaged in the world of illness. She created landscape bedcovers that help people to better cope with illness. Research has shown that distraction minimizes the amount of pain a patient experiences. The blanket printed with games and puzzles comes complete with colorful markers so both patient and visitors can spend quality time drawing on it. It provides an additional experience that invites social interaction and encourages a positive attitude toward illness. Made from bamboo, the blanket has natural anti-bacterial properties. In addition, sensors in pillows and sheets allow doctors to monitor heart rate and sleep patterns while the patient himself is asleep or playing.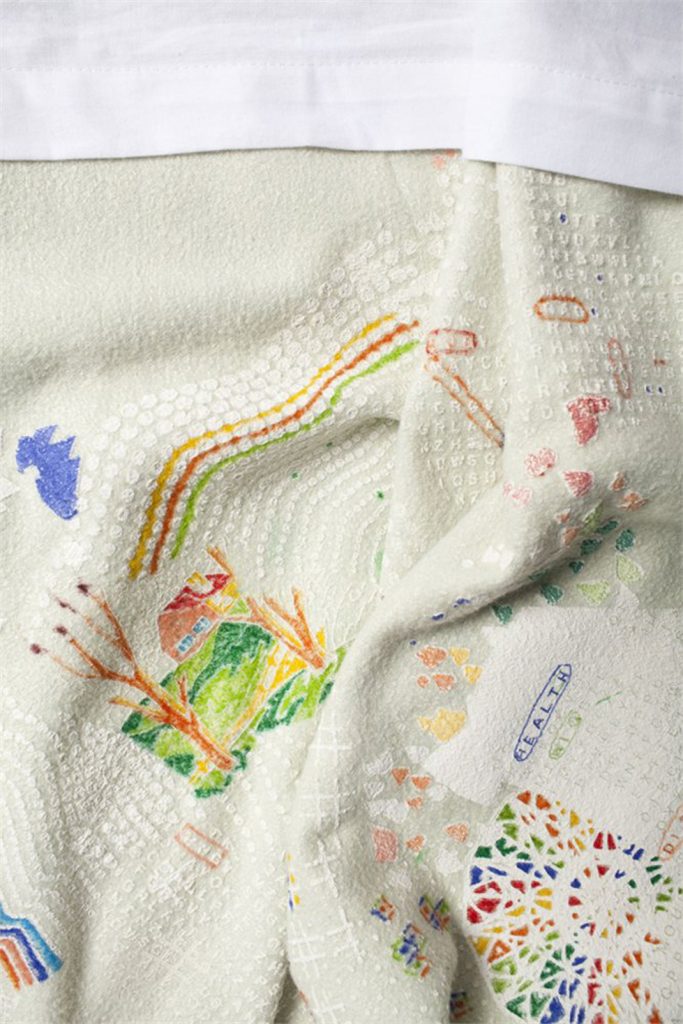 Another issue that is preoccupying designers is heightening awareness to the food we eat and its origins. Playing Food is the name of a project that aims to foster a better understanding of where the food on our plates comes from. While many parents traditionally teach their children not to play with their food, here children are invited to play with the food they are supposed to eat, and the objective is highly ideological.The wooden set comes complete with 200 pigs, the enormous amounts of food required to fatten them up, the trees that must be cleared for feed crops, and the acid rain caused by the pigs' manure. It is factory farming packaged as an 'innocent' childhood toy. The message is unmistakable.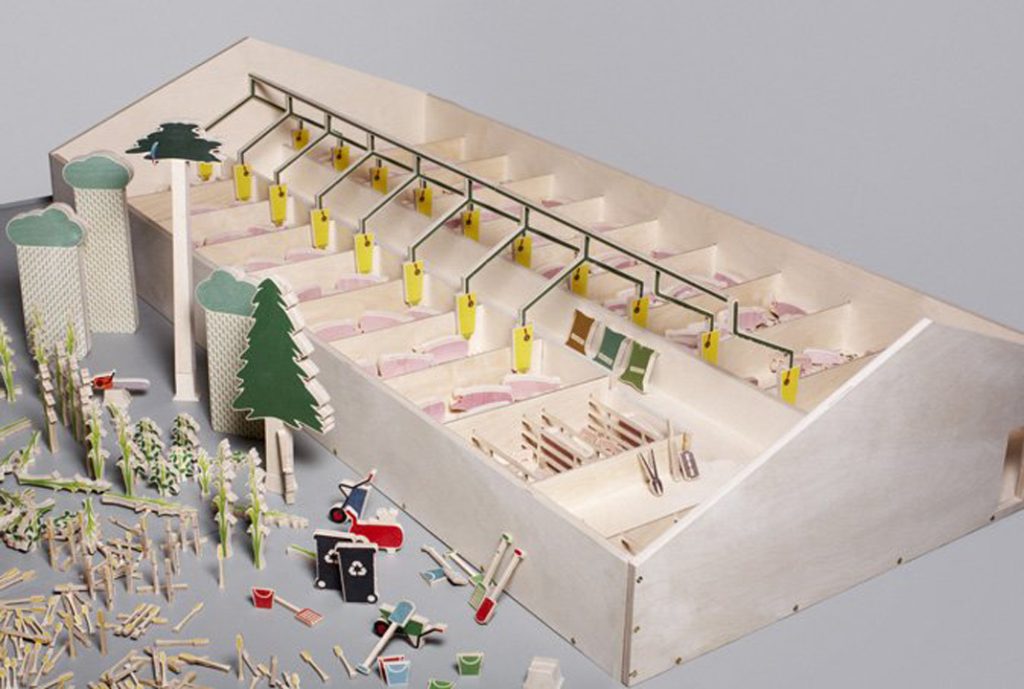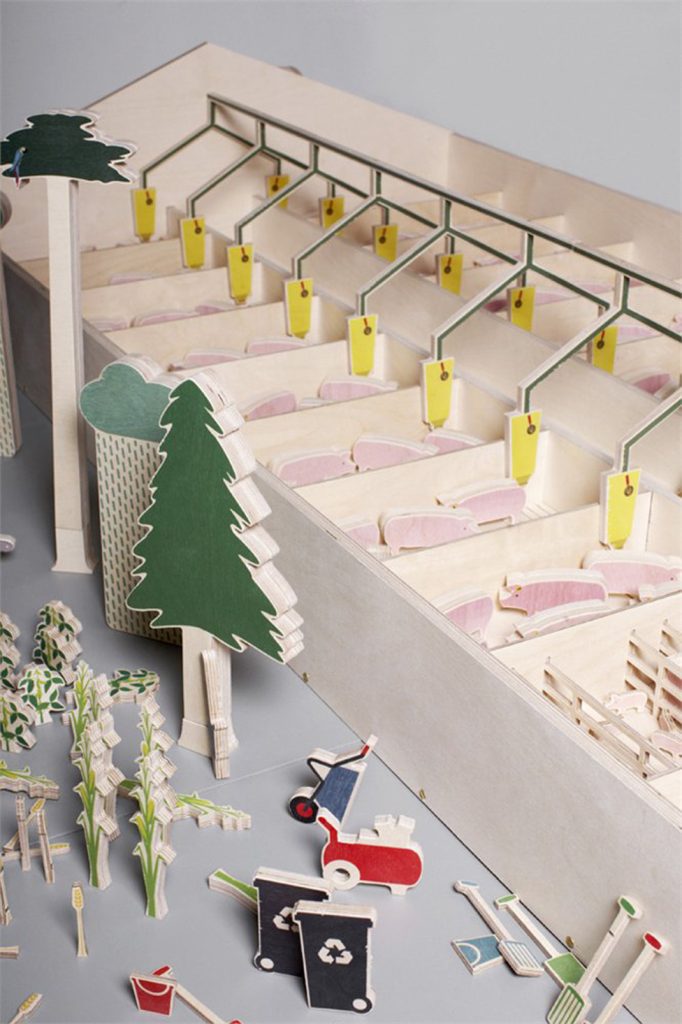 Another project that helps children become more aware of where their food comes from and develop awareness to healthy food consumption is an application with which children can learn about fruit and vegetables in the supermarket. By aiming a smartphone at the barcode, children can read the barcode and watch an animated film about where the food comes from and how it is grown.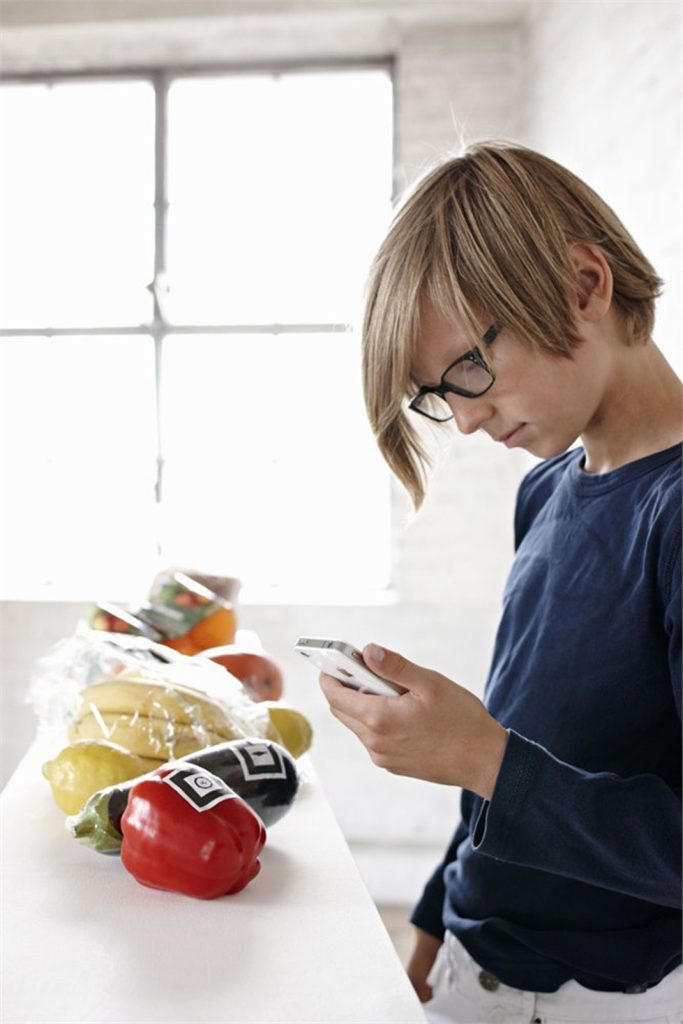 The feeling that we are drowning in a sea of internet information and how to escape from it was represented by Israeli designer Maya Ben David, an MA graduate from Eindhoven. She presented Save As, a creative platform that translates online experiences into tangible objects. She invited designers to turn Facebook images into real products by means of a 3D printer.She herself searched the internet for content that best defines her feelings about significant recent events, such as the Arab Spring. She selected photos, YouTube movies and tweets as a basis to design an object, which she printed on a 3D printer. In this way, the objects become a symbolic, physical embodiment of our memories and digital narratives.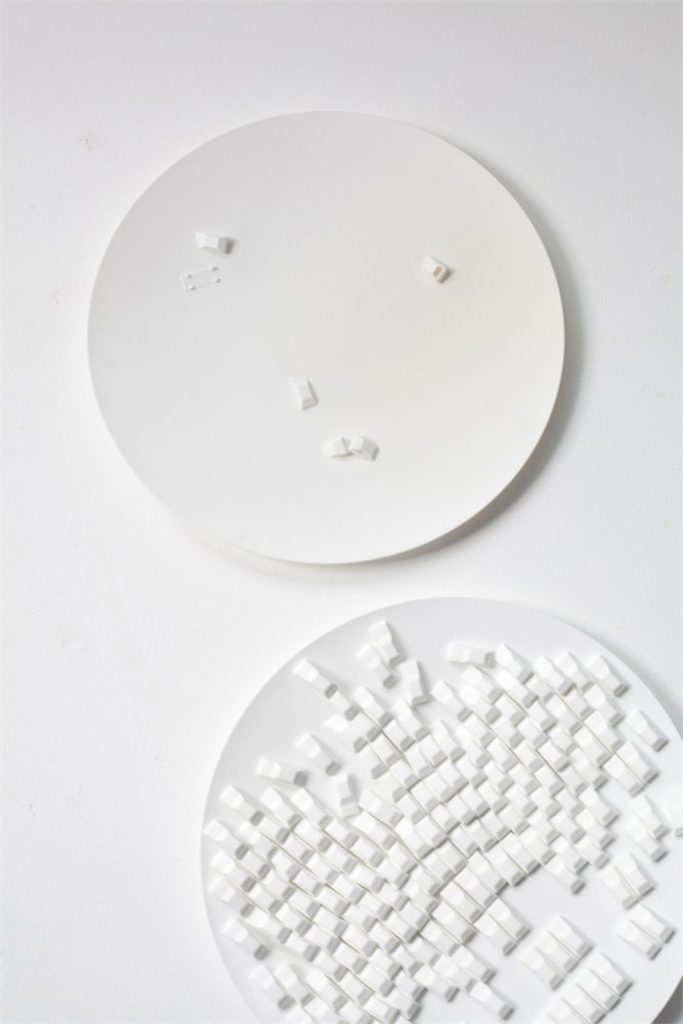 It transpires that the 3D printer was one of the stars in this year's exhibition. Many exhibits focused on new manufacturing technologies, and especially 3D printing. Many of them engaged in the machine's ability to create personalized products. Italian design magazine Domus and the Dutch house of contemporary art Z33 presented a promo of an intriguing new exhibition, The Machine, which will be showing in Belgium from June 2 to October 7, 2012 (click here to watch the promo).
Proof of how widespread this trend is was the prestigious La Rinascente department store, which devoted its display window to the subject, exhibited installations in the store itself, and customers were invited to beat the machine.
Trends have a tendency to shift from the margins to the center, and then there's a risk that they will become nothing more than hollow words, a style, a vogue. Events like Eindhoven Academy's Milan Breakfasts, Premsela's conferences, and this graduate exhibition contribute to the feeling that there are those who are endeavoring to give them meaning and fill them with content.