20 November, 2014 / Eugene Rabkin, editor of StyleZeitgeist magazine.
The work of the Dutch designer Iris van Herpen occupies a singular place in the world of contemporary fashion. Which leads to the mother of all questions, what is fashion?
The work of the Dutch designer Iris van Herpen occupies a singular place in the world of contemporary fashion. Whereas most fashion today is preoccupied with producing trendy, wearable apparel, van Herpen is a rare talent who elevates fashion by grappling with such questions and themes as story-telling, the marriage of fashion and technology, unconventional production techniques, and the question of wearability, which ultimately leads to the mother of all questions, what is fashion?
The term "fashion" itself no longer has any meaning. We have finally reach a postmodernist stage where everything is called fashion, from Chanel to H&M. Which makes the work of van Herpen all the more important, because her creations not only push the boundaries of the very definition of the word "fashion," but simultaneously brings it back to its original meaning, which is designing and crafting of garments at the highest level of creativity and skill.
At its best fashion is ideas manifested into clothing. Van Herpen is a rare breed of designer who is also a storyteller, someone who can engage fashion on a metaphysical level. The ideas that preoccupy her range from the concrete to the abstract, from the small to the grandiose.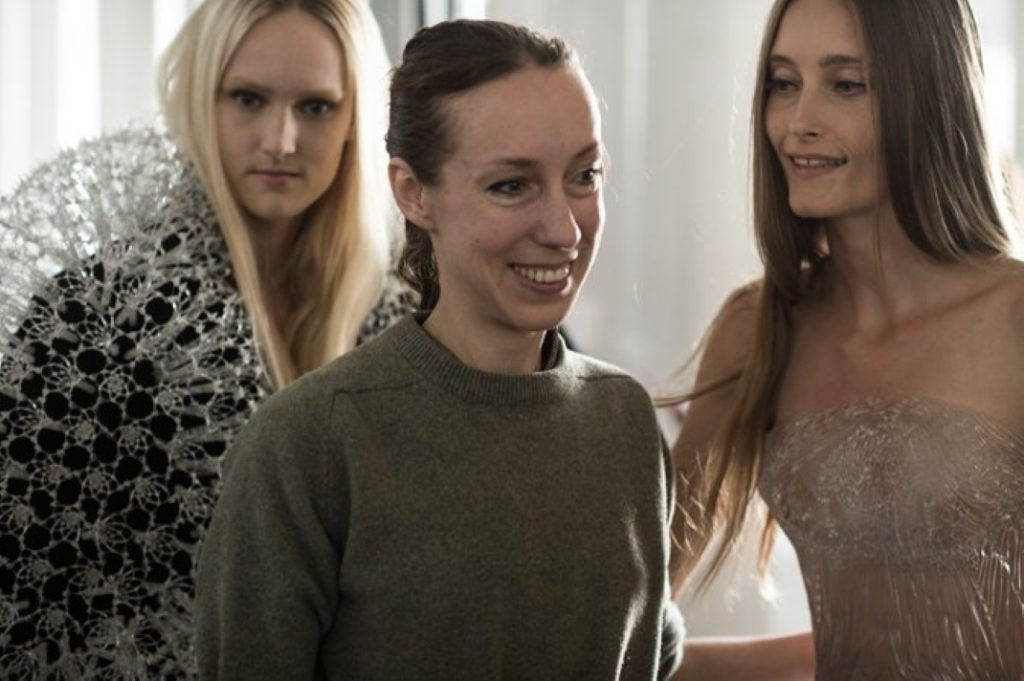 She might pursue a question of how to represent industrial smoke, as she did her "Refinery Smoke" collection from 2008, where she plied metal gauze into cloudlike garments that seemed to float down the runway.
Or she might preoccupy herself with the concept of synesthesia, a rare condition where one type of human sense is presented through another. She tackled this esoteric theme in her 2010 collection, "Synesthesia," for which she coated leather with metal foil, thus changing the perception of the actual material through its visual representation.
Van Herpen's design ideas would not go far were it not for the highest level of craft she puts into them. The intricacy and complexity of her garments has few contemporary peers. She successfully fuses advanced technological techniques, such as 3D printing and laser cutting, with traditional handwork normally found in haute couture. This marriage of the new and the old is the hallmark of van Herpen's work.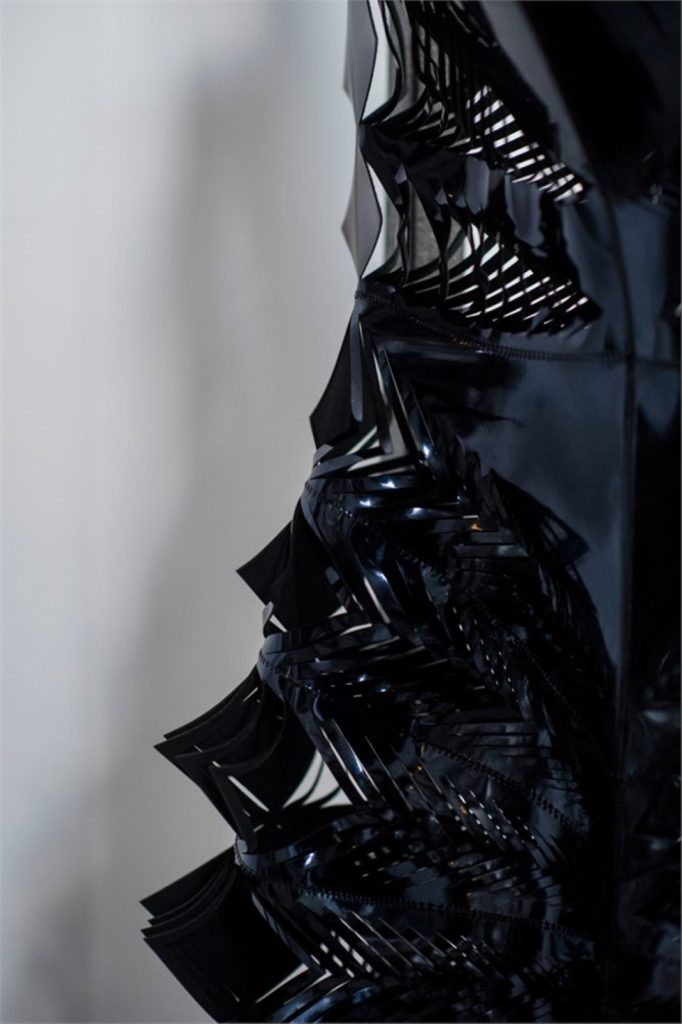 3D printing, for which van Herpen has collaborated with companies in Belgium and Israel, has become a signature of the designer's oeuvre. It allows van Herpen to simultaneously experiment with new materials and construction methods. It also lets her create garments of unparalleled intricacy that ordinary sewing techniques could never achieve. And, perhaps most importantly for fashion at large, it allows her to create a completely new visual language because these radically new forms cannot be created with fabric, thread and needle.
At the same time, appearances can be deceiving. One of her best known pieces, the "Splash Dress," which she has first shown in her 2010 "Crystallization" collection, and then recreated for the project with Daphne Guinness and the photographer Nick Knight for Showstudio, looks like a marvel of technological achievement, what with its sheet of clear acrylic morphed as a moment of splashed water frozen in time. But its shaping was done not by a 3D printer, but by van Herpen herself with the help of nothing but her own hands, a pair of industrial pliers, and a blow-dryer.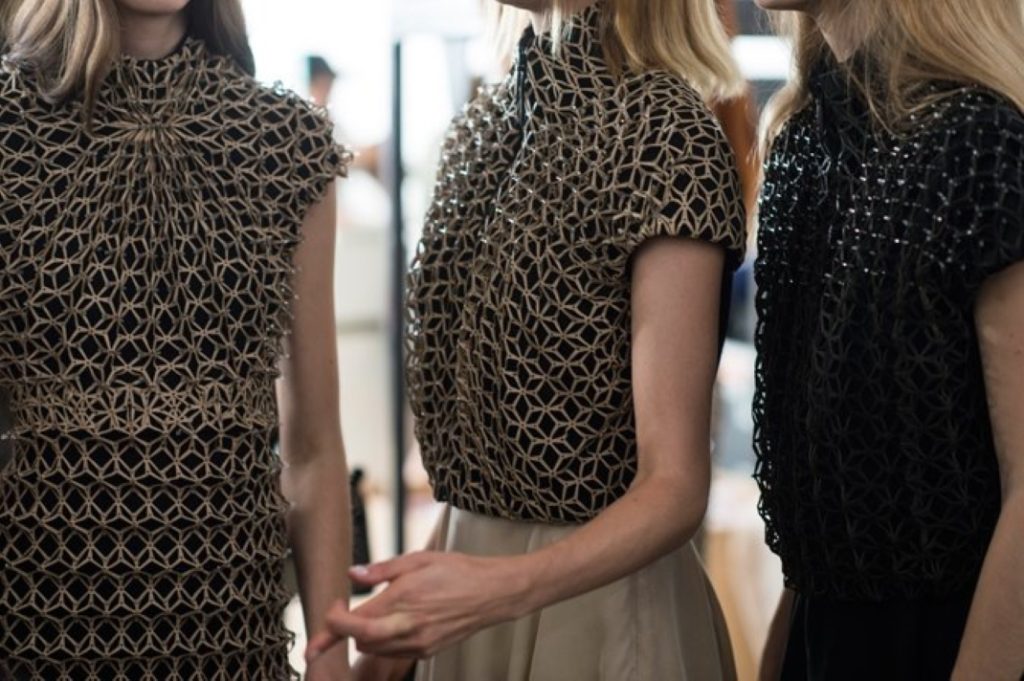 Besides 3D printing, laser cutting and embossing of appliques is a recurring technique in van Herpen's designs. On the other hand, her corseted leather jackets are painstakingly laced through by hand, or hundreds of plastic film panels manually assembled into garments in her studio. "I feel that I'm part of a new kind of haute couture," van Herpen said in an interview in StyleZeitgeist magazine. "My designs fall into two categories. On the one hand, handmade pieces that are produced in much the same way as haute couture used to be made. On the other hand my 3D pieces, which I design on a computer. It's a very complicated process, which takes days on end. People think 'oh, just push the button,' but that's not how it works. Sometimes, I sit an entire day next to the printer and see the pieces coming out of it, millimeter by millimeter. So, maybe you could say that I use couture techniques, but mostly modern ones."
Any discussion of technology leads to science and from there to science fiction. And because van Herpen's pieces look so radically new, it is tempting to say that they are futuristic. Yet, van Herpen dismisses such labels. At an event in Berlin last year she said that for her the excitement lies in what the technology has achieved here and now. We mislead ourselves because the cutting edge of technology, where van Herpen's work resides, always seems futuristic. But, to van Herpen it's the possibilities that are completely real that are exciting. Her last collection, "Magnetic Motion," was inspired in part by a visit to the CERN Large Hadron Collider in Switzerland, which left a deep impression on her.
Preoccupation with technology is one part of van Herpen's multidisciplinary approach to her work. But she is equally inspired by nature, by the way its forces work upon the world, and the way technology harnesses them. Again, we can see this in the "Crystallization" collection, where the process of water turning into ice has provided a rich visual background on which van Herpen was able to build, whether representing frozen water, the geometry of ice crystals or limestone deposits. Van Herpen is also deeply interested in architecture. This is evident from the sculptural nature of her garments. All clothing is best experienced in the three-dimensional space, but for van Herpen this is essential. She has collaborated several times with the Canadian architect and scholar Philip Beesley, who calls himself a pioneer in responsive architecture. Together, van Herpen and Beesley have developed materials such as electric-responsive mesh and translucent plastics that the designer has used in her dresses.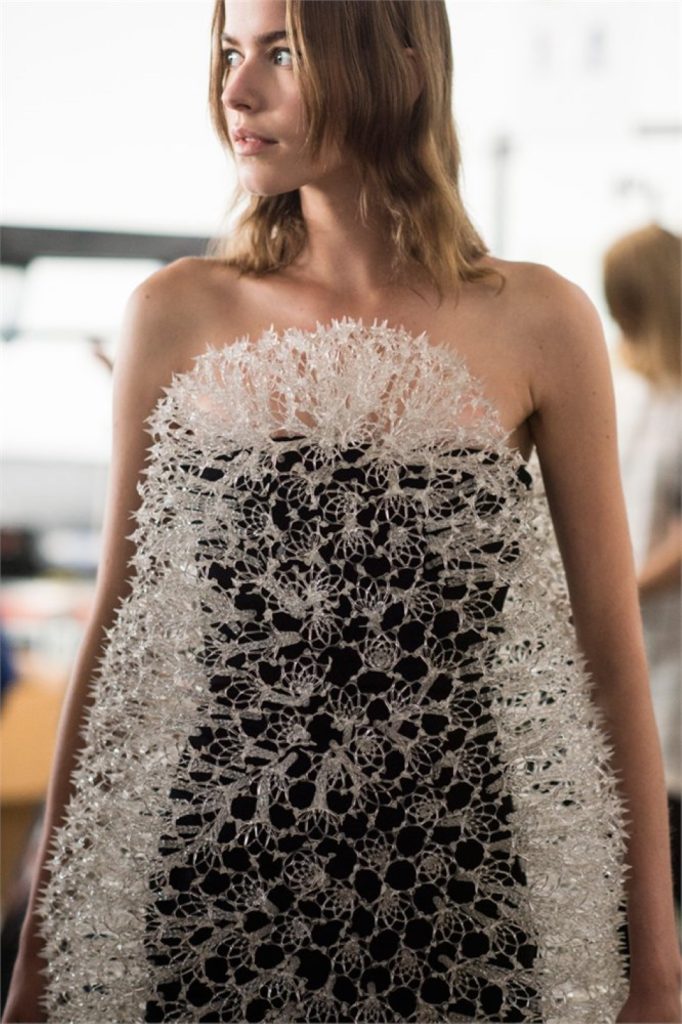 This collaborative spirit extends to other disciplines, such as art, music and even ballet. Whether fashion is art remains a debatable question, but van Herpen's work certainly tests the boundaries, not least by collaborating with artists who view her as an equal. The work of the artist Kris Kuksi, whose phantasmagoric, extremely detailed sculptures and drawings have left a deep impression on van Herpen, inspired her "Escapism" collection from 2011. There, she developed intricate lace-like garments using 3D printing and dark, menacing dresses from black transparent acrylic sheets.
For her latest collection, van Herpen collaborated with the Dutch artist Jolan van der Wiel who is know for his work with magnetic forces. Furthermore, as a part of her collaboration with Dom Perignon, van Herpen has developed a sculpture, which van der Wiel built.
Once an aspiring ballerina herself, van Herpen has an ongoing relationship with the choreographer Benjamin Millepied, for whose New York City Ballet production she has created costumes that addressed the same questions of motion, tension, and anatomy. More recently, van Herpen's otherworldly creations were noticed by the Icelandic singer Bjork, who has worn them onstage and in videos.
Esoteric themes, 3D printing, unconventional materials, intricate construction. Why are such flights of fancy needed? Because they push the boundaries of fashion through creativity, and because this cutting edge work will be inevitably transformed into something more accessible. We celebrate the avant-garde in every creative discipline, whether it is art, literature, or music, acknowledging its importance in moving our culture forward. With this exhibition we celebrate not only the work of Iris van Herpen, the new couture, but also the avant-garde of fashion.
Eugene Rabkin is the editor of StyleZeitgeist magazine.