"Telling a Story" is one of the prevailing trends in the world of design today. An interview with London-based Israeli designer David Amar who is influenced by literature and books
An interview with designer David Amar"The more constraints one imposes, the more one frees oneself from the chains that shackle the spirit… and the arbitrariness of the constraint serves only to obtain precision of execution" (Igor Stravinsky)"Telling a Story" is one of the prevailing trends in the world of design today. In an interview with Dutch designer Tord Boontje, he emphatically objected to the statement whereby the role of design is to solve problems, and he spoke about "the importance today of telling a story as well". "Telling Tales", an exhibition held last year at the Victoria and Albert Museum in London, also explored the narrative potential of stories. A variety of designers exhibited pieces inspired by familiar legends, fairytales, stories, and myths.London-based Israeli designer David Amar, too, is influenced by literature and books, not necessarily by narratives, but rather by syntax and morphology."I have an interest that began during my BA studies at Bezalel, and became more consolidated when I was an exchange student in Paris", he says in a recent interview. "It took me time to understand what it was that interests me. I am less interested in the narrative, in the story per se, and more in its morphology, the way in which characters are joined together to create meaning".Amar grew up in a home where there were more books than furniture, and his grandfather and namesake was a copyist of the Scriptures, a renowned Kabbalist and cabinetmaker. He always read, especially books in French, but it was only as a student in Paris, when he discovered Georges Perec's "Life: A User's Manual", that he began to understand where this path was taking him. He read everything Perec wrote, and it was a short way from there to Oulipo (Ouvroir de littérature potentielle) – a workshop for potential literature founded in the 1960s, whose members include mathematicians and writers, such as Georges Perec, Raymond Queneau, and Italo Calvino. The group seeks to create works using new writing constructs and structures; they use palindromes (words and phrases that can be read the same way in either direction) and lipograms (plays on words and texts in which a particular letter or group of letters is omitted), and frequently engage in mathematical problems. Their aim is to create works in spite of the shackles and constraints of the writing techniques they choose to adopt. (Click here for more on Oulipo)"Perec wrote an entire book without using the letter 'e', which is the most common letter in the English and French alphabets", Amar relates in admiration. "Of course one has to be a master of language in order to be interesting, compelling, exhilarating, and of value with all the constraints he imposes on himself", he says.And how is this manifested in design?In an exhibition at Paradigma Design Gallery in Tel Aviv that closed about a week ago, Amar exhibited a table entitled Raymond – a tribute to Oulipo founder Raymond Queneau – made of recycled wood planks and cast aluminum legs, resembling clamps that allow the object to be adjusted in innumerable variations, but which also restrict and limit it. "I created a simple system of connectors", he says, "that make it possible to create an object in different ways, a kind of 'object writing' method that resembles the way in which you change the position of a word in the sentence, and consequently its meaning".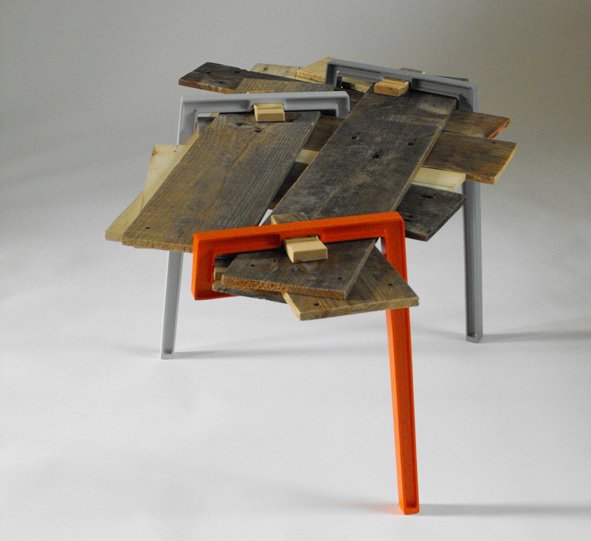 Raymond Table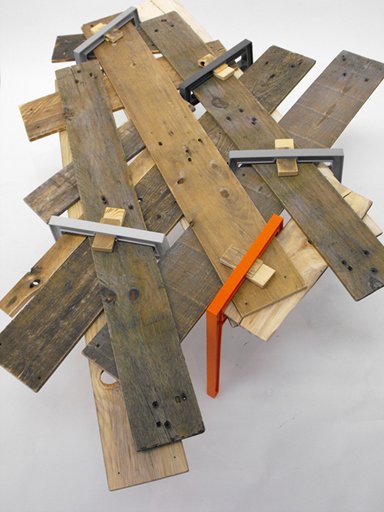 Raymond Table, view from above
Amar is not only fascinated by language, but by mistakes as well."Mistakes are sometimes the most fascinating part of the process", Amar says, "and they were part of the Anti Design Festival that was held during the London Design Festival. I was invited by Neville Brody who wrote a manifesto for the Mestakes and Manifestos (M&M) exhibition curated by Daniel Charny, which includes a call to shake off bad habits, to refresh and engage, be awake and active. It was an invitation to think, make and talk about design".Amar created twelve seats for this exhibition, all of them with unconventionally angled connectors that look like mistakes. He spray painted text from the manifesto on planks of construction wood, and then began to disassemble the text and reassemble it in a kind of process of assembly, disassembly, and reassembly – fundamental elements in his work.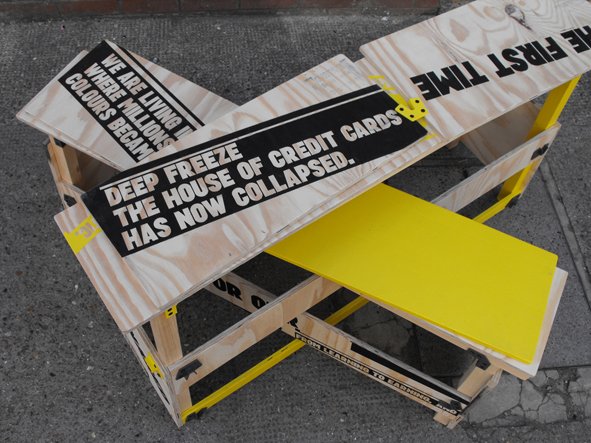 Amar's work at the Anti Design Festival, LondonAnd what next?"I hope to have an opportunity to work with manufacturers. To work with real constraints", Amar says, and describes a new project in which he is taking part. The Department of Design Products at the Royal College of Art has launched a collection of products for sale that have been designed by its graduates. The pieces for the collection, First Hand, were selected by department head Tord Boontje and senior tutor Gareth Williams. The products are intended for serial production and can be purchased on a website specially built for this purpose. (Design Products Collection website)The collection, which was attended by an exhibition at the London Design Festival (September 23 – October 7), seeks to meet the need to bridge the gap between graduates and market demands, and enable them to create products that can be sold in large quantities rather than limited editions.And what about freedom?"Freedom excites me, but when I have absolute freedom I feel paralyzed. That's how I felt with the platform of deign art. When boundaries are imposed on me, my initial urge is to break out. I believe there's a very close connection between the work of the designer and shackles and restriction. After all, restrictions and constraints are an inseparable part of the designer's work".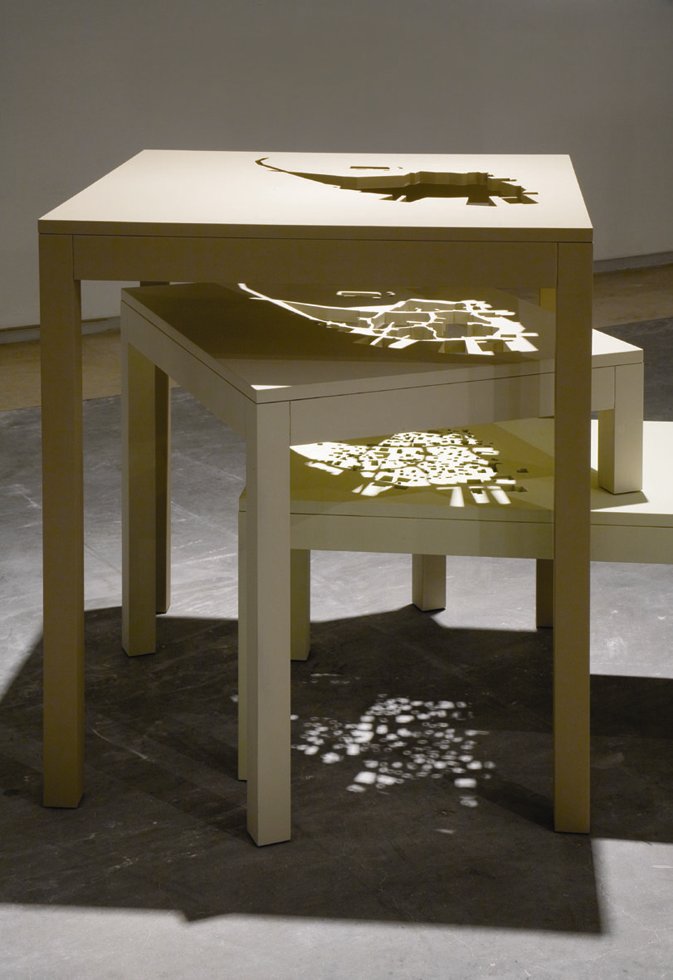 David Amar