A meeting with Tomer Sapir and Avi Lubin who edited and designed the book, Periscope – Contemporary Israeli Design, yielded a conversation about Israeli design and documentation.
A meeting with Tomer Sapir and Avi Lubin who edited (Avi) and designed (Tomer) the book, Periscope – Contemporary Israeli Design, yielded a conversation about Israeli curation, documentation, and design.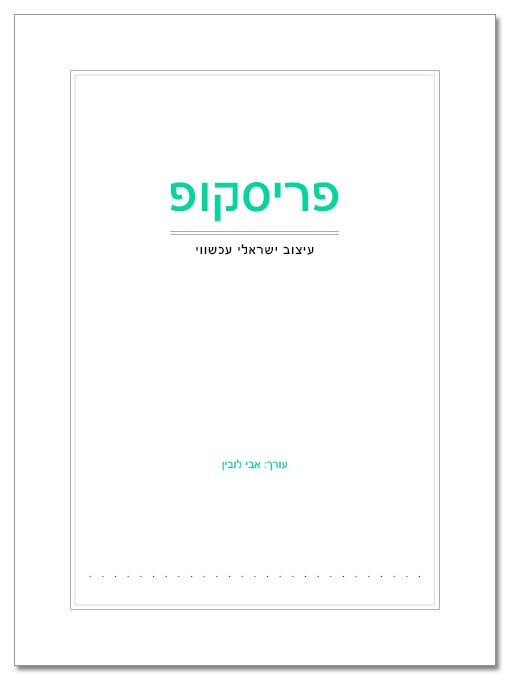 The book cover
Their first encounter with Periscope Gallery was as visitors. Tomer, a graduate of the Department of Industrial Design at Bezalel Academy of Arts and Design, used to frequent the gallery even before he began his studies, and Avi with him. It all began with interest in and curiosity about design. When he completed his studies at Bezalel, Tomer took part in Beyond Functional, an exhibition curated at the gallery by Ezri Tarazi. In this exhibition, Tarazi, who was head of the Department of Industrial Design at Bezalel when Tomer was a student there, chose to engage in conceptual design; design on the verge of art – design art – the products of which are not necessarily functional. What Ezri claimed and stressed in this exhibition was that if the final object is not functional, then it is "beyond functional" – reference to the work containing the function within it.
After participating in several exhibitions in Israel and around the world, including Salone del Mobile in Milan as part of the Phenomenology Group, and others in Copenhagen and Paris, Tomer, who is currently represented by Chelouche Gallery, began working on a solo exhibition that was held at Periscope (Prostheses, 2007). The materials for this exhibition, says Tomer, were developed especially for it. Although they were based on materials he had used in the past, nothing was readymade. Sari Paran (founder and owner of Periscope Gallery), who had seen his previous work, decided to give him an opportunity and trusted him to show her his best works.Who initiated the writing of the book?
Introduction / Avi LubinPeriscope Gallery was founded by Sari Paran in 1997 as a non-profit association for the purpose of showing contemporary Israeli design. Since its establishment the gallery serves as a design lab, a kind of incubator that is not subject to commercial considerations. The gallery has made a point of broadening the observation range of the term "design", holding conceptual and experimental exhibitions, providing a platform for different theoretical and practical aspects of design, and stretching its boundaries. Pieces from a variety of practices and disciplines have been exhibited at the gallery, including industrial design, ceramics, gold and silversmithing, design art, architecture, textile design, fashion, and crafts.
It was a long process. When we were working on Tomer's exhibition, which Avi curated, we got to know Sari, who is much more than a gallery owner. Gradually we started talking, getting to know her better, to understand who she is. At the same time, she wanted to know more about us as well.After the exhibition, Sari asked Avi if he would be interested in embarking on this kind of project. Like Sari, Avi too is an outsider in the world of design. He comes from academe, from law and philosophy. He has an outside perspective of the design world but a deep, visual, conceptual understanding of art and design. Consequently, engaging in design, curatorship, and art is for him a matter of theory, research.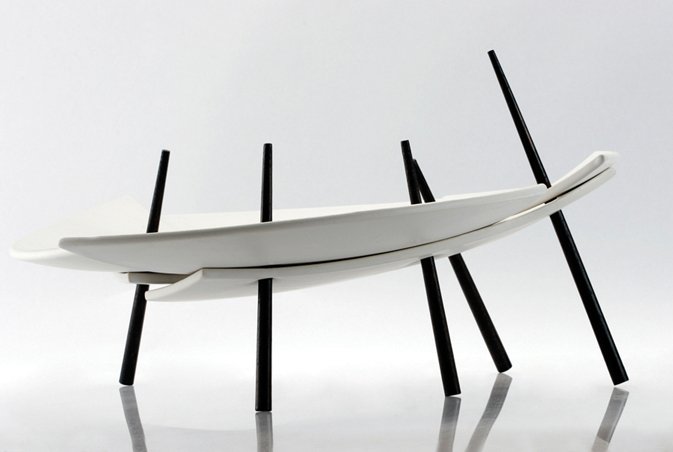 David Amar, Variations, 2007 | Photograph: Shachaf Haber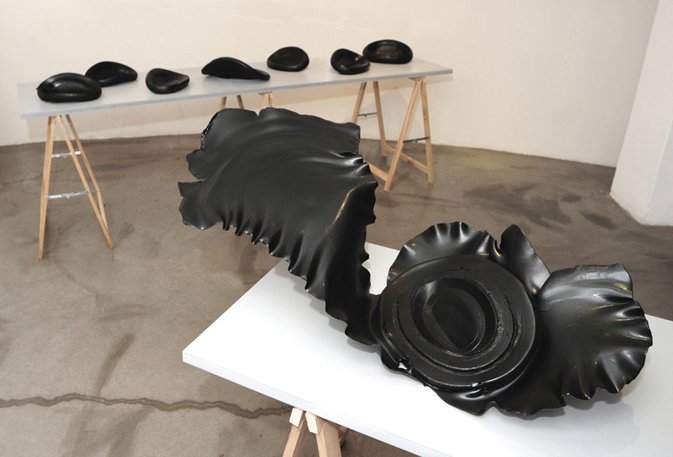 Ezri Tarazi, Abfall, 2008
How did the book actually begin?The initial idea was to publish a book to mark the tenth anniversary of Periscope. As time passed and the tenth anniversary was no longer relevant, it was decided that the book would review the gallery's activities up to its 100th exhibition.The work on the book really looks like two-dimensional curating; there are curating, collecting, and screening decisions here; is that what it felt like when you were working on it?Definitely. Work on the book entailed numerous curating decisions. From the decision to include all the exhibitions, through the decision to present them chronologically, and up to the decision on the book's design: that each page is part of a continuum, that it doesn't stand alone, but is part of the facing page as well. The collecting and sorting were a very important and difficult part of the process.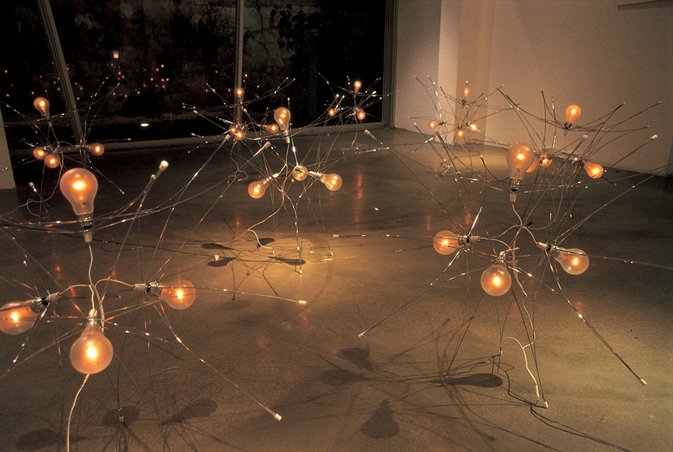 Raviv Lifshitz, Homage to the Anonymous Designer, 2000 | Photograph: Yair Medina
What was the writing and collecting process like?Obtaining the materials was very difficult. In its first years of activity the gallery didn't use digital documentation. We approached all the photographers, curators, and designers who had taken part in the exhibitions, and hoped we'd manage to collect material for all of them. It was very important for us to obtain photographs taken at the gallery rather than just of the object itself, separate, in a sterile setting. We wanted to show it in the context of its positioning in the gallery, in the space, the design idea, the curating idea; it was really like an exercise in restoration. In some cases we managed to obtain full material, in others just segments; sometimes the photographs were blurred, and sometimes there was just one photograph. We tried to present the essence of each exhibition, from the object level to the curating level, through the dialogue between the works.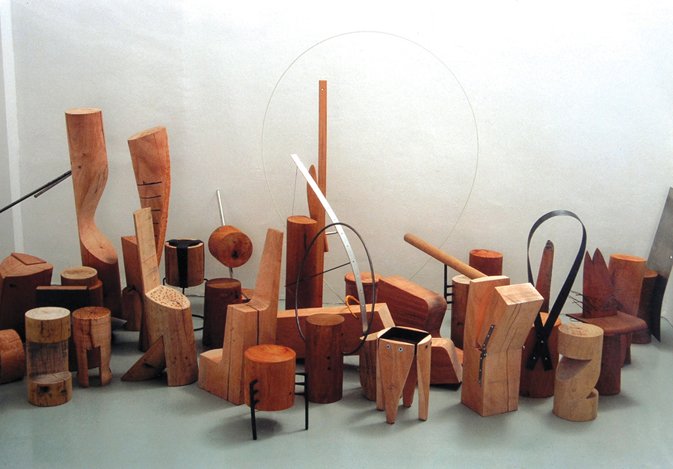 Yaacov Kaufman, Yalla Design, 2000You've devoted one page of the book to each exhibition. Were you tempted to include all the material from all the exhibitions? Or to include more photographs and add more pages for certain exhibitions?The temptation was always there, but once we'd decided that the format would be one page per exhibition and that's it, we didn't deviate from the grid. The difficulty was in choosing the images for each exhibition. This was particularly evident in group exhibitions, where there were several very significant works and it was difficult to choose just one or two. Apart from that, there were also latitudinal considerations, not just from within the exhibition but also from the continuum of exhibitions and the gallery: Had a particular designer participated in several exhibitions? Had a designer had a solo exhibition? Are there already images of his works in the book? All these questions were considered when choosing the photographs to represent each exhibition.There are nine articles in the book that were written by prominent figures in the world of Israeli design; the articles themselves do not necessarily relate to a particular exhibition, but rather to the growth, education, and inculcation of design in Israel.Yes, it was very important for us to incorporate texts into the book; we wanted it to become a kind of design archive, that it should have added value. Our attitude toward the texts was that they should enrich the book but not at the expense of the photographs or exhibitions; rather that they complement one another, support each other in everything to do with growth and inculcation of design on the Israeli scene. We wanted to create a book that made a statement, not a catalogue of exhibitions, but a reference book. Consequently, we also decided on its modest dimensions, like those of a regular reference book, the kind you can read in bed; we didn't want to create a coffee-table book.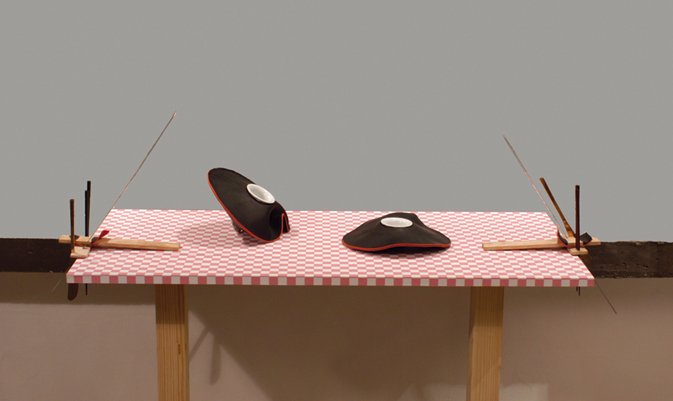 Zivia Kay, Combina Complet, 2003 | Photograph: Yigal PardoWhat guided you in the graphic design of the book?We worked in accordance with the character of the gallery; the format was modest, and there are abstracts of the texts, just like at the gallery. Rather than writing pages and pages about each exhibition, we decided to write a short paragraph that would convey the idea of the exhibition but not detract from the images and the works. The small format, relative to design books, was due to another factor as well; an important and influential one in our view, and that was the price. The price of the book is the same as any other reference book, it was important for us that it would be accessible, in terms of both cost and content.What did you learn about Israeli design after your in-depth examination of exhibitions by novice and veteran designers in Israel over the past fifteen years?There's no doubt that the direct influences on designers working in Israel are Western. We frequently felt that there isn't anything that distinguishes designers in Israel from their European counterparts. Sometimes there's a little twist that makes it Israeli; it's not East meets West, it's something more emotional, a kind of indeterminate mix of elements and items that endow it with a sense of "one of ours". That's what we did when we worked on the book's cover; we decided it would be very clean, neutral, enabling, and containing. But our twist was the use of green. It's something Israeli, the small detail that makes it ours. Many of the pages could be from anywhere, but together the book becomes an Israeli statement. A different, very elusive language.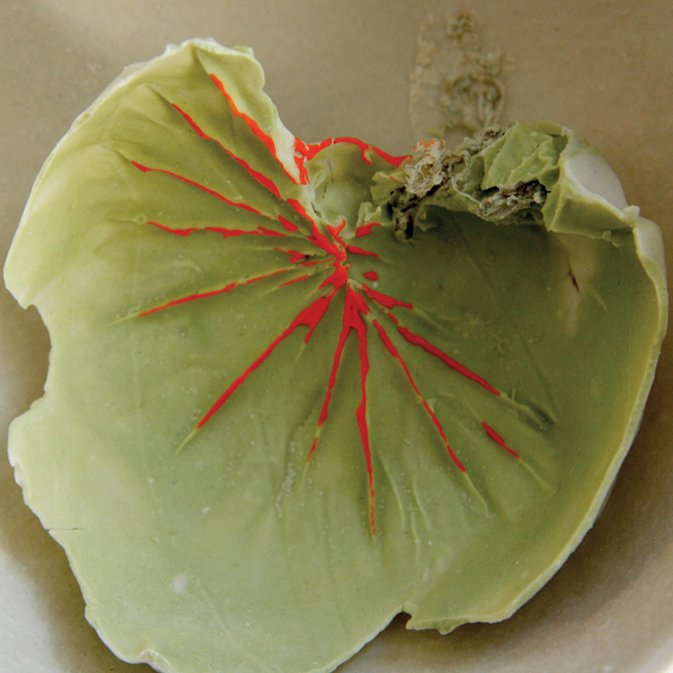 Marcelle Klein, The Nursery, 2009 | Photograph: David Garb and Tami Bar-LevWhat was Periscope Gallery's contribution, besides serving as an exhibition space?It was only after working on the book that we realized that for many designers who usually work for clients and industry this was actually an opportunity to "let go". They were given a platform to create and work from their subconscious, from their instincts. The result is often something different and freer than their usual work. It gives the product designer the option of choosing a different strategy from his usual approach, a way of working with his hands, with arts and crafts, and working on one project or another comes from a place of learning and understanding the object.It's a practice that comes from design education. Acting from an understanding of the material and the technology produces a different result. There is personalization of the object, working on individual pieces from an understanding and from industry. A kind of hybrid is created that comes from commercial industrial manufacturing to arts and crafts.From the outside the book appears to be merely a documentation of Periscope Gallery's activities over the years. You are both creators and curators who observe from the outside and review the local design field in depth, including the gallery's activities. Yet the book doesn't have a summary. Didn't you feel a need to summarize its activities so far? To put down a kind of marker and say, this is how far we've come; let's see what happens in the next fifteen years?A summary is problematic for us. We feel that the writers of the articles set the tone for that. It was very important for us to leave an opening for the future. Not to close off, but rather provide an opportunity to continue developing undisturbed. That's one of the reasons we added the 101st exhibition to the book. There's something symbolic about it.In her article in the book, Emergency Sweets, Deganit Stern Schocken talks about design education, and one of her sentences is for us the end, the beginning, and middle of the book: "How do I give expression to my personal-social experience, with reference to the past? Who am I as an innovative creator? How do I find my voice in the world?" (p. 73).