3 September, 2015 / Tzlil Bosnak
An educator, guerrilla gardener, and cat whisperer. This is how Yoav Shafranek of the Onya Collective – Urban Environment Nursery defines himself. The Collective comprises planners, designers, and social activists working to create positive places to host nature and people in the city. Tzlil Bosnak, a guide at the Museum and a graphic design student at Kibbutzim College of Education, talked to Yoav ahead of the Gallery Discussion this Saturday, which will be hosting Gil Cohen, another member of the Collective.
Tell me about the Onya Collective.The Onya Collective is a multidisciplinary group comprising fourteen members, and what unites us all is love of nature and a yearning and desire to see it returning to the city and the urban environment in a designed, interesting, sustainable way. The group does "urban acupuncture", "agri-puncture", and operates in open spaces. We take a place, a space, or an urban blight, work in it and design it to create something that ultimately serves the community.
This approach originates in a planning approach called "placemaking" which was widespread in the 1950s in the United States. It opposes the planning method advocating that everything below should be torn down and built over; as an alternative it proposes planning that considers the people using the place, and utilizes what's already there.
What was your motivation to operate as a collective and work on projects like these?We all really love nature and plants, and we all also live in cities, in Tel Aviv or Jerusalem. As city dwellers, we all feel the absence of nature. In fact, more than 90% of the population in Israel lives in cities. Cities create a great many problems that we have to contend with, like air pollution, overcrowding, and even alienation. We decided that it was possible to change it. The group started about two years ago through the personal acquaintance of a few friends who started doing "guerrilla gardening": gardening that's less institutionalized, and manifests in transferring things from one place to another or planting plants in neglected places.
Tell me about your recent "Next Station" project.The "Next Station" project was created in collaboration with a New York gallery called Worldwide Storefront. We responded to the gallery's open call and decided to do the project in Tel Aviv's Central Bus Station. It was an opportunity to imagine the potential of this place, with all the chaos of the bus station, the concrete, and filth, a place that's an open sore for many people in and outside the neighborhood. A place where there's no nature, no green, only the absolute opposite.
A few facts about the Central Bus Station in Tel Aviv: It is the second biggest bus station in the world, extending over 230,000 m2; by comparison, the Azrieli Towers extend over a mere 180,000 m2. Its construction began in 1967 and it opened only in 1993. More than 5,000 people attended the opening, and today there are 1,500 shops in it, 800 of them abandoned. In preparation for the exhibition we issued an open call to artists and various organizations, and invited them to propose interventions in the station's spaces. It could be plastic art, an installation, a text, or anything else. We selected thirty proposals out of more than fifty that were submitted, and together with our own activities and interventions we created an entire route throughout the station.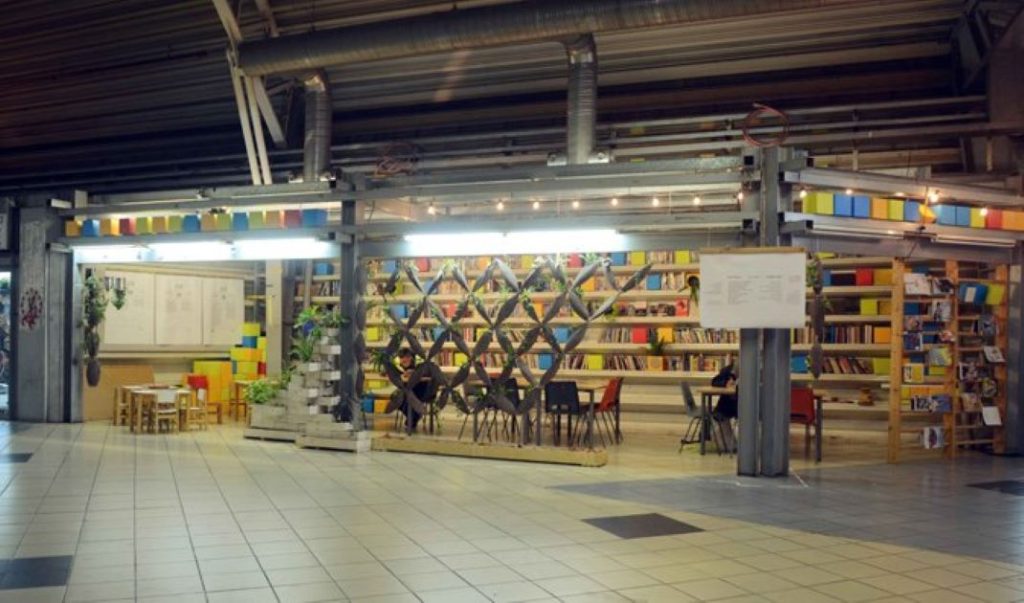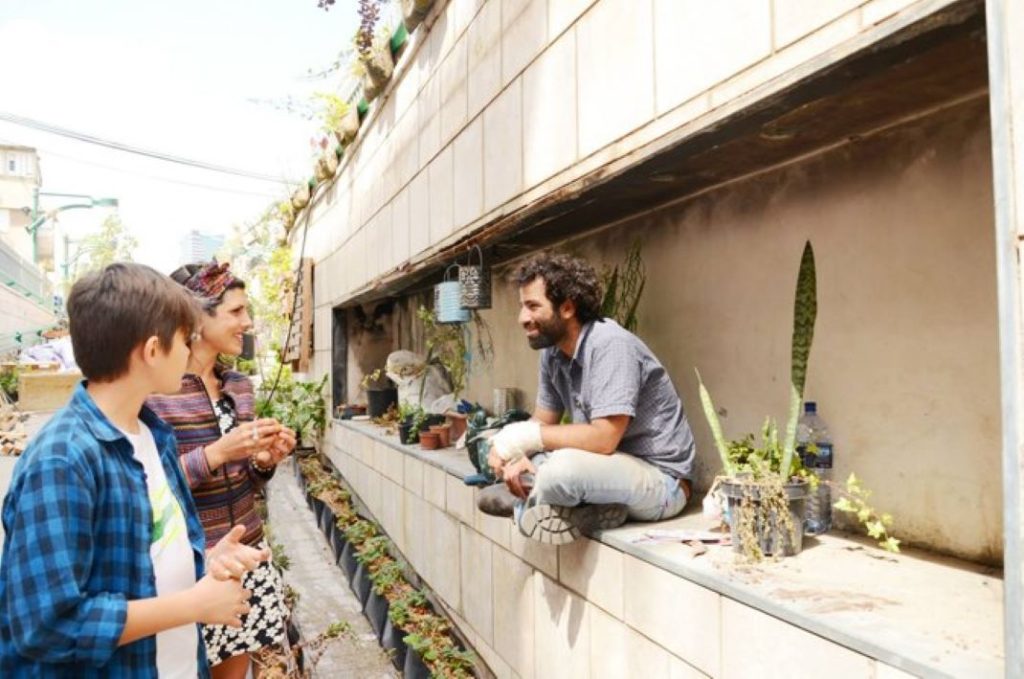 Did any of the projects you set up remain after the exhibition? The exhibition opened in November 2014 and lasted for two months. The opening was attended by over 1,500 people. During the exhibition there were a variety of tours for visitors as well as people who pass through the station every day.
In the beginning of January 2015 we started taking down some of the projects because they required a great deal of maintenance. Urban intervention is something that has to be maintained, especially in a public place that's open to everyone, like the Central Bus Station. Some of the projects that required less maintenance were left. For instance, the Bamboo Center's geodesic dome, the bus with the roof garden, and the free lending library on the seventh floor of the station are all still there. I'd say that half of the projects have remained at the station.
What were the reactions of passersby to the project at the Central Bus Station?Actually, it was quite amazing because a lot of people who come through the station on a daily basis were surprised by the exhibition. The most enthusiastic reactions came from people who use the station regularly, for example residents of the neighborhood who walk through the station to reach the kindergartens, the Super Pharm, or the synagogues. The station is a "city under a roof", that's how it was defined by its planner, Ram Karmi, so it serves a variety of purposes beyond public transportation. For example, a regular "parliament" that met and sat in the library, as well as people who protested that they, the parliament, don't take care the place as well as they should. We hardly bring any books there anymore, and yet the library hasn't emptied of books. In other words, there's constant traffic there.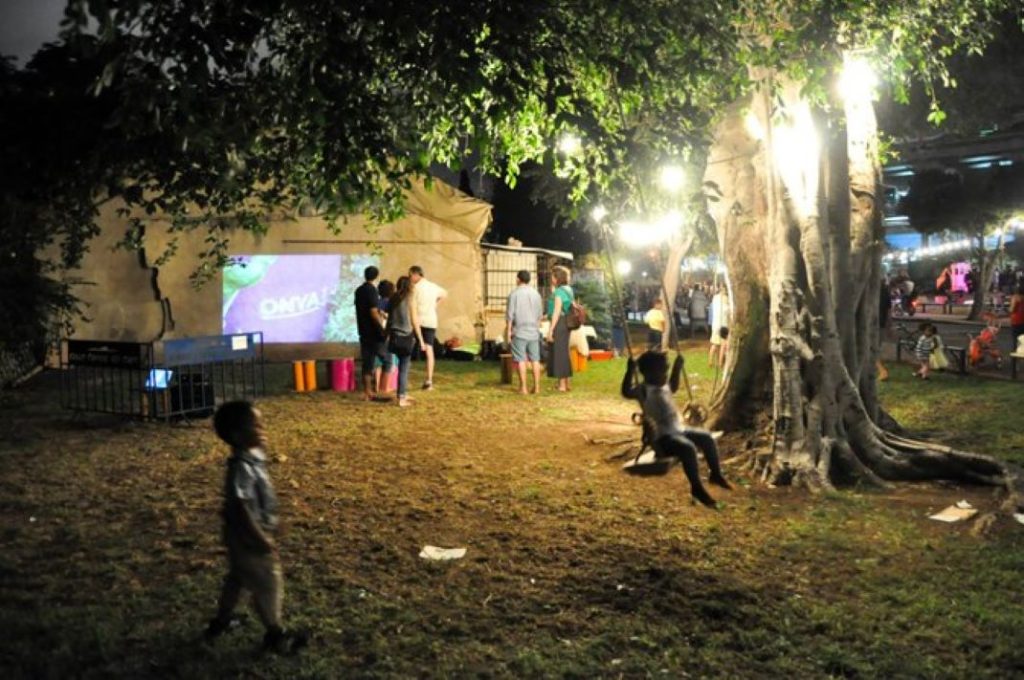 What were your dealings like with the local authorities when you set up the project? The Central Bus Station's management was very happy about the project. Miki Ziv, the station's director-general, helped us a great deal with hooking up to utilities at the station, like electricity and water. The Municipality of Tel Aviv also cooperated, helped with the advertising, and contributed to the culture events at the exhibition. Now we're in touch with the municipality concerning activities in the neighborhood. Beyond that, we're in touch with the various communities, the longstanding residents as well as the Filipino community and the refugee community. Our activities grow from the ground up. And sometimes it's hard for these shoots to sprout in this kind of system. We'd really like to have a closer connection with the municipality, but sometimes it takes the municipality longer to set a project like this in motion.
Can you see buds of the assimilation of "green" awareness? The municipality has its own way of operating. In the municipality it's not customary to work with such a small group of people who want to bring about social change. For example, in other municipalities, like Jerusalem, there are community managers who have more power to get these kinds of activities moving in a short time.
Who supports your projects? At the moment we do everything on a totally voluntary basis. We'd like to have an economic model for our activities, not for profit, but to make the ship [oniya in Hebrew] sail. At present we're not defined as an NGO but part of a National Service group for sustainability, and we're trying to raise donations from organizations and foundations. Our activities at the moment depend on what each member of the Collective brings, and a lot depends on what we create together; on the other hand, we really want to strive in the direction of urban interventions on a larger scale.
At the same time, we believe in a very modest model, one that's very attentive to the ground. We believe in coming in, mapping the place, getting to know all the elements acting within it, and its unfulfilled potential in order to build a program with the people who live and spend time there. To create these ideas in an urban space and create a document that teaches the local authorities as well about the place in which they are active, and to create a community in the process. We're trying to create an alternative that incorporates nature, which creates a connection between people and sustainability and advocates that a place's available resources shouldn't be wasted. We also act through design, and develop visually-intriguing projects that generate interest.
What is your next project? What are you working on now? First of all, there's maintenance work all the time. Additionally, we're working on workshops and tours, and in terms of urban interventions there are all kinds of plans, but I can't talk about them yet. Some of them will be in Tel Aviv, and some in other cities.
How do people join you? Designers as well as regular people? They just come. On Fridays we work in the public garden which is called "The Ramp", which was completely clogged up with refuse for years. The station and the municipality gave us this street; it belongs to both of them and in effect doesn't belong to either of them. We're building a garden there together with the local community. People can just come and get to know us, and we'll get to know them. We'll listen to what interests them and what project they'd like to be involved in. We very much want to grow, and feel that we need to grow. We've got a variety of people from a wide range of professions: educators, lawyers, architects, physicists, designers, and the more the merrier.
In November a Grass Roots festival will be held in the garden we're working on in the Neve Sha'anan pedestrian mall; for a whole month the site will be transformed into an open space in which anyone can take part. We're putting up the platform and accompanying, helping, advertising, and taking care of all the technical matters, so anyone who wants to create and participate is welcome!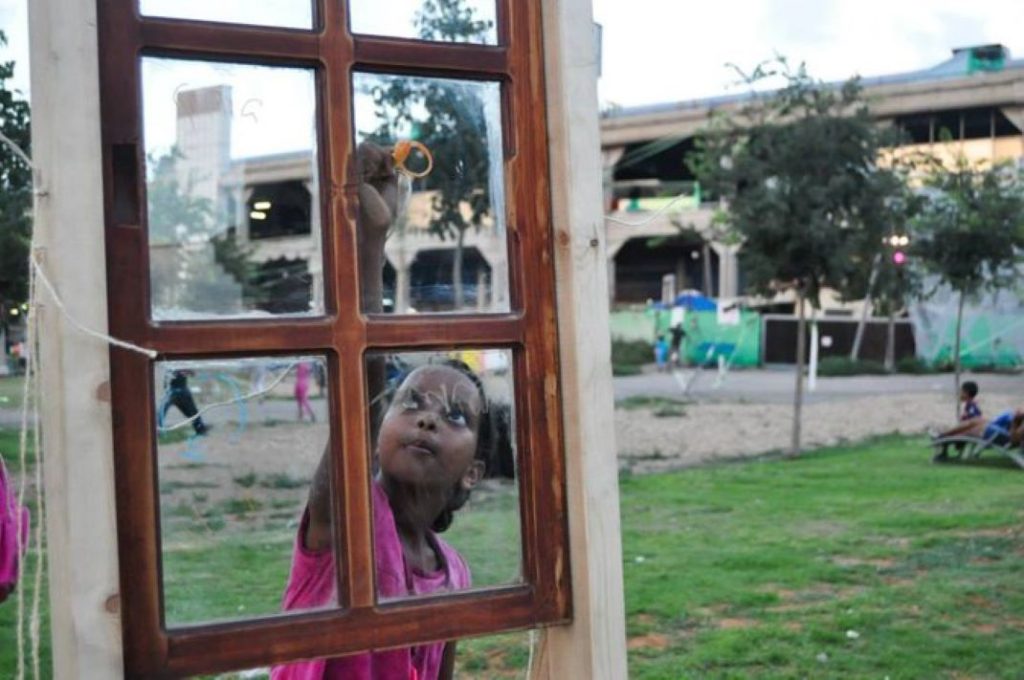 The Onya Collective joins a series of organizations and groups of this kind who at their own initiative are striving to bring about change in the urban environment and operate within it. The Collective seeks to actively bring about change in the urban environment that in the future will perhaps seep into more powerful larger organizations as well. As more and more people join these initiatives, in time we will perhaps be able to see worthwhile changes in Israel's social fabric.