Stefan Legner is not just one of the designers showing in the exhibition, he is curator Volker Albus's right-hand man, and was here, in Israel, to help him set up the exhibition.
I met Stefan Legner a few hours before the opening of New Olds exhibition at the Museum. Legner is not just one of the designers showing in the exhibition, he is curator Volker Albus's right-hand man, and was here, in Israel, to help him set up the exhibition.The exhibition examines the contemporary engagement of young designers, most of whom are in their thirties, with iconic designs that have become milestones in the history of design. Legner, for instance, engages in the Eames brothers' classic plastic chair (click here for the Eames chairs), that familiar plastic chair that has featured in home design magazines for decades.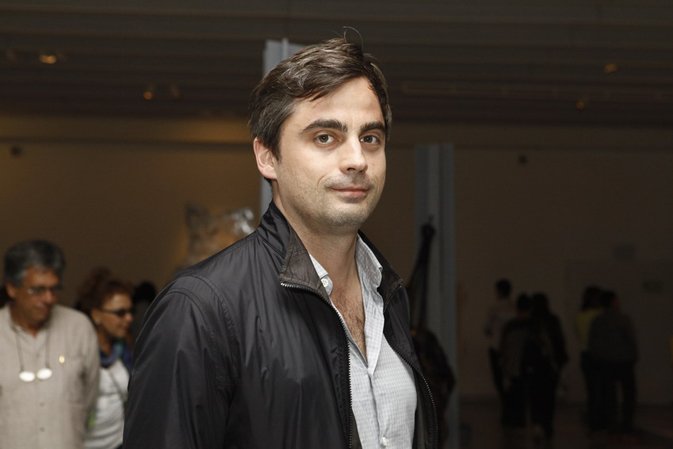 Stefan Legner at the opening of New Olds | Photograph: Noa Ben ShalomYour piece in the exhibition is a homage to the classic Eames brothers' chair; iconic designs such as this usually remain a kind of taboo for designers, why did you choose to use this particular icon for inspiration?"The truth is that the chair was created by mistake, the result of trial and error. For a long time I noticed that Monobloc was central in the works of a lot of designers, and engaging in it had acquired legitimacy, it wasn't something stated, but more a matter of feeling. I decided to try working with it too. I started playing with its form on the computer, changing it, tweaking it, adding and removing parts, I tried to see where I could take its form and for it to still be recognizable, but with a different, contemporary perspective".When you began designing your chair, what was important for you to retain from the original?"It was important for me to have external-formal points of intersection. I wanted to retain the soft appearance of the classic chair. Apart from that, the cheapest, best-selling chair in Germany is the simple white one – because it doesn't require the additional effort of adding color, it has no additional costs. So I, too, decided to work with the neutral color of the plastic. This element of the simple chair in contrast with the Eames chair, which is one of the most expensive, is a kind of debate that's currently taking place in the world of design".Did you design Monochaise especially for the exhibition?"As part of working closely with Volker, we hold lengthy debates about design pieces, new directions, and contemporary streams. The debate and discussions about what ultimately resulted in New Olds were very protracted, and during them I created the chair. When I designed it, we didn't yet know that we would be creating an exhibition on the subject, but there's no doubt that one of the triggers for the piece came from those discussions that resulted in the exhibition".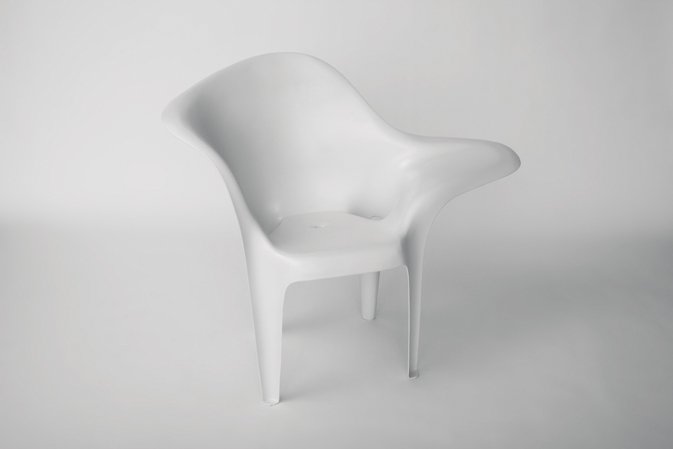 Stefan Legner, Monochaise, 2010 | Photograph: Fred BushAlthough you are showing your own designs in the exhibition, you place considerable emphasis on the fact that you are an instructor and teacher. Do you prefer to be known more as an instructor and less as an active designer?"I don't have a massive body of work behind me. I do work on my own projects, but I don't always have as much time as I'd like to concentrate on my personal designs. I really like the combination of the two. The university (The Kalrsruhe University of Arts and Design) provides me with an interesting and constantly changing design environment, where I feel it's possible to create a design setting even if I don't actively design every day. Because I started working on exhibitions with Volker, it gives me other and different opportunities to those I thought I'd have when I graduated; and as a result, my personal practice is sometimes shunted aside".You work closely with Volker, and together you founded 'kkaarrlls', can you explain what this project is?kkaarrlls is a continually growing showcase collection. It is an exhibition of items that are prototypes or limited editions, which are also for sale. Many of the pieces were designed by students during their design studies. This year we held our third exhibition in Milan. Our main features, in general terms, are engaging with new materials and the product's new and different behaviours, and those of the designer or the user. It's a great platform that helps to promote the school, the students, and the graduates, and functions as a window to the international world of design. The fact that the exhibition showcases a collection of pieces in a central location like Milan helps students present their work and establish their reputation. We thought it very important because graduating students usually don't have a body of work to show, so it takes a long time before they can showcase their work. This is a type of solution".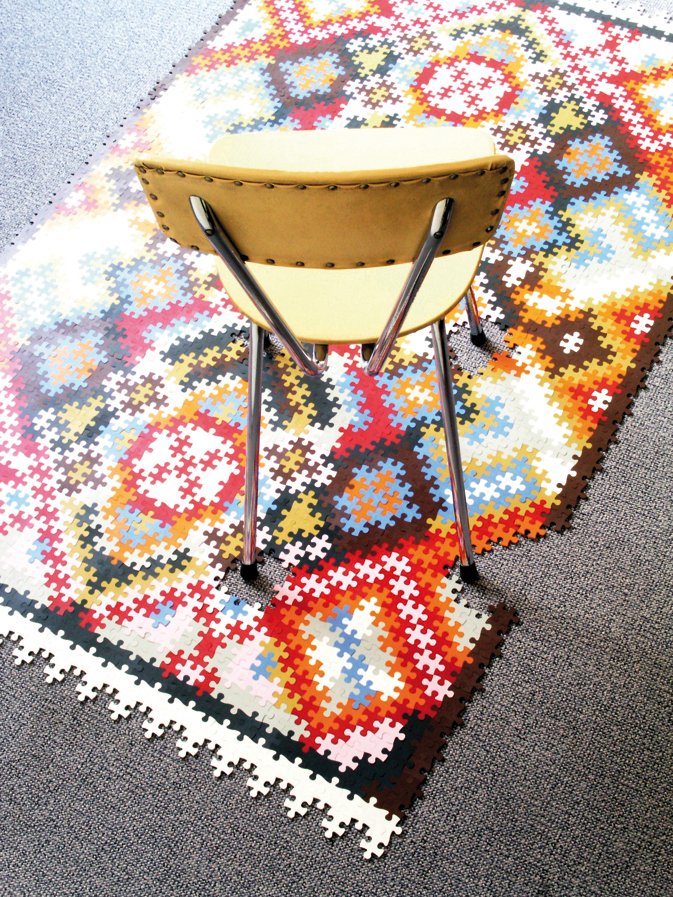 Katrin Sonnleitner, PuzzlePerser, 2007-2009, kkaarrlls EditionI understand that before you joined the faculty, you were a student at the school; what was the transition like?"When I began my studies the school was very new, but Volker was already there. He gave the department its character and professionalism. It was very small and limited, so there was a lot of personal attention. During my studies I did several internships with various designers, and I also worked independently as a freelancer. When I graduated I had several possibilities to choose from, but going back to the school appealed to me. Going back was like coming home, I knew everybody and I knew I wanted to sit and work with them. I felt this kind of work was preferable for me, it gives me time to work on my own designs, as well as the interest and added value of seeing design students developing".Dr. Peter Sloterdik, who heads the school, is a philosopher. It's unusual to find people who do not have a background in design heading a school of this kind. Do you sense a difference between this school and others for this reason?"Of course. The fact that he's a philosopher broadens the horizons. Listening to him is fascinating; he's very clear and charismatic. His way of thinking is very unconventional and he imparts a spirit of innovation. Developing a way of thinking is on the theoretical level of design and takes students to new and different places. The theoretical debate is very broad in all the departments and even extends to the school's entrance exams. Candidates for the theory departments are required to bring drawings to their entrance exams, while practical design candidates are asked to write something, not necessarily connected with design theory, they're encouraged to investigate and hear about additional spheres".You helped Volker design New Olds at the Design Museum; can you tell me a little about what guided you?"The exhibition is a travelling one, and as such the greatest challenge is to be flexible so that it is suited to very different exhibition spaces. We decided to work with boards and walls, and arrived at a kind of formula that consists of two pieces on the wall and a 'sitting' piece; we created a kind of basic architecture. We then went on to collect objects for particular scenes (for example, an arrangement resembling a living room) so that people would be able to feel close to the products. Another thing that was important for us was to maintain a basic, timeless design so that the design of the exhibition can survive for many years. The material we used is simple and basic, easy to repair, move, and transport. It's suitable anywhere".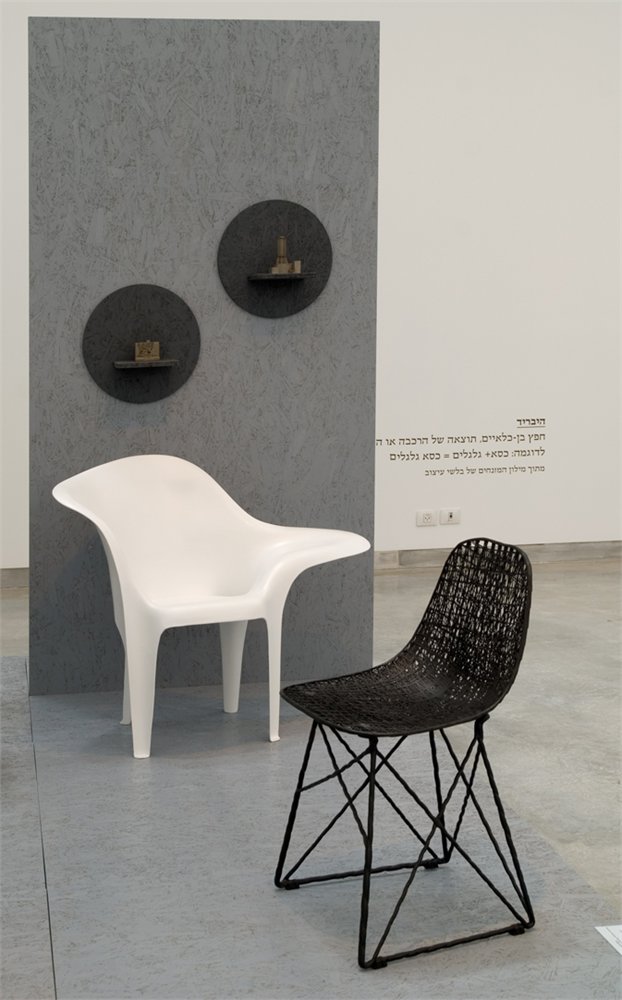 Stefan Legner's Monochaise in New Olds; foreground: Carbon Chair, 2004, by Bertjan Pot and Marcel Wanders; on the wall: Buildings of Disaster, 1998-2000, by Constantin BoymWill the arrangement of the objects be the same wherever the exhibition travels?"In principle, the groups change from one exhibition to the next, and everything is very fluid. Because our aim is to incorporate local designers in each of the exhibition's stations, we tried to design it in way that wouldn't speak about current trends, but would be as neutral as possible, so it can incorporate local pieces wherever it goes".What do you think of the Israeli designs in the exhibition?"I was surprised to see the pieces in real life. I'd seen many of them before, but on the internet and in various design blogs. I didn't know they were Israeli, and I was pleasantly surprised to discover that they are. I think Volker expressed it correctly: 'The personal inclination of many designers is to work with the old and traditional of their parents, and then they discover universal relevance; in this the Israelis fit in accurately and with high quality. In general I think Israeli design is very Western, and I don't feel a difference between Israelis and Europeans".In conclusion I ask him what his favourite pieces in the exhibition are; he mulls the question over, and finally answers:"Due to the simplicity and ingenuity of the project, I have to say Silvia Knüppel's Pl(a)ywood (click here for an interview with Silvia). One of the pieces that verges on perfection in my view is Front's vase, Blow Away (which the V&A Museum has recently acquired for its ceramics collection), and Jurgen Bey's Werkstadt-Kabinett that speaks intelligently and in an interesting way about modern-day working in cubicles, about privacy at work, and all this with a raw material that could have been anything – so basic yet so complex and unique". (Photograph below.)
To the New Olds exhibition page at the Museum >>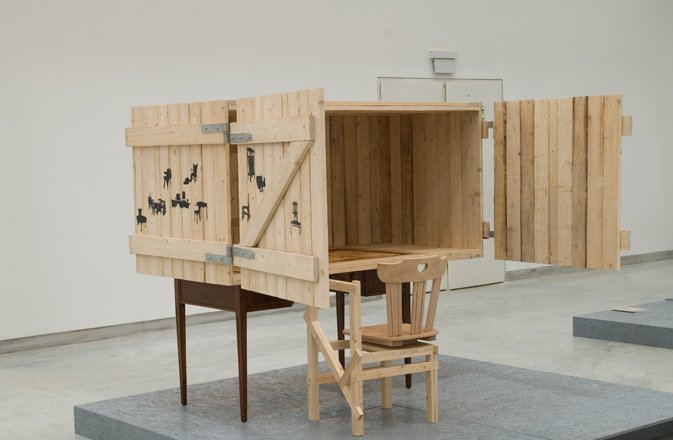 Studio Makkink & Bey, Werkstadt-Kabinett, Ensemble, 2010