I met with Volker Albus after lunch on a pleasant wintry day in the middle of February. He looked tired and would have clearly preferred to have a nap before the interview. He told me that at Karlsruhe University of Arts and Design, where he is a senior professor, the students recently presented a project entitled "Sleeping in the Office". They were asked to take everyday objects that can be found in an office and transform them into objects that facilitate resting or sleeping in the office. For instance, one student covered both sides of ordinary folders with foam rubber so that when spread out and joined together they form a full-length mattress. When not in use the folders can of course be folded back and replaced on the shelf. "Nowadays people work from seven or eight in the morning until five in the afternoon", Albus said, "and it's important for them to be able to shut the door and have a rest in the middle of the day without being disturbed".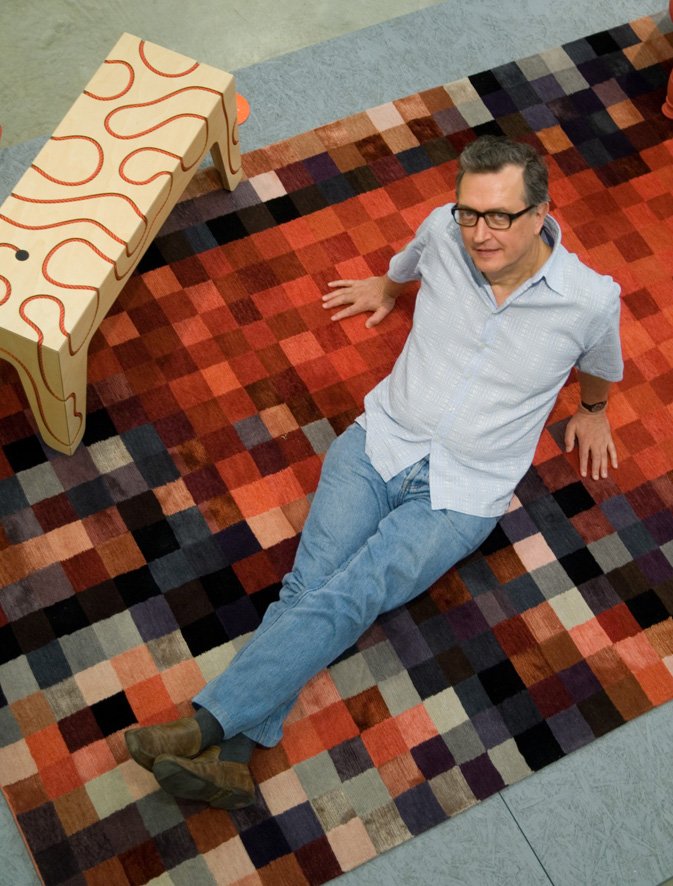 Volker Albus on a rug he designed, Pixel Persian, "new olds" at the MuseumAlbus came to Israel to discuss "new olds" (which opened recently) and to see the works of Israeli designers that were going to be added to the exhibition. This isn't the first time an exhibition he is curating is being held in Israel. In 2001, the Israel Museum hosted the traveling exhibition "Consciously Simple", which was also a collaboration between the IFA and Volker Albus. "It was at a time when there were a lot of problems here and Israel was a very dangerous place, so we were hesitant about coming. I haven't been here since then", he says.And how do you feel this time?"Much more relaxed. There isn't the feeling of danger on the streets any more. I was very curious to come back here".This is going to be the exhibition's world premiere; why in Israel?A few years ago, when I heard that Ron Arad was building a design museum in Israel, I knew I wanted to hold an exhibition here. I've known Ron since the early 1980s and admire his work (in 1993 Albus published a book about Ron Arad's work, entitled Ron Arad Associates: One Off Three). I spoke with the IFA and when we heard that work on the building had been completed, we decided to open in Israel. The premiere of our last exhibition was in Cairo".Where did the idea for the exhibition come from?It took shape during my travels around the world, especially in Asia and the Middle East. I discovered that people in the countries I visited were completely losing touch with the traditions of the past. They're losing touch with the materials. In China, for instance, people are losing touch with the culture of designing and working with paper; they try to look like Philippe Starck at all costs and lose their identity in the process. My aim in the exhibition is to show different ways of working with different aspects of tradition. I'm trying to help designers look at their roots, to be aware of the tradition in which they grew up.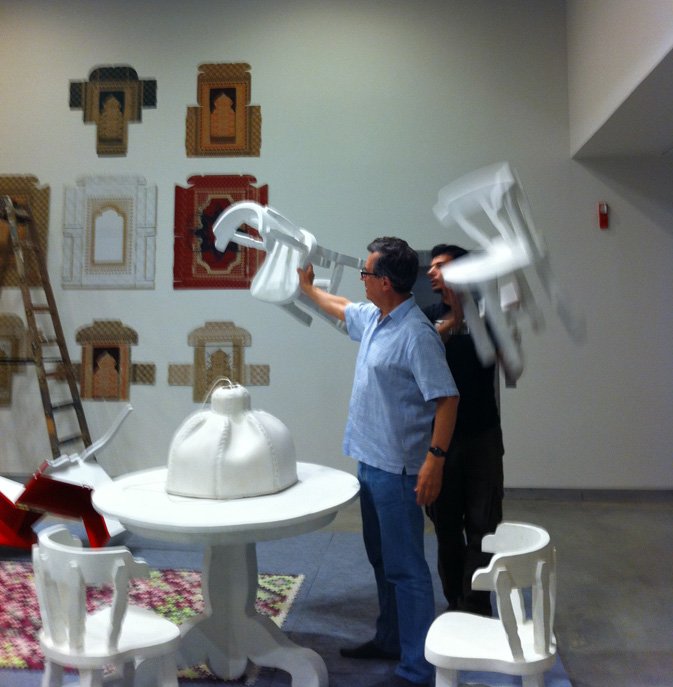 Volker Albus during the setting up of "new olds" at the Museum, May 2011We're familiar with this process here in Israel. Immigrants who discarded every cultural trace of the countries they came from in order to create the New Man. Is this the case in Germany too?In Germany, engaging in tradition was toxic for a very long time. Because of the Third Reich even materials were contaminated, and people refused to look at the past. For years people in Germany refused to admit they were German. I was born in 1949, and when I went to England in the 1960s I couldn't bring myself to admit I was German. I was proud when people I met mistook me for an Italian. It's different now. There's a much more relaxed view.We were also greatly influenced by Droog Design – Renny Ramakers (click here to read "Tradition in Design / Renny Ramakers, Droog, in conversation with Volker Albus" from the "New Olds" exhibition catalogue) told me that in Holland over the years it was completely natural to work with traditional techniques and crafts, they never completely disengaged from their past. In Germany, by contrast, there is no contemporary processing of old traditions; objects either look exactly as they did in the 1940s or they're completely contemporary.Is this exhibition, "new olds", a continuation of your previous traveling exhibition?"Curiously Simple" was much more unpolished and stiff. You have to bear in mind that it was curated in the 1980s, only a few years after Germany opened up to the world. It was 1970 when a rock band sang in English for the first time in Germany (for example, The Scorpions who released their Lonesome Crow album in 1972):
It became possible to sing about the autobahn (the motorways in Germany that have no speed limit and where built by concentration camp inmates under inhumane conditions):
"Consciously Simple" traveled for ten years and visited thirty countries. This time, too, we thought we should find an international subject that would keep going for a long time. So we chose designers and objects that aren't all that well known. We could have done a Philippe Starck exhibition; after all he's very bourgeois and his furniture references the past, but because he's so popular people would have been distracted from the subject and focused on a single aspect – French tradition. That's why it was important for me to show objects that express the idea but they're not so popular that they distract your attention from the essence.Is there a difference between the works of the Israeli designers in the exhibition and those of the other designers?The Israeli designers are very close to design in the West. It was very easy to incorporate them into the exhibition – for example, David Amar, Yoav Reches, Tal Gur, Ayala Serfaty and a few others – if I'd met them during the curating process I'd have included them in the traveling exhibition.Are all the objects in the exhibition functional?In my view design should provide additional functions. Not only practical ones. Pleasure and expanding knowledge are functions as well.
From right to left: Georg Blochmann, Director of the Goethe Institut, Tel Aviv; Dr. Harald Kindermann, Ambassador of Germany to Israel; Galit Gaon, Chief Curator, Design Museum Holon; Volker Albus, Curator of the Exhibition, at the opening of "new olds" at Design Museum Holon
The most popular question in the world of design today is "do we need another chair?" which is another way of asking "has the role of the designer changed?" What do you think?There are unquestionably enough chairs to meet our needs. But we need to continue to develop and we can't stop designers creating more chairs. The world is definitely changing, and with it the role of the designer. There are technological advances and there is greater respect for the environment. Our behaviors are changing as well – there's fast food, pizza stalls, coffee-to-go. People travel a lot, sleep in airports, work on a computer, which means that alongside technological advances there are social changes as well. The designer has to mediate between these phenomena. He needs to see what is happening. For example, the project I spoke about at the beginning of our talk – "Sleeping in the Office". Ten years ago that would have been taboo – you couldn't even think about sleeping in the office. Today we have to respect the fact that people are tired in the middle of the day. In Germany we're beginning to respect these needs, even if it means sleeping in the office. And that is the role of designers.