The graduate exhibition of the Faculty of HIT was launched last week under the title: Graduate Exhibition in an Era of Excess Information and Short Attention Span.
The graduate exhibition of the Faculty of Design at Holon Institute of Technology-HIT was launched last week under the title: Graduate Exhibition in an Era of Excess Information and Short Attention Span."In the digital age, 'browsing' is our main mode of thinking", states the exhibition text, "We are drowning in a sea of information and desperately need people to choose, store, and manage the inconceivable amount of information so we can consume it more easily".This desperate need of which HIT speaks is not new. The term 'curated consumption' was coined almost five years ago by Trendwatching, which contended that the infinite abundance and shortage of time typifying modern life is driving us into the arms of a new breed of 'curators' and editors, who pre-select for us what to buy, what to experience, what to wear, what to read, what to drink, and so on. The search for someone to edit and curate this inexhaustible abundance for us has also created completely new consumer spaces – shops that look like art galleries and museum exhibitions (such as Colette in Paris and Corso Como in Milan).However, it is not only consumer experts that have identified this need for curated consumption to make it easier for us to consume the ungraspable abundance. In recent years design schools have adopted a 'curating' approach and in their end-of-year exhibitions have chosen to present (and emphasize) only some of the projects, those that better serve the institution itself, and 'hide' others, or even not show them at all. This trend has attracted considerable attention in the past year, and even gave rise to a panel discussion that was held at HIT on the subject. The prevailing trend of designing graduate exhibitions as if to all intents and purposes they were museum exhibitions has engendered debates and questioned whether this kind of presentation improves viewing quality of the projects. And another question – how does presentation in such 'professional' exhibition spaces affect the quality of the projects themselves? Does it not create a misrepresentation of a 'pinnacle' the students reach at the end of four years from which they can only come down? Does it not establish unrealistic expectations from life after the exhibition?It is evident that the department heads at HIT are aware of the debates taking place on these issues and that they are seeking new ways to contend not only with old exhibition models and with the changes that have taken place in recent years in consumer habits, but also with the doubt planted here recently regarding the very need for a graduate project. At least that is what emerges from a meeting with the head of the Department of Industrial Design, David Rawet.Rawet is an ardent objector to what he calls "the revealing, online chatter that closes in on us from every direction… it runs counter to the spirit of the department", and he says, "We have chosen 'doing'".The Department of Industrial Design exhibition, which was designed by the graduates, is showing in the workshop spaces where the students usually work, and is not museal and "not presented behind the glass of display cases", Rawet stresses. And indeed, the spaces do not suffer from 'over-design' that diverts attention from the projects themselves, and the white sheet screens on the walls presenting portraits of the designers next to their name are virtually all that is needed."Following the recent debate and in order to reduce the pressure, we decided to review the issue of graduate projects", says Rawet. "One of the conclusions we reached is that a graduate project cannot be achieved in only three months, and not even in six. It requires a whole year. We gave the students freedom to choose any subject they like and a whole year to work on it. After the subject, which could be a kind of research question, was approved, there was an advisory committee that monitored the students throughout the year. I have to say that most of the students enjoyed their graduation project this year, as if we'd pulled out some kind of plug, and from that moment on everything flowed".And indeed, a considerable number of projects presented this year were 'processual', projects that were in no hurry to achieve a result, but revealed the learning process, the research.Ornit Zur-Arie created a project with the challenging name Ceramic Farming, a material-research project engaging in the encounter between industry and nature. A series of dishes that she created by using earth and plaster molds.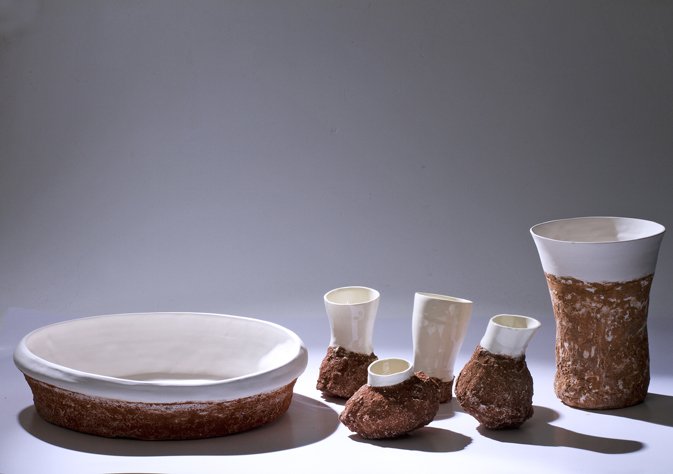 Ornit Zur-Arie, Ceramic Farming | Graduates 2012Leetal Rivlin presented a project entitled SANDdesign that focuses on sea sand as a raw material. In the exhibition she showed some of the results of her research in the form of bowls and vases made with diverse technologies such as shaping with steam, heating to create a rock-like appearance, layering and roasting to create a sandy color scale.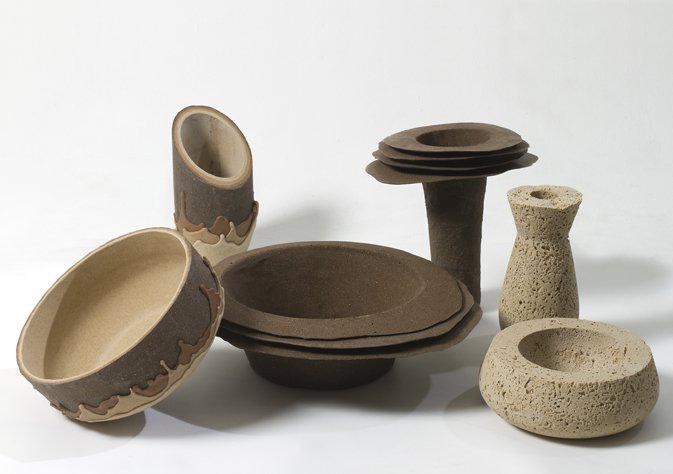 Leetal Rivlin, SANDdesign | Graduates 2012Song of the Grasses by Rona Mayk – a series of bowls made from processed grasses – is also a research project whose poetic results were shown at the graduate exhibition. By wringing and crushing, two methods for processing weeds, Mayk created a series of dishes that preserve the beauty and natural character of the material.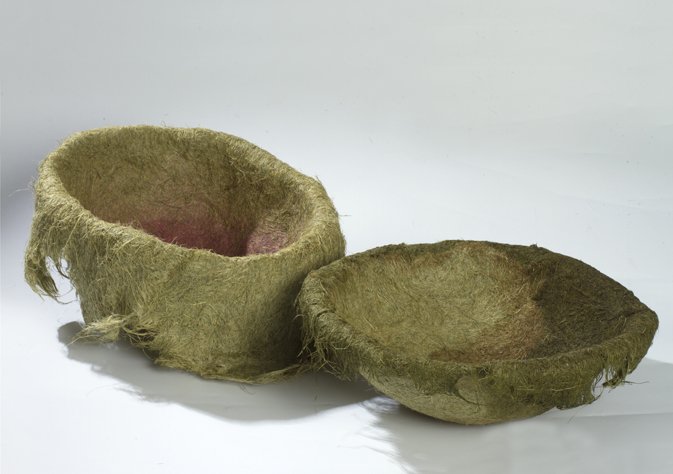 Rona Mayk, Song of the Grasses | Graduates 2012Another research project that fits in well with the green trend that is evident here recently is Spirulina by Tom Vered. Vered created a product for growing home-grown spirulina – a dietary supplement that has been dubbed 'the world's healthiest food'. "Until now this product has been sold industrially all over the world. The device I've developed enables people to grow it themselves", says Vered, and attests that a considerable number of people have approached him for instructions on how to grow spirulina themselves.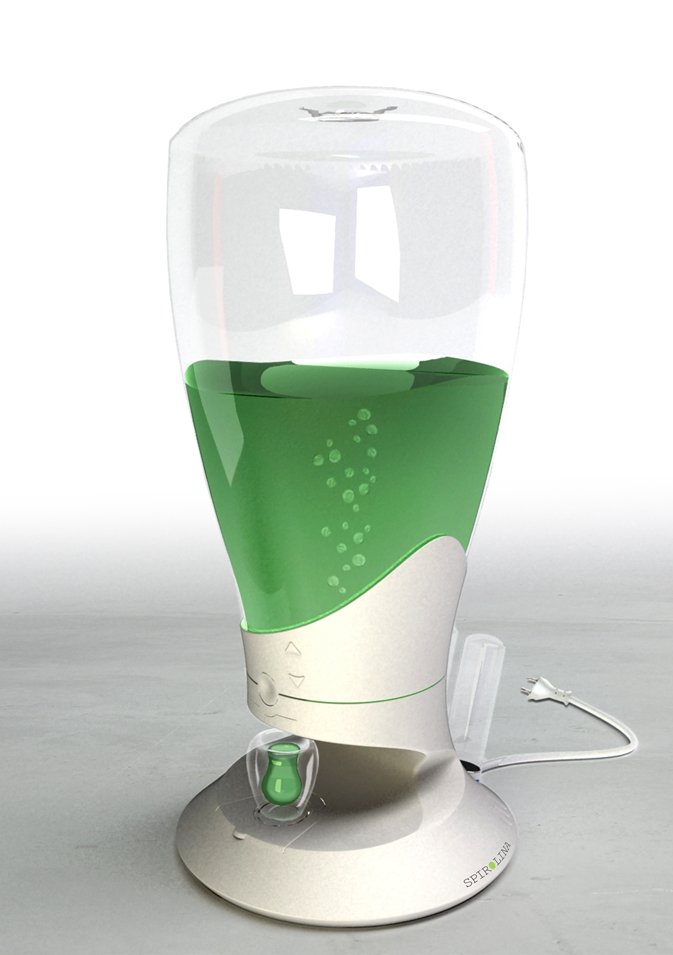 Tom Vered, Spirulina | Graduates 2012However, not all the projects presented research processes; some were about solving an existing problem in the best tradition of design. This is the case with Ori Friedman, who created a camouflage system for an observation team and reduced the time required to set it up from one hour to eight minutes. And Udi Rimon's Tel-O-Porter, an add-on shopping basket for the Tel-O-Fun bike-for-rent service that makes using a car unnecessary.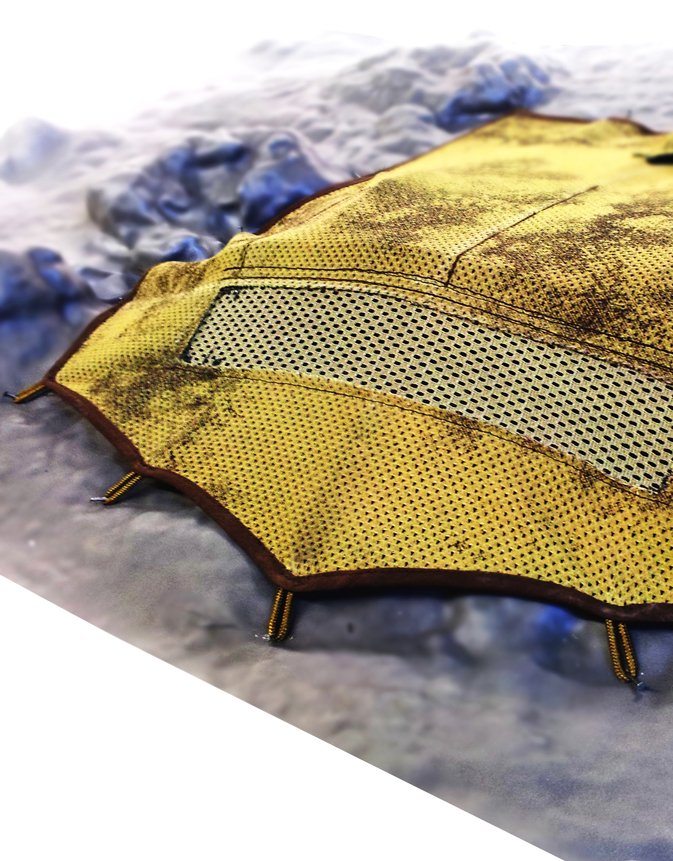 Ori Friedman, Key Stone | Graduates 2012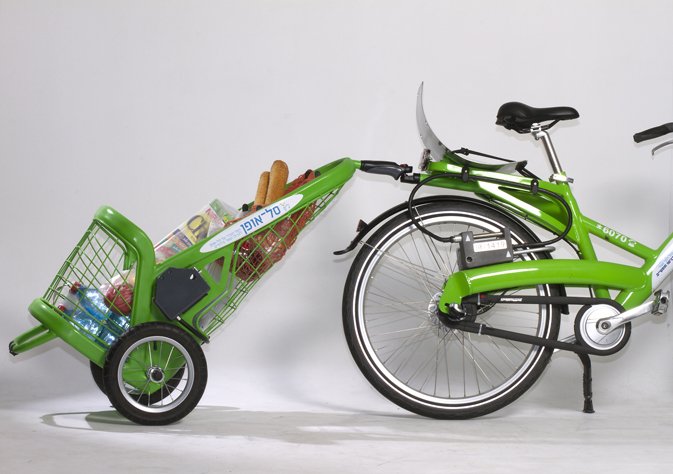 Udi Rimon, Tel-O-Porter | Graduates 2012The hugely important slot of social design, design that contributes and works for the community, was filled this year by Hadar Zuckerman in a series of beautiful seats and chairs made in collaboration with a group of Ethiopian artists at the Ahata Center in Kiryat Gat, a center that was founded to encourage original and local creativity. "I discovered that the products of the Ethiopian artists do not deviate from the dimensions or structure of a stand for pots. My project expands their product line by manipulating the structure and combining it with additional materials to create a modern design that preserves Ethiopian art within it", she says.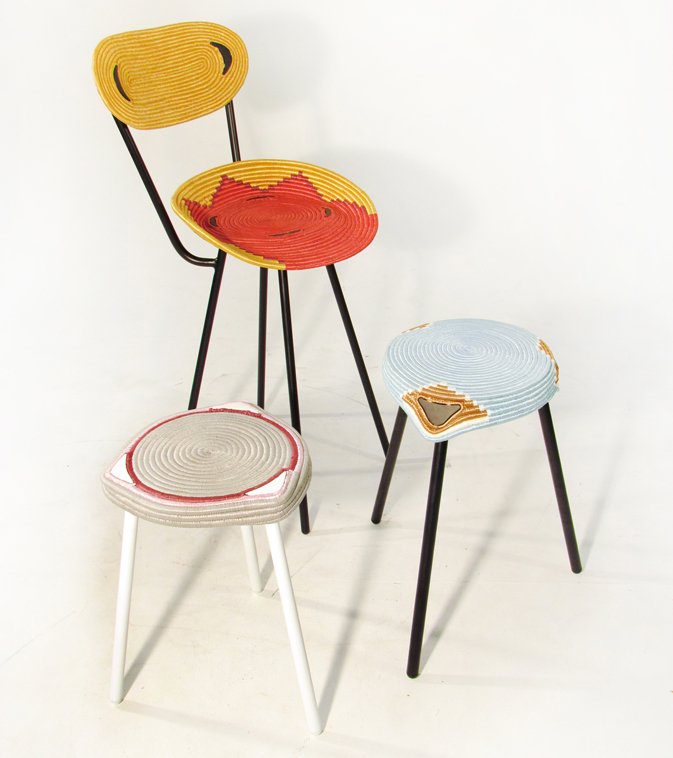 Hadar Zuckerman, Series of seats and chairs that combine traditional Ethiopian weaving with modern techniques | Graduates 2012One of the most surprising and exciting projects in the exhibition are three night lights by Chen Bikovsky inspired by pop-up books. In her project, light becomes material – and moving a strip reveals an image of light that breathes life into the character and creates a spectacular, playful, 3D environment.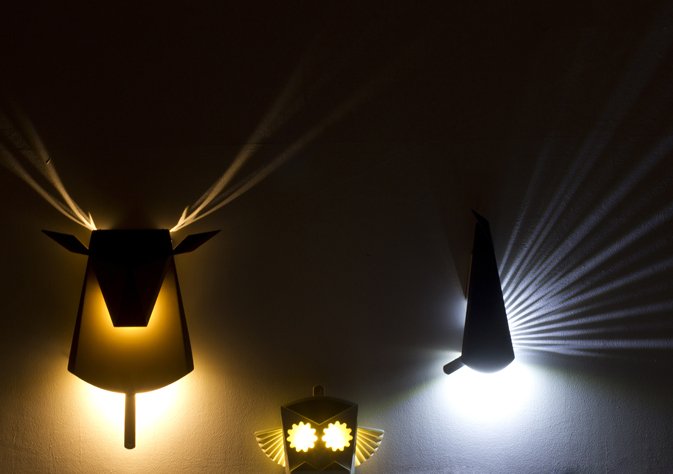 Chen Bikovsky, Pop-up Lighting | Graduates 2012Humor and narrative could be found in Product Absurdity by Noa Eshel. The humorous, absurd products through which she examined social conventions include a coffin for a goldfish, a lucky hamsa for a dog, and a handle for drunken brawls.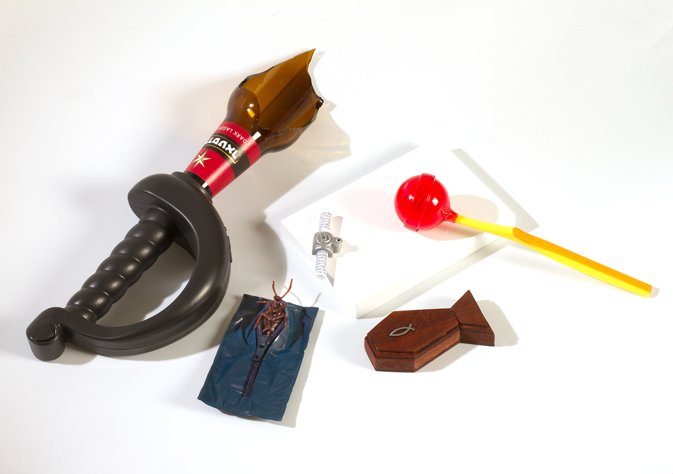 Noa Eshel, Product Absurdity | Graduates 2012The series of vases by Hadar Glick reflected narrative processes in design, but ones that contend with the highly important issue of memory and the way designers translate it into an object.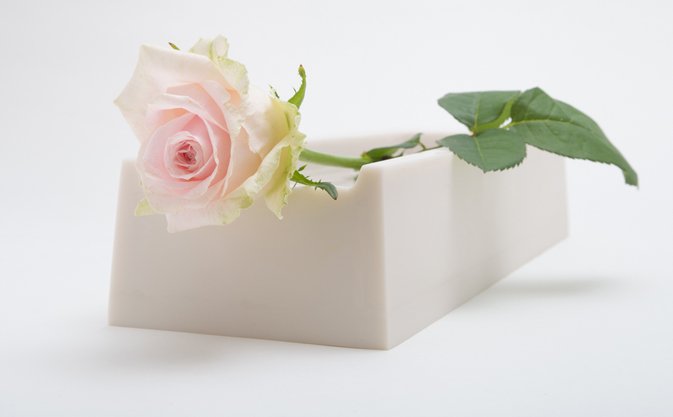 Hadar Glick, Series of vases that are a memory of loss | Graduates 2012Without question one of the most striking projects in the exhibition that integrates with the worldwide trend of designers who devise and create new machines was Eran Gal-Or's 3D printer. The printer he created especially for this project prints objects from ceramic materials such as porcelain, clay, and glass. In the exhibition Eran shows the printed products – lighting fixtures and dishes – that include what he terms "poetic mistakes", random dripping that is the result of not working with supporting materials.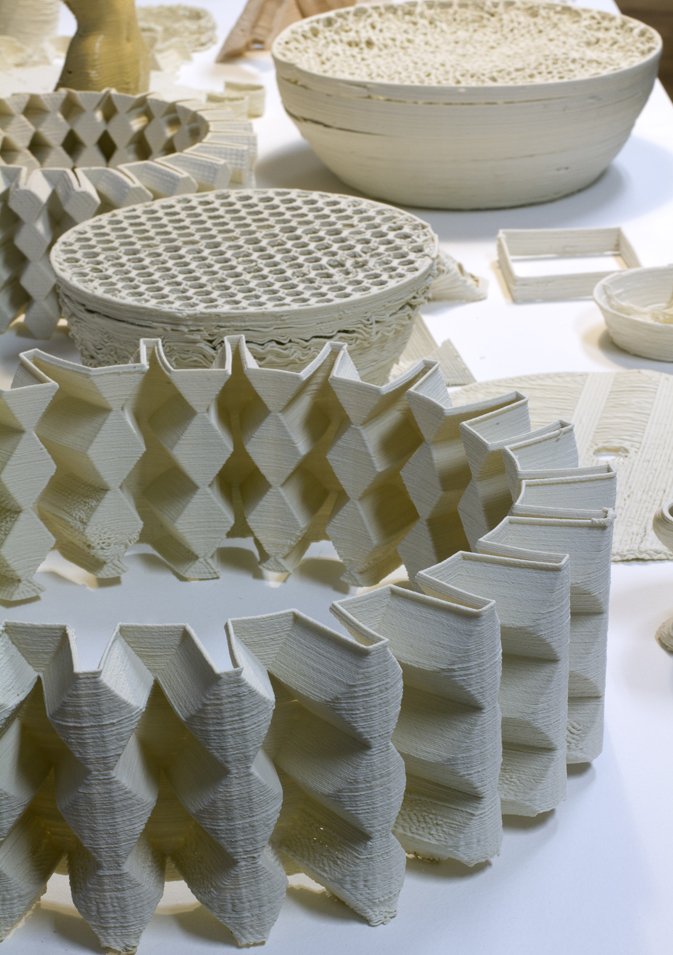 Eran Gal-Or, Ceramic Material Printing | Graduates 2012It would be interesting to check how the students themselves experience the change in approach to their graduation projects, but judging by the results, and not just the chatter, as David Rawer calls it, there is plenty to look forward to.