4 October, 2011 / Prof. Volker Albus
The preview by Prof. Volker Albus is a part of a book accompanying the exhibition, In Vien by Ayala Serfaty
Generally, enthusiasm for a piece of art, a design object or even an architectural masterpiece develops in two different ways: you are either completely fascinated by the work in front of you from the minute you put eyes on it, or you need to successively approach and continuously take stock of the object of fascination and with time an excitement evolves.In the first scenario the spontaneous affection is based on an intuitive and simple matter of "taste" or an "intellectual" conformity between one's own aesthetic parameters and the author's values which are obviously similar. The progressively developing fondness on the other hand is established after a type of process kicks in: discussions, extensive studies or repeated encounters help an appreciation of the newly acknowledged object's quality gradually sink in until one is completely convinced.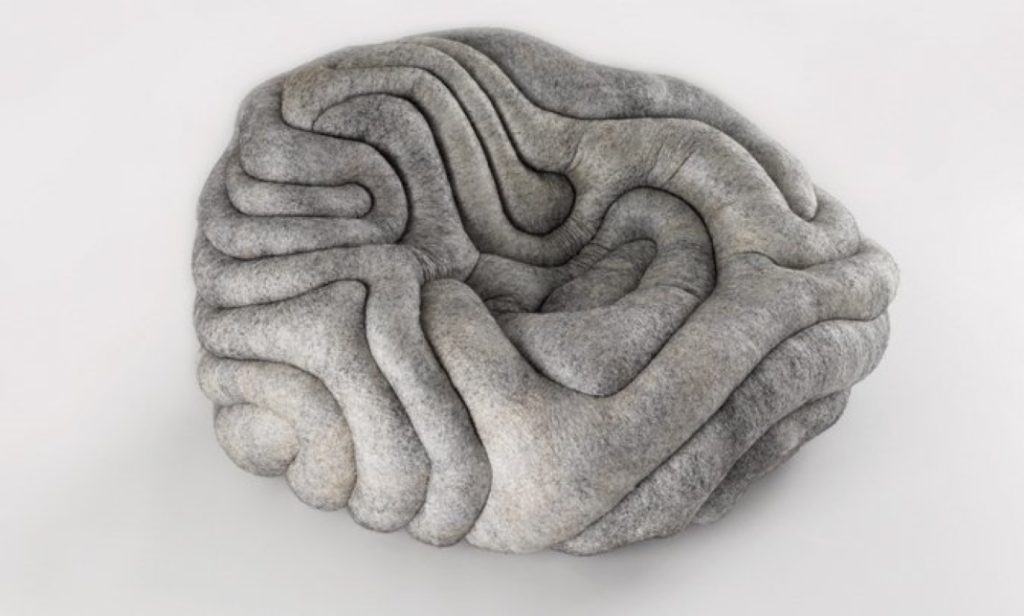 Once confronted with the new furniture project Primo Blanco by Ayala Serfaty this spring, I was seized by instant enthusiasm. Before I had the chance to realize that the pieces were made of felt, I had already found their similarity to a specific type of furniture from the sixties and seventies. This somewhat chubby upholstery furniture kind of resembled layers of sausage formations and in my opinion Serfaty accomplished a magnificent persiflage with this new interpretation. Obviously this connotation came to be, due to my recent activities: I was in the middle of setting up the exhibition new olds at the Design Museum Holon and checking nearly every design object for alleged connections to earlier exhibits in design history. And Serfaty's grey felt armchairs reminded me of exactly those bulging upholstery formations seen for example in Joe Colombo's Elda Lounge Chair from 1963. After having spoken to Ayala Serfaty I realized that she had had something completely different in mind other than to create a "postmodern" reminiscence of shiny happy modeling frenzies. Ayala Serfaty's intention was to find an adequate form for the felt she used.

Therefore my instantly created construction of associations fell apart: No Colombo, no revival of leathery bulges, no homage, no irony. Was I disappointed? Frustrated? No! On the contrary, because the longer we talked – the longer she lead me through her immense arsenal of felt samples, of felt materials and of possibilities to process felt – the more I realized that Ayala Serfaty had succeeded to create something very special with Primo Blanco.She had indeed found a new and material-appropriate form defined by the material itself. As felt is traditionally used in a completely different manner: it is usually brought into shape of a more or less thick or firm, cloth-like sheet and is then used as flat starting material – semi-finish – and then "forced" into a three-dimensional volume. This furniture, on the other hand, is completely different. Ayala Serfaty doesn't see felt as flat textile but as a mass that needs to be shaped. She doesn't work with felt by using sewing patterns but she mainly works with her hands and literally "kneads" the material.
However, Primo Blanco is not only made of felt. Although the felt is actually formed covering a polyurethane core, this "cover" doesn't follow traditional upholstery architecture. It rather rests on top of this load-bearing core like a meandering landscape and only indicates the armchair's configuration topographically. In other words: if this certain type of contextual understanding weren't given, one would not immediately identify Primo Blanco as seating furniture.Now is that a flaw? Does this liberation from traditional conventions in design iconography limit the quality of these works? Absolutely not. Especially with her recent works, Serfaty proves that she does not aim to develop a cheap mass product or the umpteenth version of an unoriginally composed fauteuil. For her it is much more about sculpturally approaching the furniture topic – or one could even say she aims to completely reinvent the archetypical piece of furniture – in this case even to fully detach herself from all familiar guidelines in form. Treating the material "species-appropriate" hereby plays an important or maybe even the key role, which in turn marks the works' unique characteristic, as design history has not exactly been very blessed with design concepts that resulted from the material used or rather its original quality. This is mainly the case because most authors primarily define a form according to the content or the distinct class specifications. They then subordinate material pre-requisites to these motivations. Ayala Serfaty did the exact contrary. The material is the starting point of all deliberations. Her decision is not only limited to a type of ongoing fieldwork on the material, combining it with others, exploring it with a certain devotion, understanding and re-inventing it. She also sets the mission above her own design process. Two opposed questions hereby specify the strategic frame, whether consciously or unconsciously: to what extent can the material be domesticated without denying its own physique, and, compared with this, how far can the material unfold towards the design context without sustainably limiting the fundamental expectations for design and its utilization?

The result that can be seen in the exhibition at the Cristina Grajales Gallery is truly brilliant. Even while "only" including five works, the entire panorama of archetypical approaches has been gathered: from the rather "classic" silhouette of the RAPA over LOTTA LEH and PRIMO BLANCO to benches SEE JO and SEE JO SO!, resembling glacial erratic blocks.With respect to the collection one can only joyfully await succeeding works – no doubt there will be more to come! In Vien, solo exhibition, by Ayala Serfaty will be presented at Cristina Grajales Gallery.
November 1 to 23 Dec 2011.