"We are about to witness a full-on textile tsunami", predicted trend oracle Li Edelkoort in a lecture she gave at Design Museum Holon during her visit to Israel in January 2010.
"We are about to witness a full-on textile tsunami", predicted trend oracle Li Edelkoort in a lecture she gave at Design Museum Holon during her visit to Israel in January 2010.And indeed, it is difficult to ignore the huge wave of textiles flooding us from every direction, some surprising and unconventional. Most of us are familiar with Edelkoort from the fashion world, as a trend forecaster, but in her work she always manages to formulate these trends into weighty statements that capture the essence of the era. Thus, she highlights the topics that will engage all of us in the future, be it in the world of cars, food, interior design, architecture, or anything else.And now, more than ever before, the main issue is textiles.
Talk of the Town – Milan 2011 "I think food and textiles are the two topics that will be key in the next ten years", predicted chairwoman of Design Academy Eindhoven, Anne Mieke Eggenkamp, in April 2010. And indeed, if many of the installations shown in Design Week Milan 2010 dealt with food and its diverse designs, this year it was textiles that attracted more attention than anything else. A great many carpets and rugs were shown in Milan this year, and interesting uses of textile were apparent in the works of many designers, but it was trend forecaster and curator Li Edelkoort who turned textiles into the "talk of the town" at the exhibition. In two spectacular and thought-provoking exhibitions she presented diverse options for textile use: carpets, drapes, lighting, accessories, furniture, and multimedia installations that included animation and video – all revolving around textiles. (Maya Dvash)
Textile is not a new topic; it is one of the ancient and most wide-ranging industries in the world. So why the renewed curiosity in and engagement with textiles?Clearly a revolution is taking place in the world of textiles in recent years.Textile has always been a support industry for the fashion industry; textiles that are made into clothes, from haute couture to the low-cost production lines in the Far East. In furniture, too, the traditional role of textile has always been somewhat marginal. It is used mainly for upholstery, which wears out over time and has to be replaced, or as an inexpensive filling material.Nowadays, however, more and more designers from diverse and varied fields are using textiles and traditional techniques from the world of textile to build furniture. The textile is not only used for upholstery, but for the structure itself, the frame and basis of the product.In fashion, too, designers are turning to textiles in order to create movement and structure, the silhouette is not always "imposed" on the fabric, but rather it is often the material itself that creates the silhouette.Talking Textiles is the name Li Edelkoort chose to give two exhibitions she curated concurrently during Milan Design Week 2011. The first focused on young talents, students and recent graduates from design academies, and the second showcased a variety of different works from well-known design houses and designers from various spheres, with the leitmotif being working with soft materials, with textiles.The very name of the exhibition alludes to the various layers to which Edelkoort refers.On the one hand she contends that textiles talk to us, trying to convey messages to our senses, making us want to reach out and touch them. On the other, she wants, even demands, that we start talking about textiles right now, before it's too late.
Talking Textile by Li Edelkoort / Spazio Gianfranco Ferre
"In reaction to the increasingly digital landscape of our lives, a craving for tactility and dimension has led several designers to reconsider the role of fabrics once more. Merging loom knowledge, narrative fantasy and high-tech production methods to reaffirm and restate the primary importance of textile design. The near future will see the overwhelming revival of textiles in our interiors, covering floors, walls and furniture in an expansive and personal manner. These textiles will speak loud and clear and become the fabrics of life, narrating stories, illustrating pattern, whispering well-being, and reviving the act of creative weaving"."It is important to take notice again of contemporary textile because it is in itself an endangered species. Mills and factories around the world are vanishing one by one, and educational institutions are downsizing their textile departments or replacing looms with computers, therefore soon textile talent may have no place to go…"If we examine the works Edelkoort collected for these exhibitions, a number of clear trends can be indicated; "themes" that typify contemporary approaches to textile design, and perhaps design in general.The first and most striking topic is working in 3D. It is important to stress at this juncture that by its very nature textile is a two-dimensional medium. Warp and weft, threaded threads, knitted or woven, the end product is a sheet, of fabric. Today we are witnessing how a 2D medium is transforming into a 3D one. At times the 3D is on the surface, cloth endeavoring to talk to us, touch us, to grow in height and come out of its frame. At others, the textile itself becomes an independent object, as in the works of Sophie de Vocht, Raw Edges Studio, and BCXSY.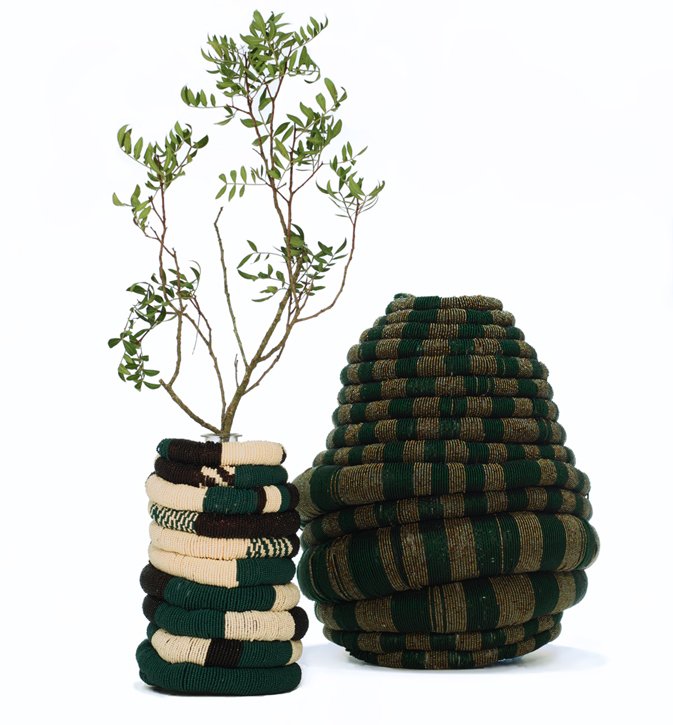 BCXSY, coiled, 2010 | photo: Hironori Tsukue
Coiling Collection by Raw Edges edition for FAT Galerie Paris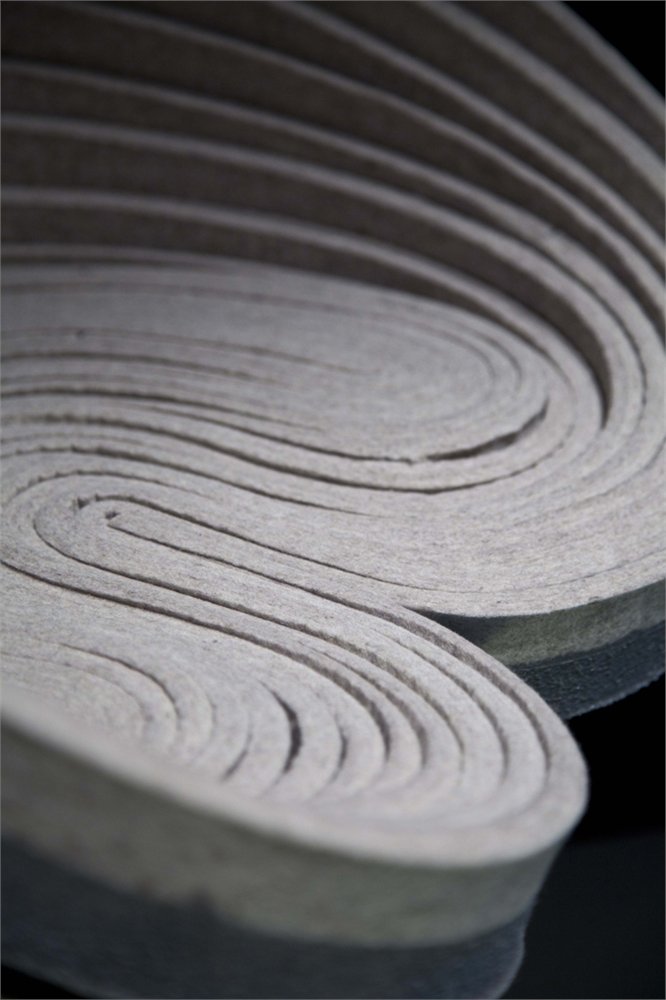 Detail from: Coiling Collection by Raw Edges edition for FAT Galerie Paris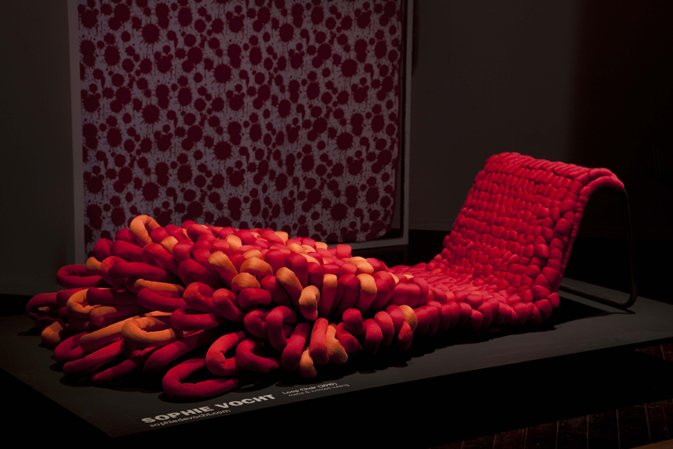 Studio Job, Blood, 2011, production by TextielLab Audax Textiel museum | Sophie Vocht, Loop Chair, 2010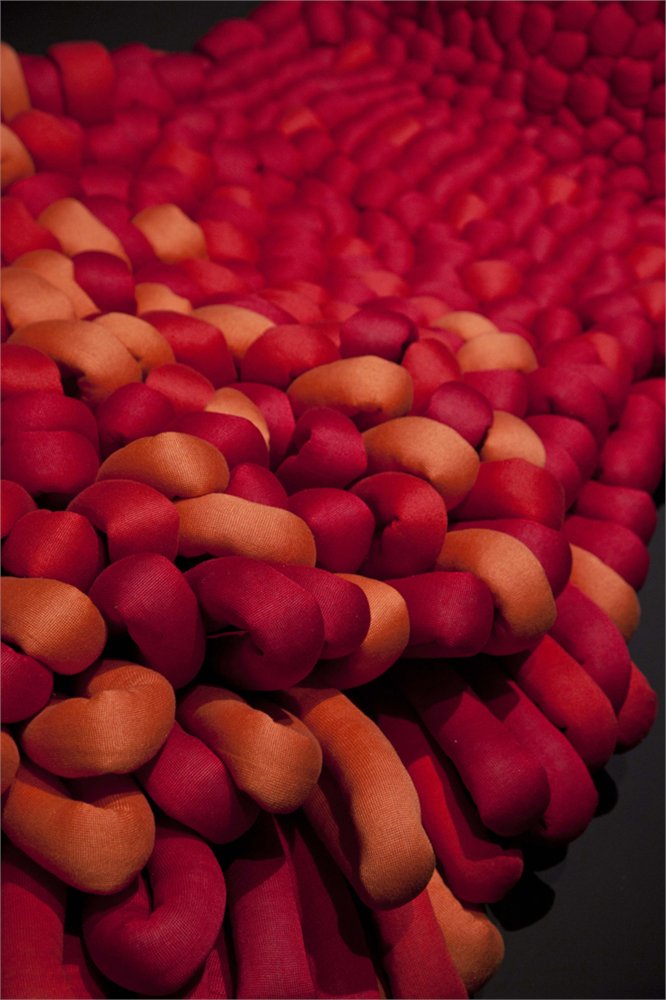 Detail from: Sophie de Vocht loop chair, 2010
"Machine and man will foster new relationships as designers understand the balance between technology and craft", Edelkoort says.And it is evident how knitting in particular is breaching the boundaries of the sweater and being used for carpets (which are traditionally woven), and many and varied pieces of furniture. It is no longer merely a thin knit, but a broad and thick textile structure that can be used for the structure of a chair, as in the works shown by AZE Design and Jungyou Choi.
Aze Design, Nodus tablecloth, 2006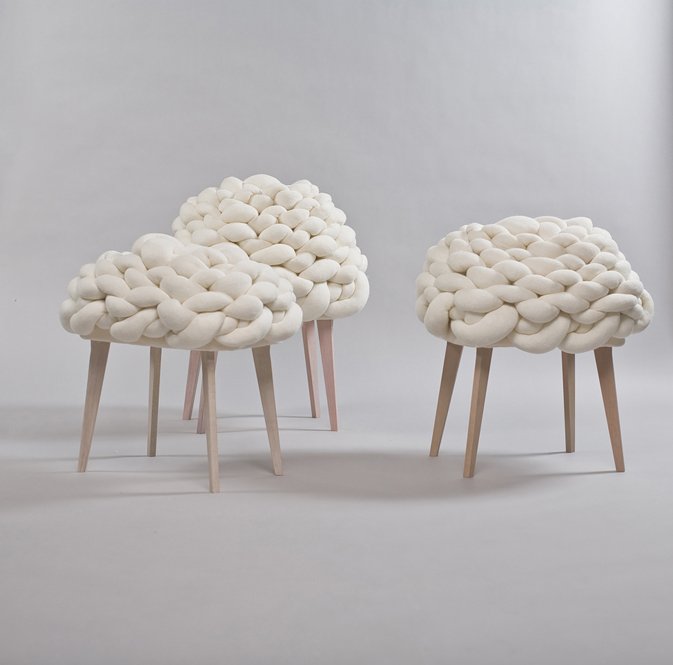 Joon-You Choi, Cloud Stool
Very interesting and humoristic in terms of its print is a piece entitled Blood by Studio Job. The fabric that from a distance looks like a lighthearted and playful red-cherry print turns out on closer scrutiny with bold bloodstains.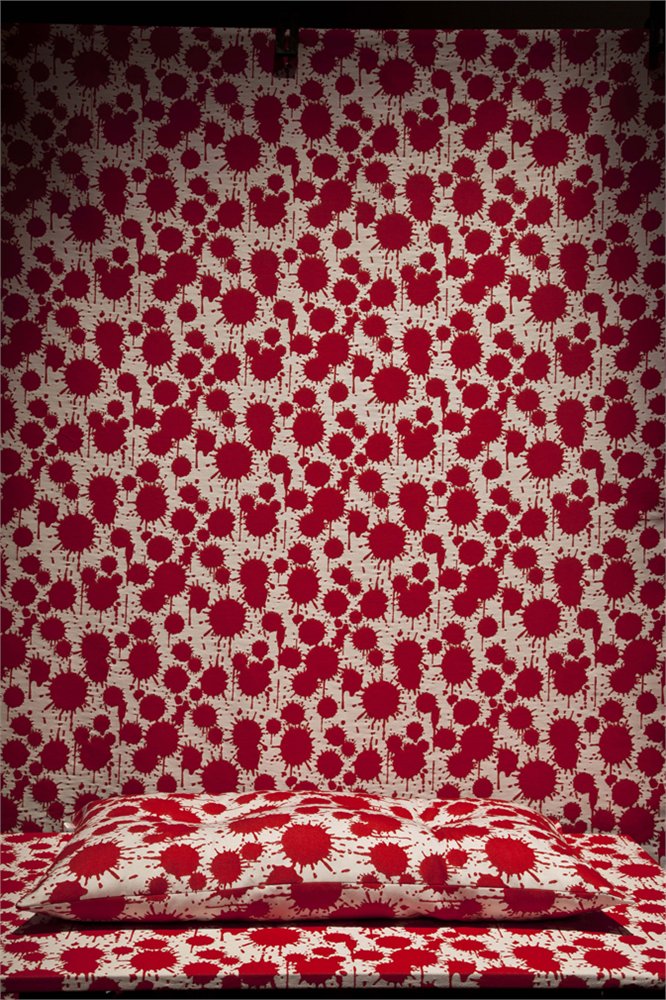 Blood by Studio Job production by TextielLab Audax Textiel museum
The constant search for materials is something that always preoccupies a successful designer. In this exhibition, too, we can see that designers function as a kind of laboratory researcher who combines a variety of different materials in order to create a new look. Two striking examples are the works of Nacho Carbonell and Marie Paysant-Le Roux; the first combining fabric and plaster, and the second fabric and clay.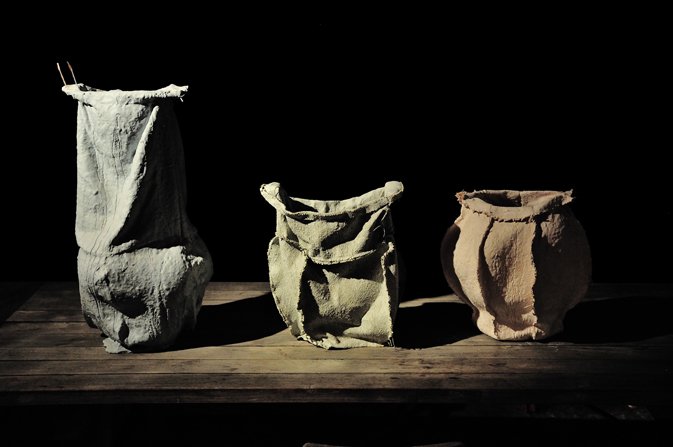 Nacho Carbonell, Trial Vases, 2011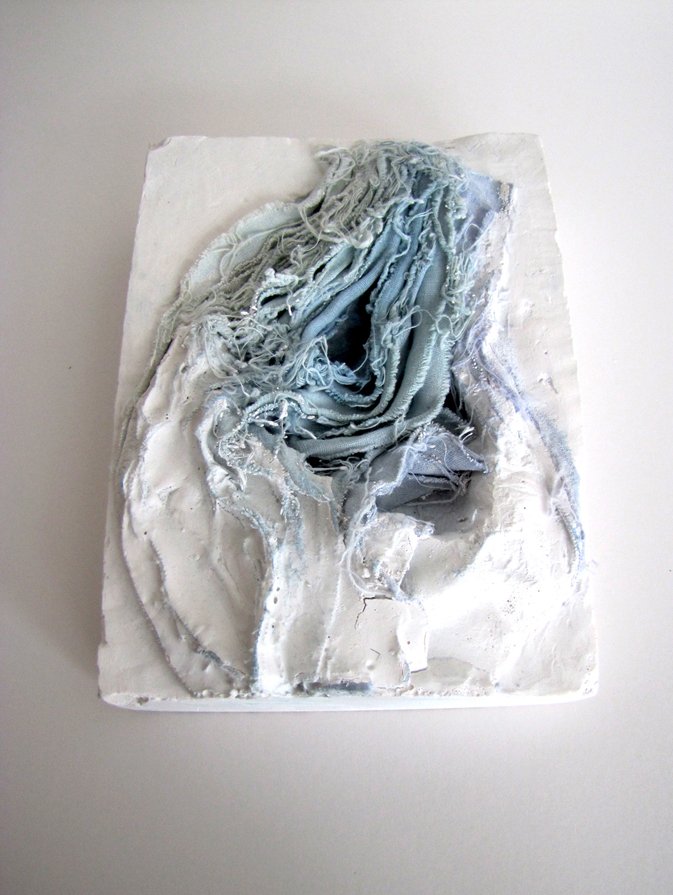 Marie Paysant-Leroux, Movements Blocked in Ice, 2011
While we're on the subject of analogies, today's designers do not only function as researchers, but also work as farmers. They shear the wool themselves, transform it into yarn, and also perform the textile dyeing and finish themselves, rather than using factories of one kind or another. This can be seen as designers endeavoring to be involved in every stage of the production process, and perhaps also giving the final object added value, since it does not excessively pollute the environment and is made with optimal awareness. A prime example of this kind of work is Christien Meindertsma. Edelkoort described this trend thus: "Ecology and luxury will meet using natural dye and dyed fiber, bringing natural elegance to high-end interiors".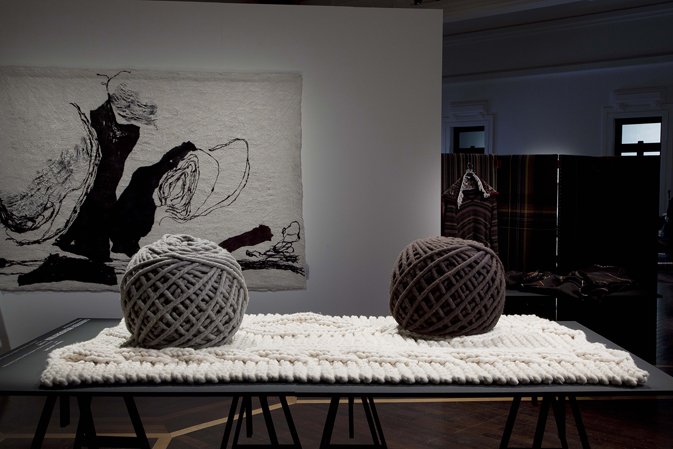 Aran and Ottoman Texelaar by Christien Meinderstma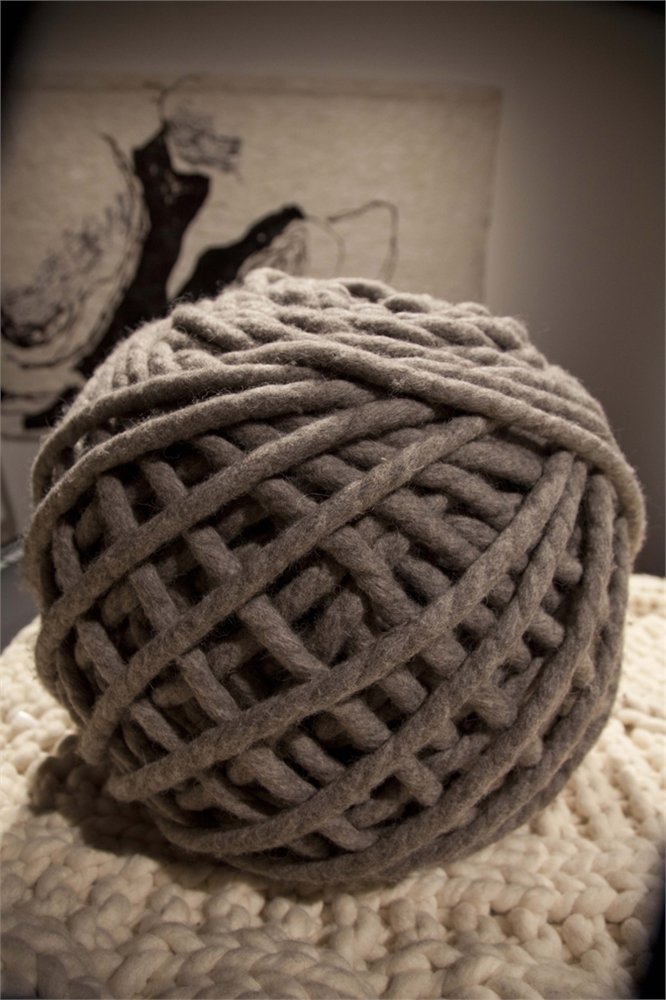 Aran and Ottoman Texelaar by Christien Meinderstma
Another topic Edelkoort raises in this exhibition is the revival of modernism with echoes of Bauhaus and Constructivism. Geometric shapes, square weaves, and sturdy upholstery will soon frame and color-block our interiors. The work of Studio Ora-Ïto demonstrates this well.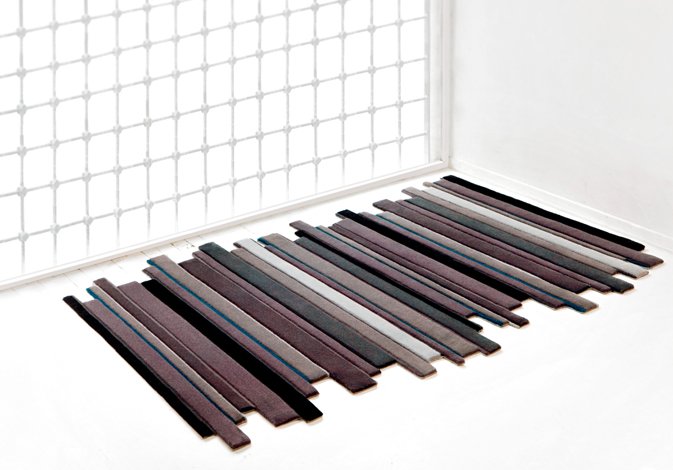 Ora Ito, Parquet, 2011
Evident in works that engage in the body rather than in interiors, designers return to working with movement and attempt to introduce drama and theatricality to garments using the movement of threads and fabrics. The garments often look tribal and ancient, as if they were part of some ancient ritual or dance. Striking examples are the works of Lærke Hooge Andersen and Jane Bowler.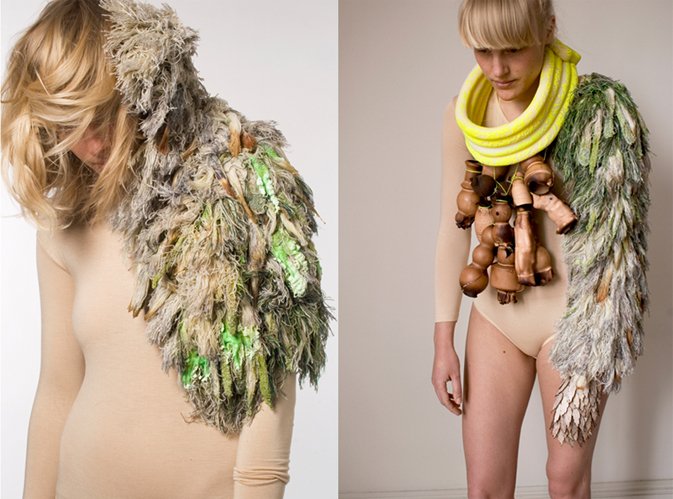 Laerk Hooge Andersen, Urban Masai, 2010
Jane Bowler, Blue Fringed Raincoat, 2010 | photo: Joanne Warren
And to round things off, the work of Scholten & Baijings that combines the two hottest trends in the world of design today: food and textile. Bon appetit.
Scholten & Baijings, Vegetables | photo: Yves Krol
Lettuce Leaf (2009) by Scholten & Baijings, collection Museum Boijmans van Beuningen