An interview with designer Nikola Nikolov, reveals a designer who does not let go of old memories, but creates new designs from them.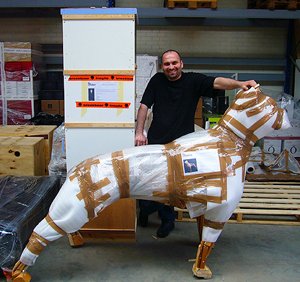 Nikola Nikolov was born in Bulgaria, and now lives and works in Holland where he established Studio-Re-Creation in 2009.He studied art in Sofia where he says he worked mainly with metals, making everything from everything; crude welding and craftsmanship, alongside delicate jewelry design. His father, who recognized Nikola's natural talent for material, sent Nikola's portfolio to French fashion designer Paco Rabanne. The portfolio piqued Rabanne's curiosity, and he invited Nikola to intern at his atelier (Rabanne was heralded as a trailblazer in conceptual fashion design when he created mini dresses from metals in the 1960s, which are considered his trademark to this day).
What was the transition like from Communist Bulgaria to Paris in the West?"The move to Paris was a kind of culture shock for me. I was amazed by the Western culture I discovered in Paris, and especially the world of delicate fashion that was so alien to me, so different to anything I'd known. I stuck with Paco Rabanne for two weeks, until we both realized that we couldn't continue working together. The short, yet intensive, experience of interning for Rabanne, the move to Paris, and the change in atmosphere and location, made me decide that from here there was no going back for me". He glances at me with a half-smile, and continues: "That whole experience resulted in a kind of Re-Creation of myself".Nikola moved to Holland straight from Paris, when he was 24, where he continued his BA studies in art. He worked in a restaurant to finance his studies. For the first eighteen months he was a dishwasher, and whenever a dish broke, he collected the pieces, as if recognizing the potential inherent in them and waiting for the moment he would know what its purpose was (which came in the form of his piece, 'The Chair'). In general, he is a self-confirmed obsessive collector. Every night on his way home from the restaurant he would scour the streets for interesting finds.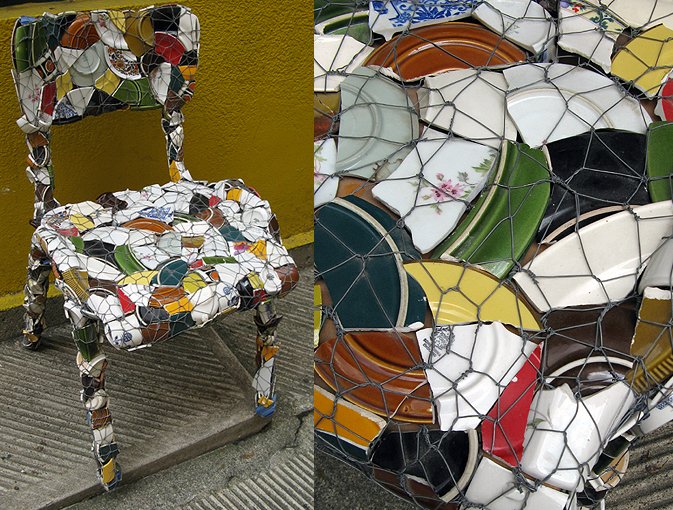 Studio-Re-Creation (Nikola Nikolov), The ChairI ask him about the meaning of the name of his studio: Re-Creation"All my designs", he says, "are made from materials that have had a previous life. Sometimes the observer can identify their previous incarnation, and sometimes only guess and wonder about it. It all began when I was living in Paris. I asked my father to send me the cognac glass I liked drinking from back in Bulgaria. The glass my father sent, carefully wrapped in numerous layers lest it break en route, arrived intact. When I received it I threw it onto the floor and it smashed to smithereens. I then bound the fragments together with copper wire and recreated it. The shape of the glass was the same, but I gave it a new life. It no longer functioned as a glass. You can't drink from it, but it acquires a new meaning as a work of art, a work of design.
Studio-Re-Creation (Nikola Nikolov), The Glass
Studio Re-Creation (Nikola Nikolov), The Glass
I also created White (Jack) Rabbit from materials that had had a previous life – old wood furniture. The rabbit started out as a chair. I had an old chair that fell apart and I repaired it. After a while it fell apart again, and again I repaired it. When the chair fell apart for a third time, I told myself – enough, apparently this chair no longer wants to be a chair. That was the beginning of what eventually became a rabbit. I re-create objects that have fallen out of use and give them new life".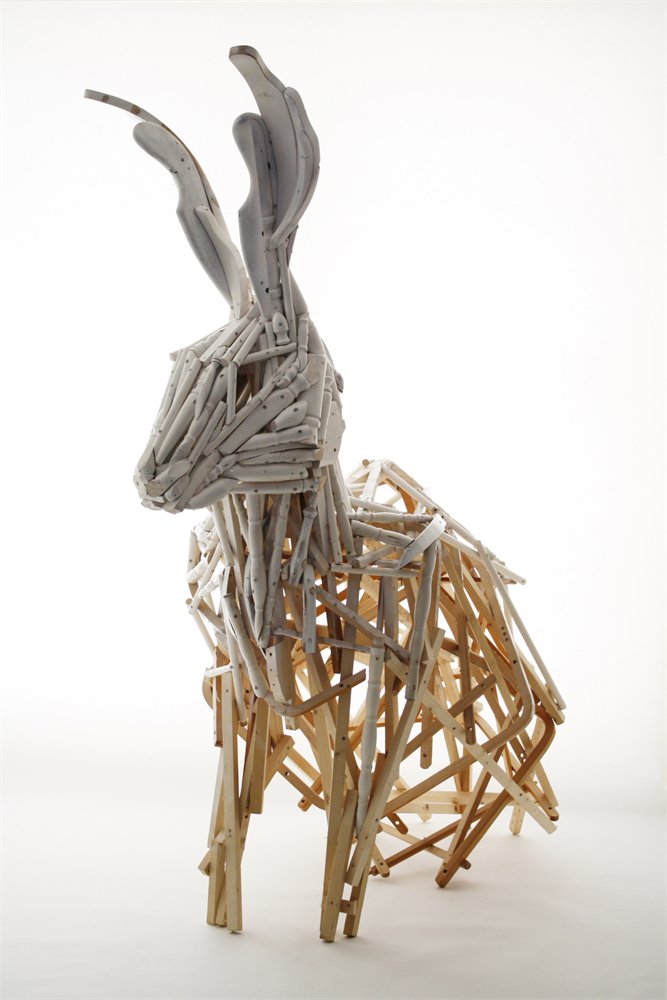 Studio Re-Creation (Nikola Nikolov), White (Jack) Rabbit, on show in Post Fossil at the MuseumAnd your inspiration? I ask, where does it come from?"Creating something new from something old is what drives me. Turning the old and useless into something new, different, is what inspires me, the creativity within me. The fact that someone has memories of the object, and even associations of it to particular times or emotions, creates a burst of inspiration in me. I want to give an object whose time is past new life and new function. On my website I invite people and commercial companies to send me objects that have fallen out of use but which they don't want to discard, so that I can give them new life. For example, two architects asked me to redesign two iconic Eames chairs which they were fed up with but didn't want to throw away or put into storage. From these chairs I decided to design and create new light fixtures, which I called Eames Lamps, intentionally honoring the original items, rather than trying to overshadow the old with the new".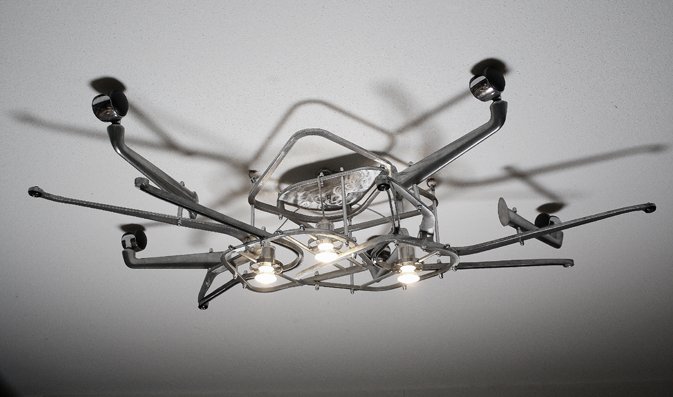 Studio-Re-Creation (Nikola Nikolov), Eames Lamps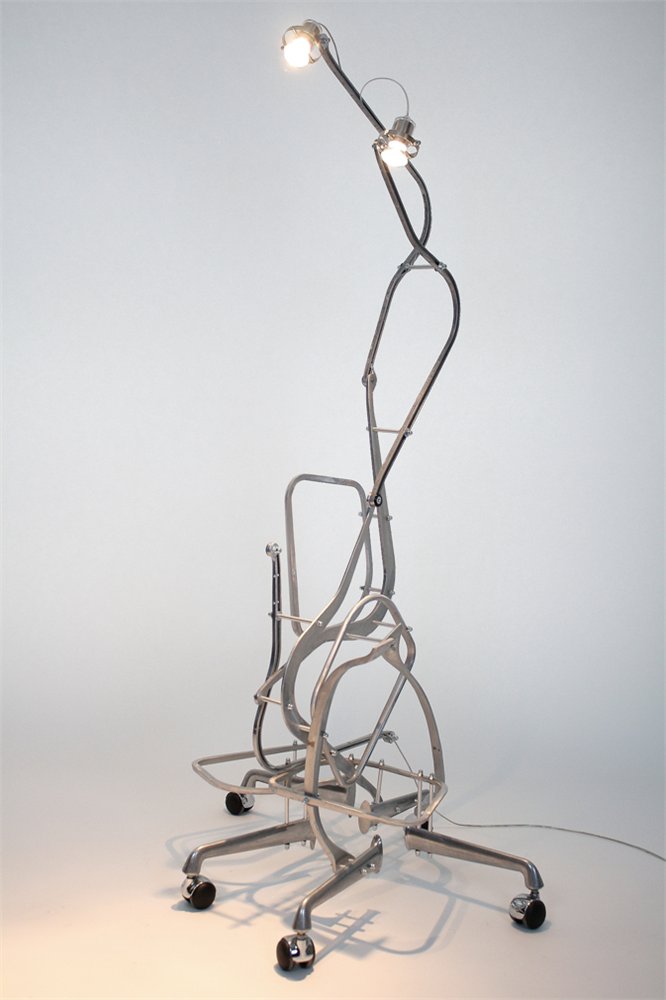 Studio-Re-Creation (Nikola Nikolov), Eames Lamps
I read in an interview you gave that you actually created your first design sculpture from your old car?"Yes," says Nikola, "the car wasn't functioning any more, but it meant more to me than just a metal body: so much had happened in it, I had so many memories associated with it, I couldn't let it go, even though its original usefulness and functionality were no longer there. One day I decided to do something about it and I started using it as raw material. I took it apart, I cut, I welded, and created what I later showed at Salone del Mobile, Milan 2010: The Transformer".
Studio-Re-Creation (Nikola Nikolov), The Transformer
"Reactions to the two-meter high design sculpture", he recounts, "were mixed. On the one hand it was the 'official freshener', a different and interesting subject of discussion among all the chairs, tables, and other design items usually shown at all Design Weeks. But on the other, I attracted a lot of criticism, such as 'this is art, not design', and 'it's not functional'. In fact, the eternal question regarding the difference between art and design arises here. As far as I'm concerned, to all intents and purposes it is design. The Transformer is made from a designed object – a car. Consequently, the final object is design: redesign of the originally designed object, re-creation".The second design sculpture he created and which was first shown in June 2010 at the Dutch Design Bienale is 'The Samurai', which demanded considerably more collecting work than a single old car. Nikola came up with the idea for the sculpture of the Japanese warrior when he was in Japan for the opening of Post Fossil at Gallery 21_21 in Tokyo. That was when he understood what he had to make from the thirty or so washing machine drums he had collected on the streets over an eight-year period.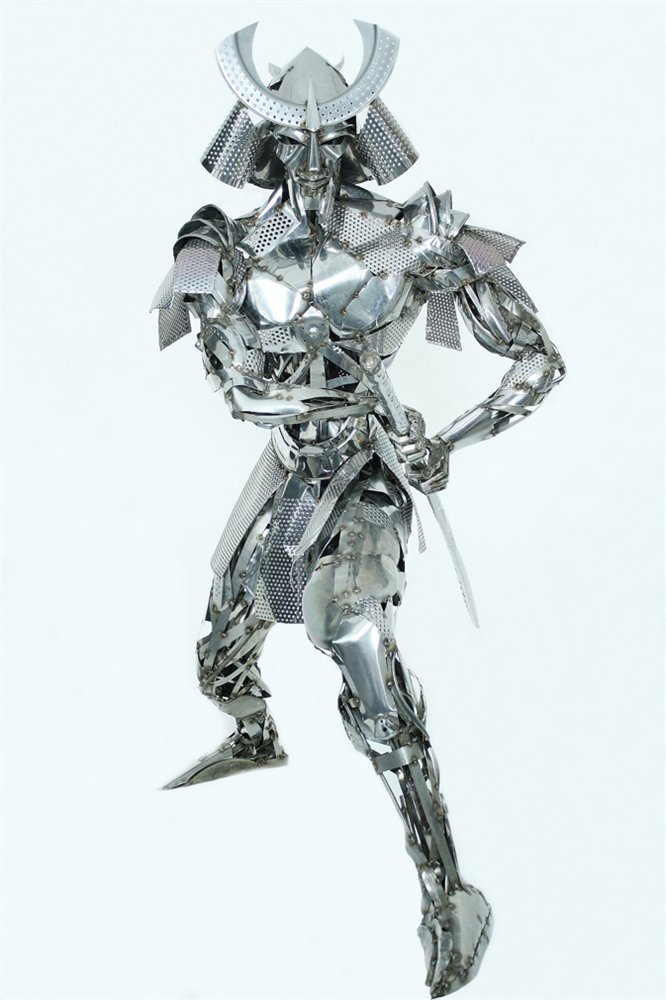 Studio-Re-Creation (Nikola Nikolov), The SamuraiThe Samurai is a very large piece and the materials you use are uncommon. Do you build a small model of each sculpture before you make the full-sized piece?"As with all my pieces, the work process on The Samurai, which is 2.3 meters high, is based on feelings. I don't build a small model and I don't make computerized sketches. I feel the material, feel what I'm meant to do with it and what it wants to become. There's a kind of dialogue between me and the material. The material itself leads me onward".You opened your studio two years ago and you're enjoying very rapid success, how did you do it?"It was a very long process. For several years after I completed my studies I continued working in restaurants. Over time I became a chef and I really enjoyed working with food. After a while I felt that I missed creativity, and decided to take a risk, to leave my comfortable and lucrative job at the restaurant and try to fulfill my dream of creating. So I opened the studio. I believe you have to try and create possibilities and opportunities for yourself, not wait for them to come along; I literally go out looking for them. I create my pieces in the most distinctive way I can and I put my feelings, my sensations, my Self into each and every one of them. I believe that the most important thing is how the message is sent, not how it is received".He doesn't try to evade my question, "What next?", but responds candidly. He is already in the advanced stages of working on a piece he will be showing at the annual Design Week in Milan. He brings out a camera and shows me a picture of the work he has done so far. It is a life-size motorbike made of metals with a rider made from fragments of broken glass bottles (click here to take a look at the pictures in the studio's facebook page) . There is no mistaking his distinctive mark on it, continuing his work with materials that for most of us are nothing but trash. They say that "One man's trash is another man's treasure" and nothing could be truer with regard to Nikola.Nikola Nikolov is one of the designers showing at Post Fossil (click here for the exhibition page)www.studio-re-creation.com