The two exceptionally stylish designers Andrea Trimarchi and Simone Farresin are Studio Formafantasma – italian designers based in Eindhoven, The Netherlands.
On a hot summer day at the end of July, in the middle of a busy Tel Aviv street, Formafantasma duo Andrea Trimarchi and Simone Farresin received a text message from a friend who lives in a small Sicilian village. "The volcano is erupting", it read, "come quick". The lava erupting from Mount Etna on the east coast of Sicily is the Italian design duo's new project, for the purpose of which they will be spending the next few months in one of the villages in the area, at the foot of the active and dangerous volcano, to investigate how this natural resource can be harnessed to the world of design.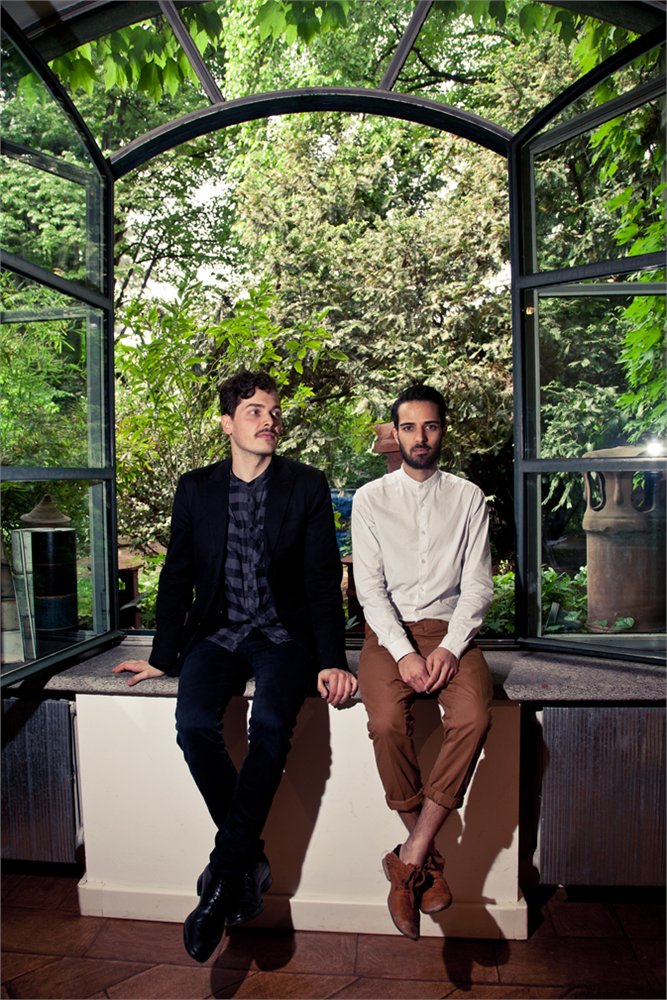 Photograph: Delfino Legnani Sisto for VogueThis is not the first time the two designers are engaging in forces of nature or natural disasters. Their project Autarchy is a tribute to the Feast of Saint Joseph, which is celebrated annually in the town of Salemi in southwestern Sicily, and for which the townsfolk bake a wide and surprising variety of breads. When drought struck Sicily in the Middle Ages, the local people prayed to Saint Joseph, whom they regarded as their patron saint, to save them from starvation by sending rain. When the rain came, they thanked him with a feast. Every year since then, the townsfolk of Salemi have celebrated Saint Joseph's Day by baking breads in strange and intricate shapes for an elaborate feast (click here for a taste of the festival). The flour used by the local townspeople to bake the breads is the main ingredient of the biomaterial specially developed by the two designers to create the vessels and jars comprising Autarchy, which was shown at Spazio Rossana Orlandi in 2009. The installation, which presented a hypothetical scenario where a community is embracing a self-inflicted embargo where nature is cultivated, harvested, and processed to feed and make tools to serve human necessities, is one of the finalists in the annual INDEX Award for sustainable and humanitarian design, the world's most valuable design prize, which is due to be presented in Copenhagen in September 2011.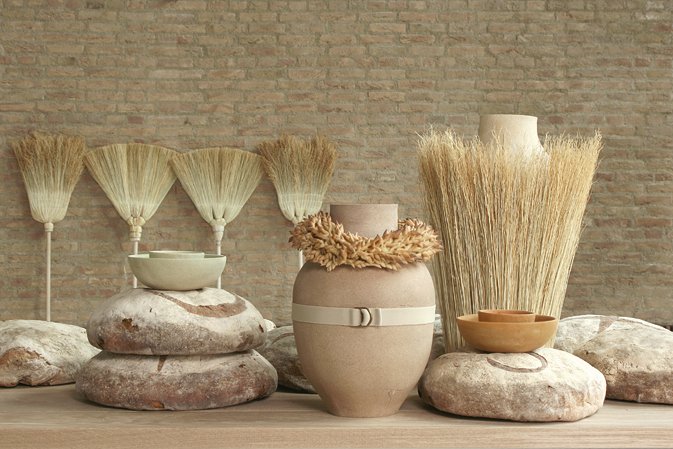 Formafantasma, Autarchy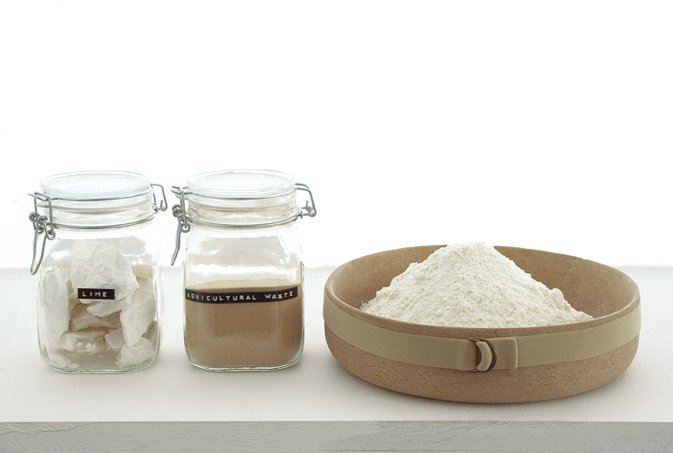 From the creative process of Autarchy
From the creative process of AutarchyThe nomination for the INDEX Award joins a long series of recognitions the two designers have received since graduating two years ago. In a special issue of Rolling Stone published in April 2011 they were listed among the 20 designers who will have the biggest influence on design over the next decade. The list was compiled by design critic Alice Rawsthorn and curator Paola Antonelli."At a time when conceptual design is increasingly fashionable, particularly among young designers, Mr. Trimarchi and Mr. Farresin's skill at exploring such concerns (Italy's colonial heritage, immigration, the ecological crisis) while also satisfying the conventional design criteria of function and aesthetics has placed them at the forefront" writes Alice Rawsthorn about the choice.Engaging in explosive political issues is not new to Formafantasma. In a conversation we had at Design Museum Holon they "lay" the blame on their Italian origins. "In Europe", they explain, "people are very conservative and narrow-minded. You'll rarely see projects that mix politics and social issues, like we've seen in the graduation projects here in Israel".The two Formafantasma designers came to Israel as guests of the Interior Design Program at HIT-Holon Institute of Technology. They took part in a panel entitled, "Graduation Projects at Design Faculties as a Springboard to the Local and International Markets in the Present Era", closely followed by a short lecture in which they described their rapid advance from the academy to international leaders in the world of design. The choice of the two designers was no coincidence; their graduation project at Design Academy Eindhoven, which was shown in Milan in 2009, was the hit of the graduation show.Their project, Moulding Tradition, which attempted to answer the question of whether the role of tradition is to document the past or facilitate a renewed discussion, indeed breathed life into ancient traditions, but also confronted ancient history (Italian colonialism) with present-day social problems (attitudes toward immigrants in Europe).
Formafantasma, Moulding Tradition
Moulding Tradition and Colony (a project that engages in the same subject in reverse), will be shown at Gallery Libby Sellers in September as part of the London Design Festival. "Fortunately for us there have always been people who believed in us and paved the way for us", the say. Like Libby Sellers, Rossana Orlandi noticed their abilities long before anyone else, and allocates a special space for their shows at her gallery every year.The two exceptionally stylish designers, who speak in perfect harmony, first met in Florence during their studies, and have been working together ever since. They chose the name Formafantasma, which means "imagined form", to indicate that they engage in a broad sphere of practice and never work specifically on a table or chair. Their projects begin with long months of research, often attended by writing on the subject, for the purpose of trying to clarify and refine the subject they are working on. They confess to praying to Achille Castiglioni and Ettore Sottsass in their adolescence. Later they were captivated by the utopian architecture of the 1960s and 70s, and groups like Archizoom and Archigram, who served as sources of inspiration for them."Many designers become curious and captivated by the process of researching and studying the material", they say. "We aren't technical people, and prefer to engage in researching a culture rather than material. Our work somewhat resembles that of a curator, we try to create the world around the product. Today's world is filled with objects that can be purchased, but we usually don't have a clue about their history and how they came to be here. For us it's important to show the history of the exhibit, to make it familiar and easier for people to connect with it. That's why we tell a story".At Milan Design Week this year they showed Botanica, a spectacular installation that is also the product of long months of research, which compelled them to face their prejudice (which most of us have) regarding plastic. Like their other installations, this one too was characterized by a very high and meticulous esthetic, and although they themselves were not satisfied with the result ("We showed too many objects there"), it too attracted a great deal of interest and attention.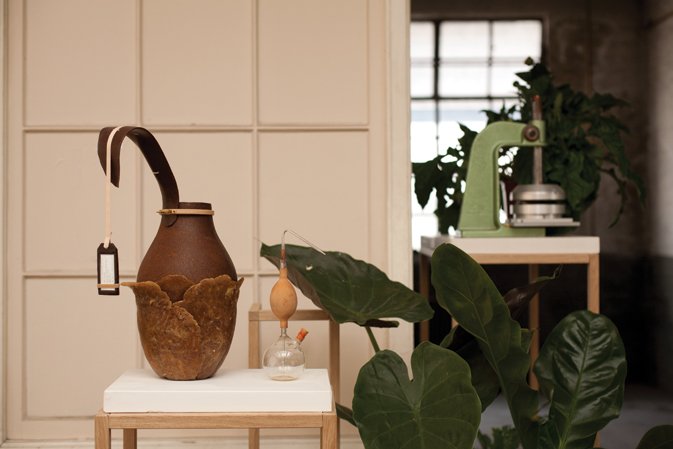 Formafantasma, Botanica | Photographs: Luisa Zanzani Project: Studio Formafantasma – Andrea Trimarchi, Simone Farresin; Commission by: Plart Foundation Curated by Marco Petroni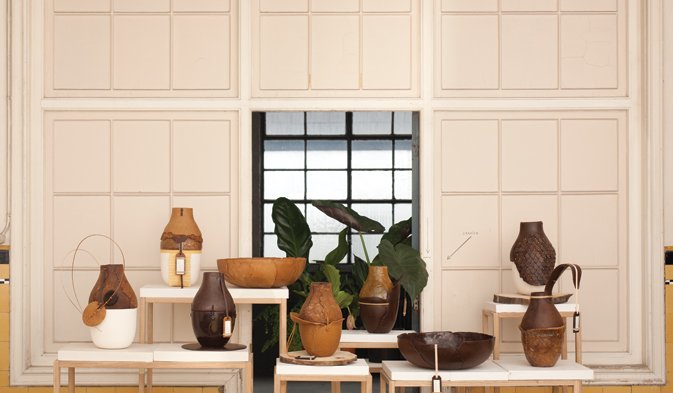 Credit photos: Luisa Zanzani, Project:Studio Formafantasma – Andrea Trimarchi, Simone Farresin, Commission by : Plart Foundation, Curated by Marco Petroni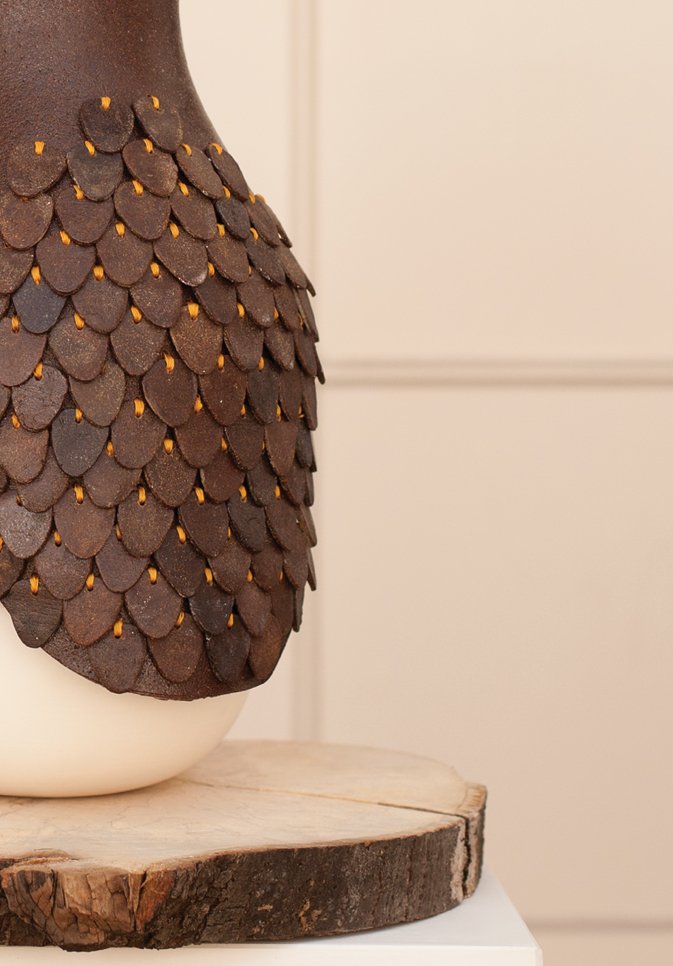 Detail of a piece from Botanica
The two designers currently live and work in Eindhoven ("It's quiet there, there's nothing to do, so it's easy for us to work there. In Tel Aviv we wouldn't have been able to concentrate", they say) in a studio that occupies several rooms of a disused mental hospital alongside forty fellow design academy graduates. They describe it as a "design utopia", and enjoy the numerous exhibitions and debates, but don't feel that they are "Dutch designers". "We feel that our work is closer to Dutch design, but we ourselves feel like foreigners here, and we're also made to feel that way. However, because there's no design tradition in Holland (at least compared with Italy), we have greater freedom there".They might go back to Italy in a year or two, although they would miss the debate, but they will continue to research and write and tell the stories of the objects they design.