In recent years Omer Arbel's name has repeatedly surfaced and appeared in international magazines and prestigious award announcements.
His name is unmistakably Israeli, his appearance doesn't give away his origins, and in recent years his name has repeatedly surfaced and appeared in international magazines and prestigious award announcements. Amongst ourselves we defined him as an Israeli we don't know very much about.
He was born in Jerusalem (1976) and moved to Vancouver, Canada, with his parents when he was eight. He studied architecture at the University of Waterloo and in Barcelona. In 2003 British Wallpaper* Magazine named him one of the "15 up-and-coming designers of our generation". A chair he designed (2.4 – more on the numbering system below) is a collectible and can be found in the collections of highly-regarded museums. He is the recipient of various high profile awards, including the prestigious Red Dot Award. In 2010 he was chosen to design the Vancouver Olympic Games medals, and in recent months one of the two homes he built has featured on covers of design magazines. He currently owns two companies: Omer Arbel Office (OAO), which is engaged in architecture, design, sculpting, and materials research; and Bocci (where he is a partner and artistic director), which is a contemporary design and manufacturing house.
Omer Arbel, 27.3, 2008-2009 | Photograph: Robert Keziere, source | Vancouver Olympic Games MedalsAt Spazio Rossana Orlandi in Milan he received the coveted "black room" to showcase an entire collection. We met him there for a brief conversation. Omer Arbel was happy to speak to us in Hebrew, but when we began talking about work he apologized and shifted to English.
Omer Arbel – Bocci, 28, at Rossana Orlandi
So what are you? An architect? A designer? A sculptor?I studied architecture and envisaged life as an architect, but I quickly realized that my approach to architecture is through objects, by making things with my hands. When I'm asked, I say I'm an architect, but in the past fifty years architecture has lost a lot of its power. Things architects used to do are done by other professionals nowadays, like industrial designers, landscape designers, and urban designers. I think it's very regrettable as well as problematic.Why do you think it happened?People are becoming much more specific in everything nowadays, experts in their field, and the Renaissance Man or the polymath are becoming extinct. I'd like to consider myself a Bauhaus architect, a reminder of a time when architects were involved in many additional practices.For many years you were considered a lighting designer, but in actual fact you're engaged in a great many different practices.Yes, as with other things, I came to lighting by chance. I designed a lamp and it was hugely successful. The critics praised it and it sold well. And if you do one thing right, then people are convinced you're an expert in that field and ask you for more and more. So I've designed a great many lighting fixtures in recent years. Even the green lighting fixture at the entrance to Spazio Rossana Orlandi is one I designed. Last year I showcased a small part of it, and this year she asked for a bigger lighting fixture and asked what else I had to show. I showed her these "sculptures" (19 Series), and she offered me the black room I've always wanted.
Bocci, 28, by Omer Arbel for Spazio Rossana Orlandi | Photograph: Robert Keziere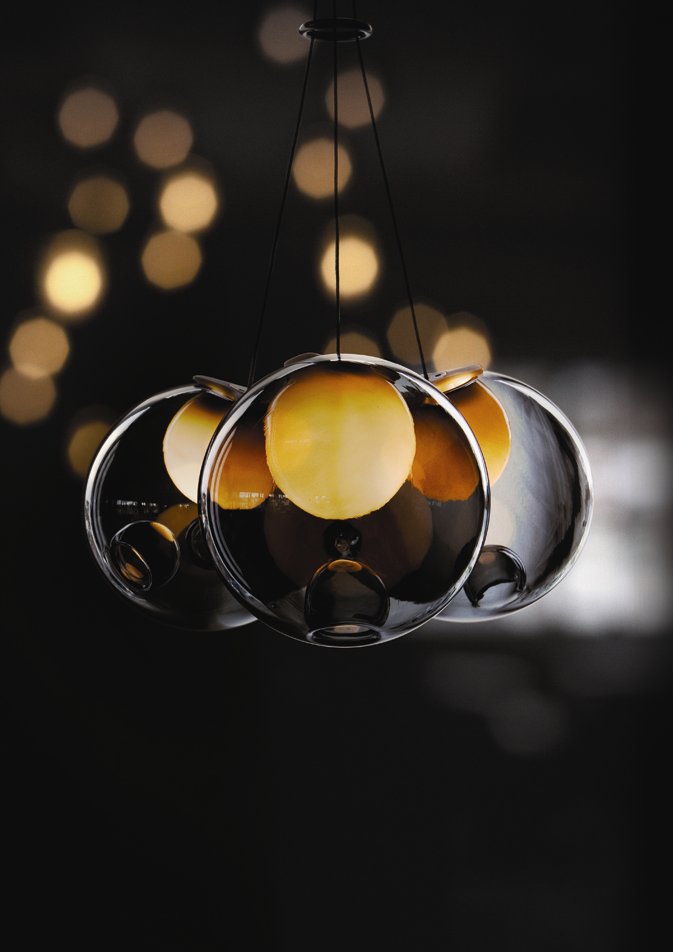 Bocci, 28 by Omer Arbel for Rossana Orlandi | photo: Gwenael Lewis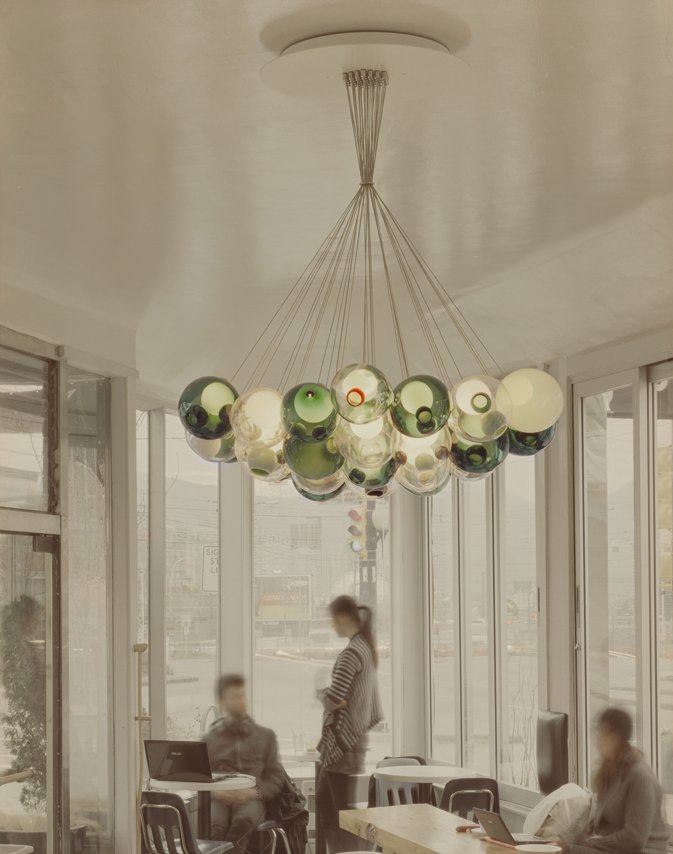 Bocci, 28 by Omer Arbel for Rossana Orlandi | photo: Robert KeziereThe lamp is unquestionably functional, but what are these sculptures? Tables? Trays?They can't be used as trays because they're too heavy. These objects aren't functional: they're the product of researching materials and processes. In our practice, we begin by researching processes and try as much as possible to avoid engaging in form. Contemporary architects and designers are imprisoned by their preoccupation with form. They become obsessive about it. But form is born in the creator's imagination, and what is it that really makes it meaningful? I still wonder about that. My only formal decision here was to create a circle. All the rest is a product of the practical process.
Omer Arbel, 19 | Photograph: Robert Keziere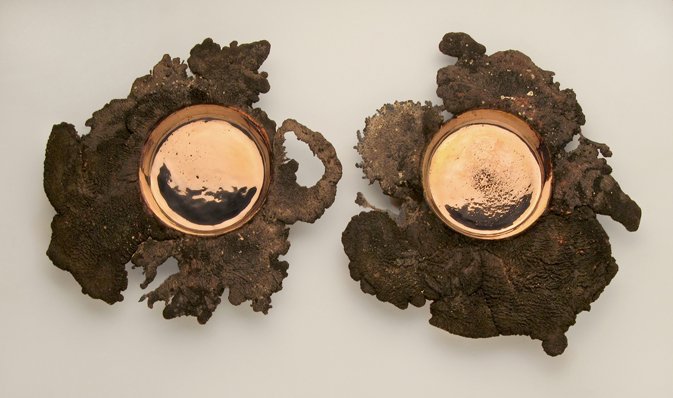 Omer Arbel, 19 | photo: Robert Keziere
Bocci by Omer Arbel, 19.0
19 Series is made of 100% recycled copper, each item is not only stamped with a number and date, but also its weight in copper. Incidentally, the market value of copper on that day is taken into account when pricing the items.Worthy of mention at this juncture is that Omer Arbel numbers his projects consecutively rather than giving them names. Surprisingly, this accords all his projects an equal degree of importance. Thus, a lamp, a chair, or a building all have a number that says nothing about them, and enables him and us to focus on essence rather than form.For instance, 23.2 is a futuristic house Arbel built in White Rock, a coastal city south of Vancouver. Construction of this beautiful and extraordinary home, belonging to a Canadian candy manufacturer, was preceded by only three guidelines: First, all interior spaces had to connect to exterior spaces; second, the house had to be a single storey; and third, incorporation into the house of a cache of gigantic, hundred year old Douglas Fir beams reclaimed from burned-down warehouses. The spectacular result includes glazed concertina doors that disappear when open, leaving no separation between interior and exterior, and it is covered by a beautiful origami-like roof, whose distinctive appearance is the result of a decision Arbel made not to cut or finish the fir beams in any way.This extraordinary house seems so alien to the Canadian landscape where it is located, yet at the same time it is so beautifully assimilated into its environment.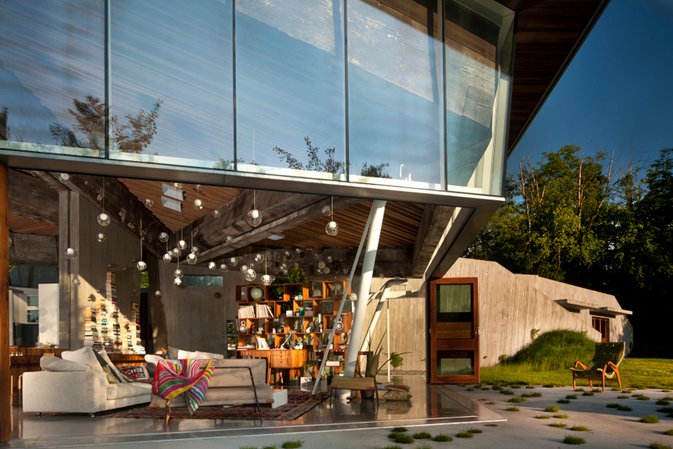 Omer Arbel, 23.2, 2003 | photo: Nick Lehoux. source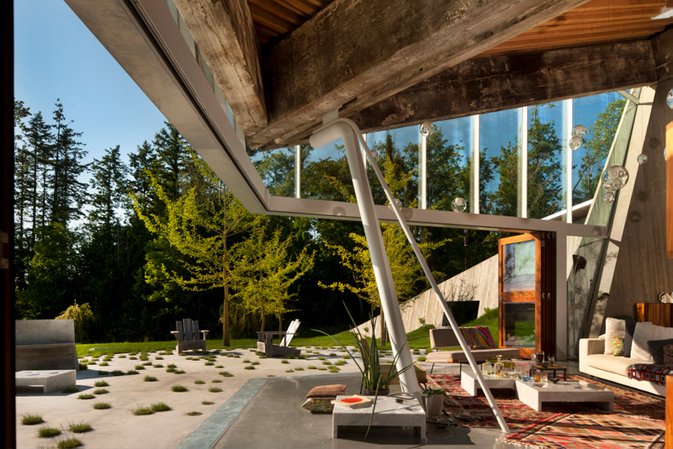 Omer Arbel, 23.2, 2003 | photo: Nick Lehoux. source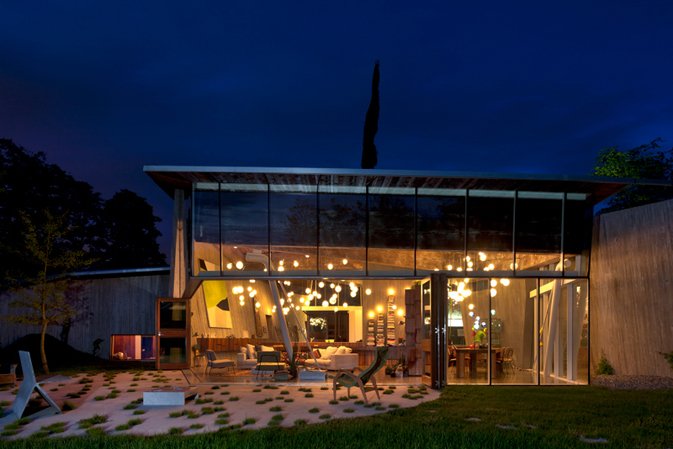 Omer Arbel, 23.2, 2003 | photo: Nick Lehoux. source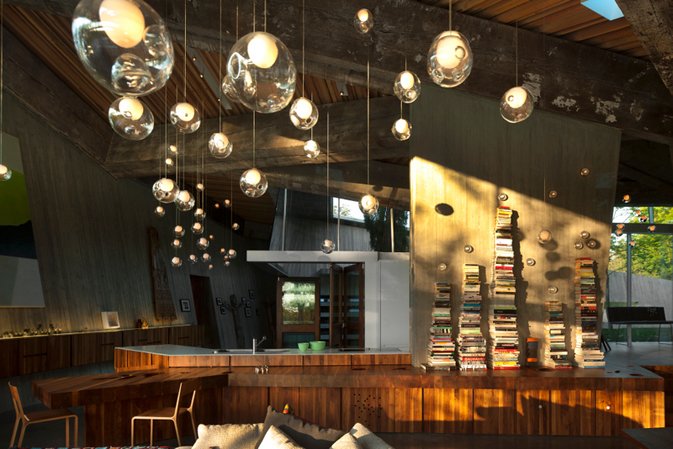 Omer Arbel, 23.2, 2003 | photo: Nick Lehoux. source
Are you continuing in the footsteps of Canadian architects? What's happening there on the architectural front?
Very little. Canada is a very beautiful, very tranquil country, but very little happens there. My mentor was actually Catalan – architect Enric Miralles, under whom I apprenticed in Barcelona. Unfortunately he died young (45 years of age), and at the height of his career, but I was fortunate to have the privilege of being one of his last students.Have you ever worked in Israel?No, but I'd really like to.To Omer Arbel's website >>