19 April, 2012 / Tal Amit
Eighteen international design week directors came to Holon during Design Week Holon 2012, to become acquainted with Israeli designers and Israeli design. An interview with Špela Šu
This year's Design Week Holon was held during the Passover week, alongside the opening of Plus Ten – 42 Ways To Be A Designer, which focuses on Israeli design, and a diverse array of exhibitions and events around the City of Holon. Eighteen international design week directors came to Holon to become acquainted with Israeli designers and Israeli design. In the course of three intensive days, the directors met with hundreds of young designers, some graduates from the various design departments and schools in recent years, and some veteran designers who have been working in the local arena for many years, teaching, and presenting their work in various exhibitions.
Among the directors was Špela Šubic, who was the head of BIO – Biennial of Design in Slovenia from 2002 to 2010, and currently serves as curator and consultant at the Museum of Architecture and Design in Ljubljana, where the Biennial is held every two years.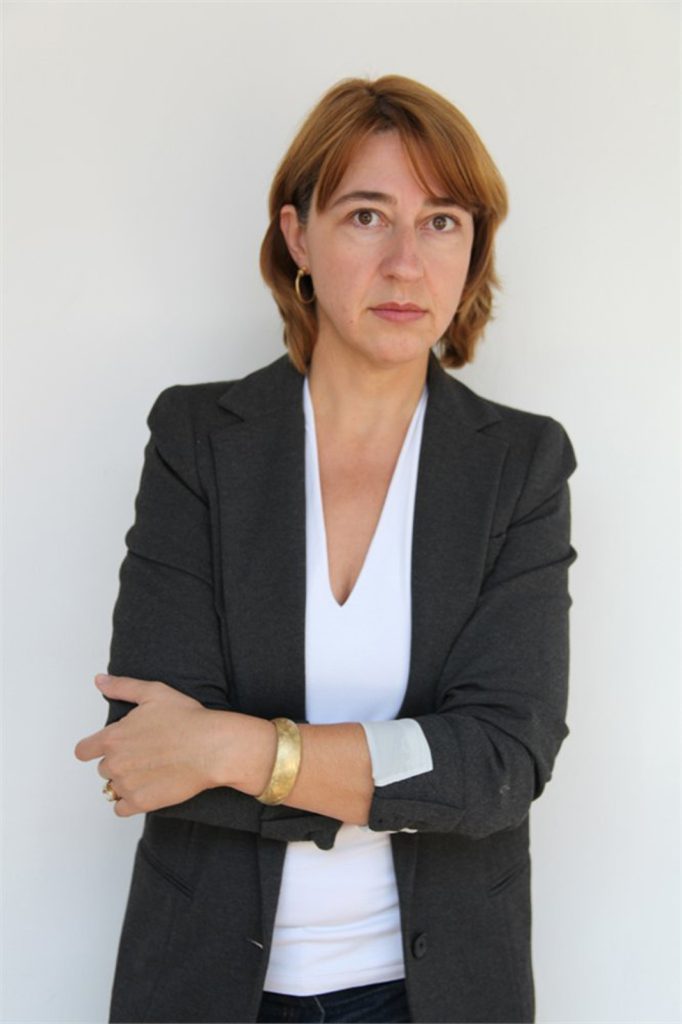 BIO – Biennial of Design was founded in 1964, and has been held in Ljubljana ever since. The main event is an exhibition curated by the head of the biennial who works under the Museum of Architecture and Design (MAO) since the museum was founded in 1972. The biennial is a Slovenian design event that was founded with the aim of bringing the design profession and the design industry closer to the general public, of creating awareness of the importance of design and of its development at an international level, while promoting Slovenian design internationally and presenting contemporary trends in the world of industrial design. In addition to the main design exhibition, a variety of other exhibitions is held around the city during the biennial, as well as lectures on design-related subjects, various workshops for children and young people, a range of educational workshops for adults, and discussion panels designed to create a social and cultural discourse on various design-related issues.This year the exhibition is being curated by Dutch designers Margriet Vollenberg and Margo Konings of Organisation in Design, under the theme "Design Relations".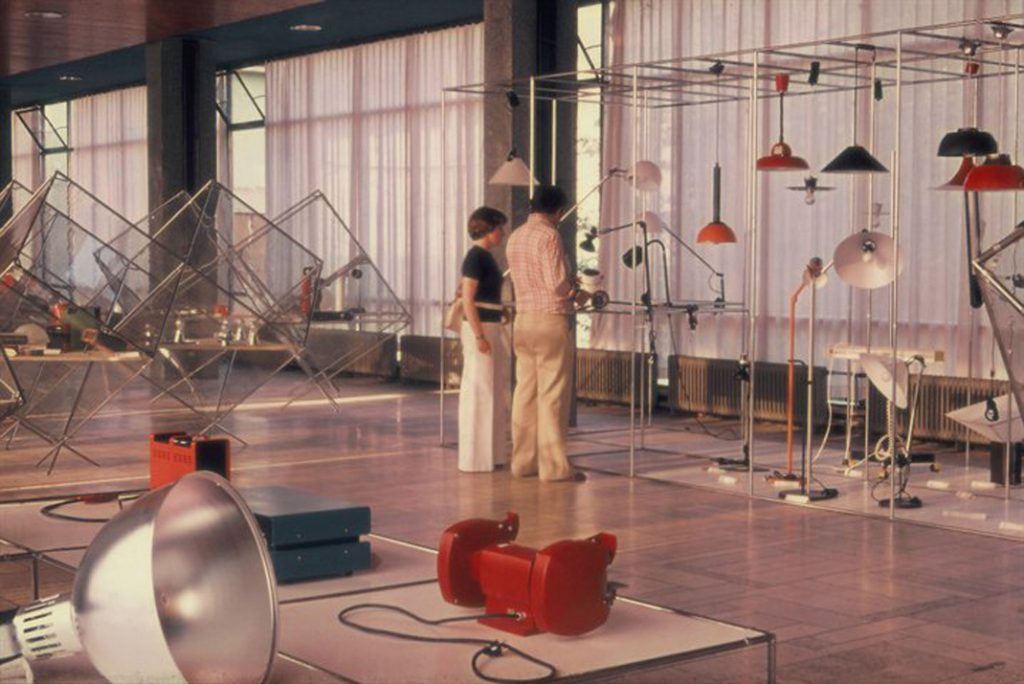 Before going on a tour of Holon's design galleries, I met with Špela for a short interview. I began with the obvious question: Why did you decide to come to Israel? In response, she smiles and answers quite simply, "I received an invitation and it sounded interesting". A moment later she continues, "There are so many design weeks around the world and they all want to search for and find new designers, ones who might bring the next message to the design world and make their breakthrough in them. It's also a way for me to publicize the biennial in Ljubljana to people who aren't familiar with our activities". Do you know the other directors who are here for Design Week? "The vast majority I didn't know in person, only by name. When I was head of the biennial, and even today as curator and consultant at the Museum of Architecture and Design in Ljubljana, I mainly attend design exhibitions, rather than design week events. The invitation to come to Israel and Holon Design Week was also a wonderful opportunity for me to get to know colleagues and people from around the world with whom I can stay in touch and form working relationships or future collaborations".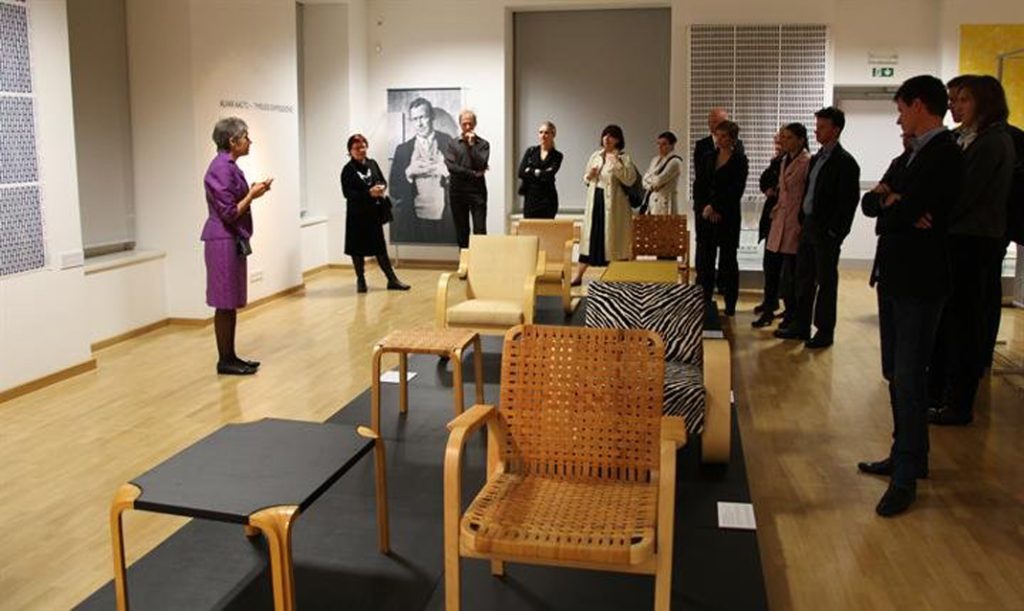 The days you've spent here have been very intensive; did you manage to create business opportunities here? "There's no doubt I met a lot of people I'd like to stay in contact with on the professional level. I'll be happy to continue and deepen the debates that began in the last few days. Buds of future possibilities began developing here, like an exhibition exchange or various collaborations, but it's too early to talk about them yet".
What was your impression of Israeli designers? "The sense I got in the last few days is that Israeli designers are very business-focused, they're very professional and know how to direct themselves to try and make a living and not merely survive in the profession. Their presentations were for the most part very impressive in terms of standard and content. I was very impressed by the jewelry designers we saw; they displayed a very high standard of professionalism and creativity, and collaborations that some of them have with the industry in Israel and abroad are very refreshing and interesting".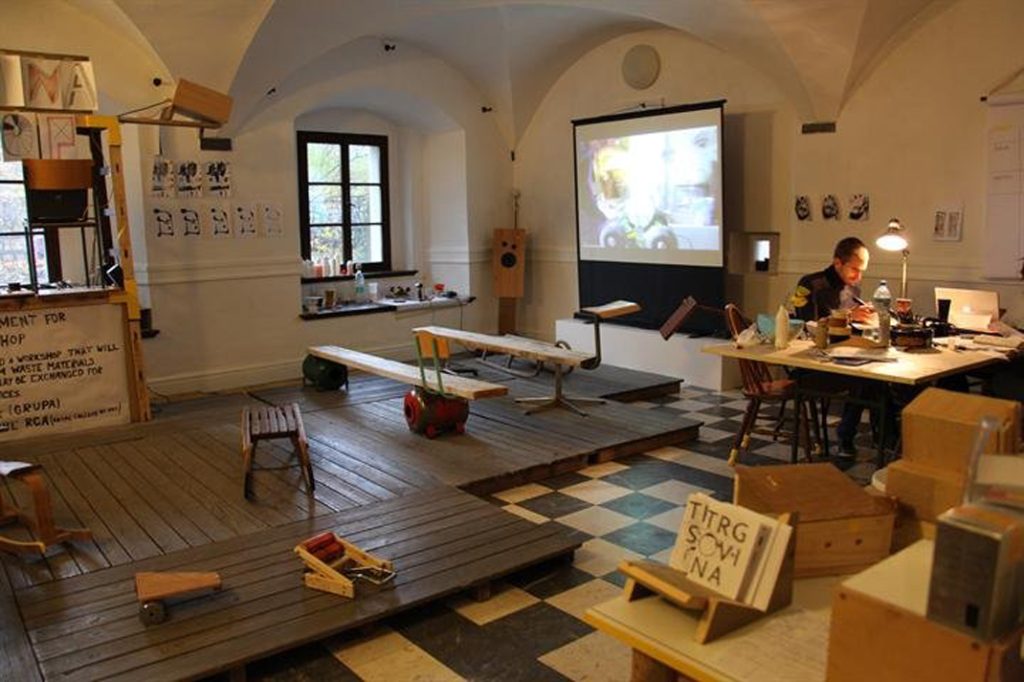 If an Israeli designer wants to show his work at the Biennial of Design in Ljubljana, how would he go about it? She laughs and replies, "I've given out so many business cards that I'm sure someone will respond and send me material". And designers who didn't give presentations and didn't receive one of your cards? "The best and most convenient way to show at the biennial starts with online registration. Designers have to register and send us material with their online registration form on the museum and biennial website. We announce the opening of registration primarily through the museum's newsletter that serves as a good platform for distributing design content, but the announcement can always be found on additional internet channels as well, such as leading design blogs like Design". Six years ago, leading up to BIO.21, the biennial underwent a digital revolution and the option for online registration was opened to designers from all over the world to show in the exhibition and take part in the competition held by the exhibition, in which the winner is awarded a €5000 prize by a highly esteemed international jury (this year's jury, for instance, included Giulio Cappellini and Jimmy MacDonald). That year, 421 designers registered and submitted material, of whom 126 designers from 18 countries were chosen to participate.
Did you have any expectations of the encounters with Israeli designers? "The truth is I didn't know what to expect. I wasn't familiar with Israeli design and made a conscious decision not to do any Googling or search for information. I wanted to come without any expectations; I wanted it to be a surprise". And were you surprised? "Very", she replies. "I was surprised by the designers and the standard of their work and creativity. I was also surprised by the Museum staff. Because the Museum is new, I didn't know what to expect; I thought there might be some disarray in the management of the young place with so many visitors, but I was very pleasantly surprised. There was always someone I could approach, and I always had the feeling that someone cares". Today, after two days of presentations by Israeli designers, can you point to characteristics of Israeli design?"I can say that many Israeli designers choose to focus on small objects that can be made by one person. I assume it's due to the desire and need to do everything themselves. It's an aspect that surprised me. The standard of the designs and objects is very high, while the designers do virtually everything, from the design process, through manufacturing, to distribution.Many designers use Jewish elements and take them in local Israeli directions. Using tradition as a basis for creativity is a good and interesting decision. I saw considerable use of Judaica, which is strongly identified with Judaism, a lot of work with menorahs and Middle Eastern symbols, like the hamsa. There's also a lot of humor in Israeli design; for example, two designers who joined two kippahs to create a small change purse. This is the kind of souvenir from Israel that I think is very successful; it has Jewish roots but also Israeli humor and design".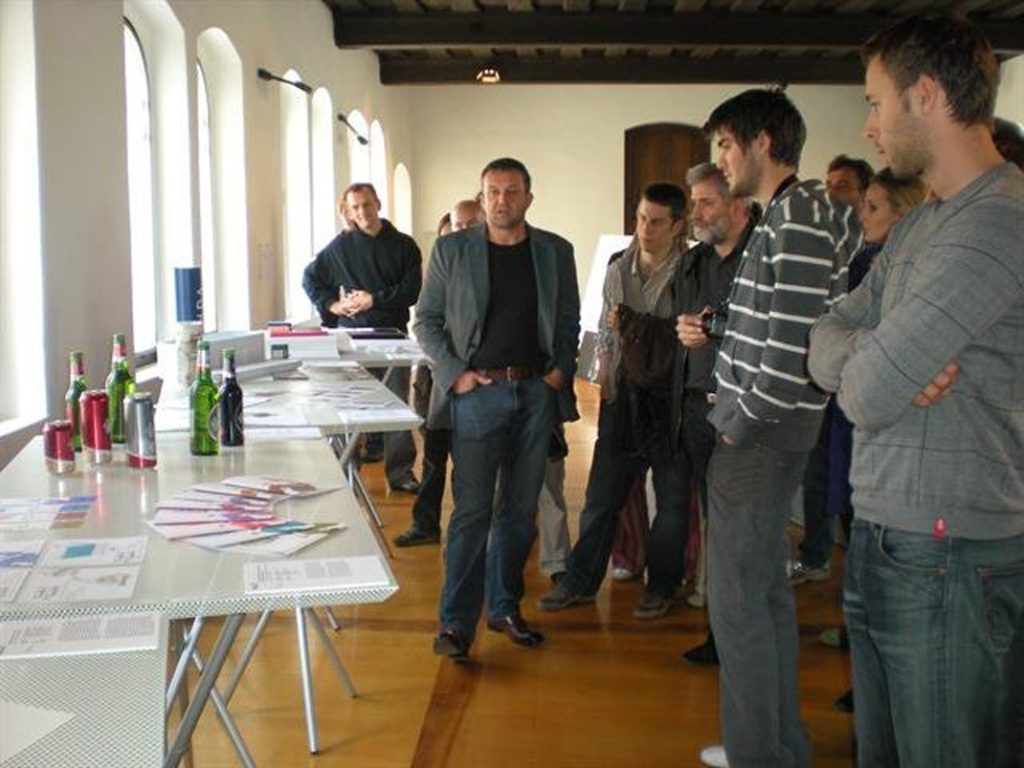 What do souvenirs from Slovenia look like? "There isn't really anything that's identified as a Slovenian souvenir. Maybe the small porcelain houses designed by Jonathan Hopp, who's showing in the exhibition, could serve as souvenirs from Slovenia as well. There's something refreshing and right about the miniature houses, because of the connection between tradition, houses, and the urban street. Porcelain is an ancient tradition in Slovenia, and although attempts have been made to create modern objects using traditional techniques, there's hardly any demand for or sale of such items. Slovenians like to stick to tradition, to artists who paint dishes by hand, a lot of kitschy drawings, too many".The bus arrives. We get on with the other directors and start traveling toward Holon Theatre Gallery. Špela looks out the window at the streets. When we alight from the bus, she approaches me and adds that she thinks there's a considerable disparity between the urban design in the city streets and the works of the designers she's seen in the last few days; she feels that the knowledge, creativity, and high standard of the designers is not put to public use.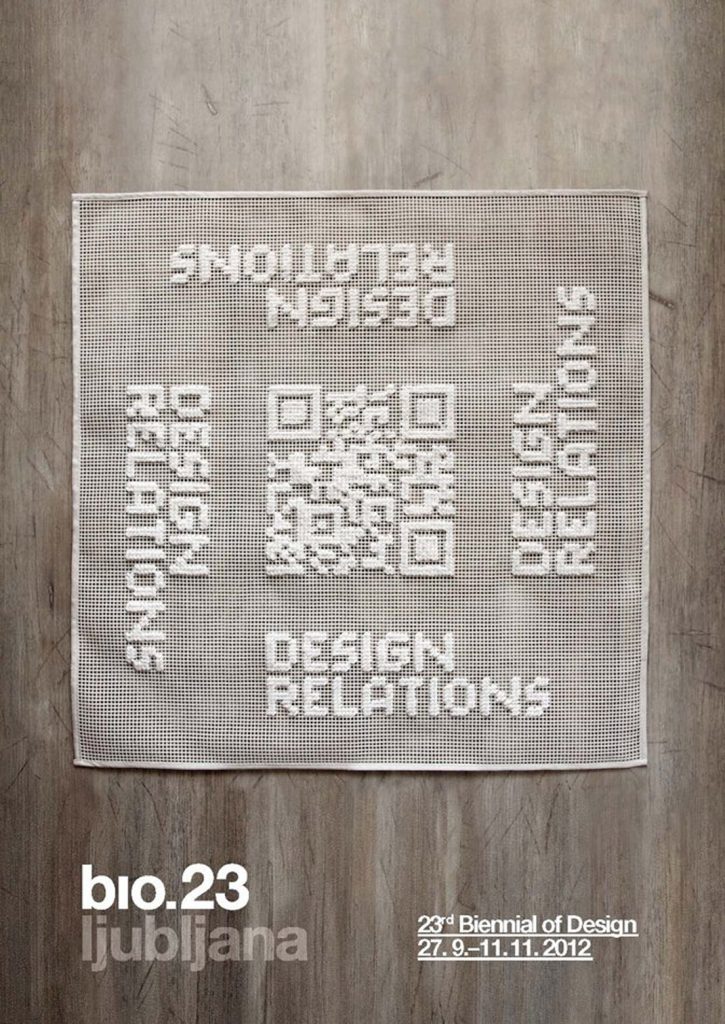 A moment later we entered Holon Theatre Gallery, which is currently showing an exhibition following a competition for designing "Furniture and Elements in Public Spaces – The Language of the Street". She turns toward me, nods, and smiles.
BIO.23 – Biennial of Design, Ljubljana, Slovenia. September 27 – November 11, 2012